by Melanie Heuis­er Hill
I'm gen­er­al­ly a read­er of "tra­di­tion­al nov­els," by which I mean nov­els that have chap­ters with titles, para­graphs with gram­mat­i­cal­ly cor­rect sen­tences, and per­haps the occa­sion­al com­ple­men­tary art under the chap­ter num­ber. I'm inten­tion­al about expand­ing my hori­zons and read­ing graph­ic nov­els, hybrids, and the like…but I still have to be inten­tion­al about it, I'm afraid. What can I say? I'm a suck­er for the com­fort­able, tra­di­tion­al for­mat, even as I'm often wowed by the untraditional.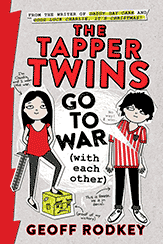 The Tap­per Twins Go To War (With Each Oth­er) came across my radar and was accom­pa­nied by pos­i­tive reviews from peo­ple I respect a great deal, so I request­ed it at my friend­ly local library. It came. I stood in the library, flip­ping through, shocked at what I saw.
I must have the wrong book, I thought. It was the only expla­na­tion I could think of. So I looked up the rec­om­men­da­tion again. I had the right book.
I hand­ed it to my thir­teen-year-old daugh­ter, who is much more…open. And I lis­tened to her laugh in her room that evening while she read it. The next day, she hand­ed it to me and said, "Must read, Mom!"
"Real­ly?"
"You'll love it. Besides, it's a New York Book."
I love New York Books.
The sto­ry of Clau­dia and Reese Tap­per, twelve-year-old twins, and their war is told as an "oral his­to­ry." It looks much like a screen play in many places. (Geoff Rod­key is, in fact, a screen­writer.) But it also includes com­put­er screen­shots, gam­ing dig­i­tal art, text mes­sages between the par­ents, and doc­tored pho­tos. There are hand­writ­ten "edits and addi­tions," lots of arrows drawn with these edits and addi­tions, and many ref­er­ences to Wikipedia-told his­to­ry. It is, in short…well, quite dif­fer­ent than my usu­al tra­di­tion­al novels.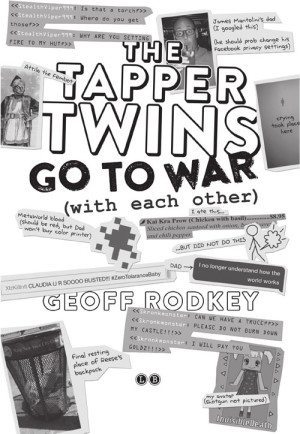 Then I read it. And I laughed out loud. In my office, all by myself. Laughed and laughed. Loved it. I've spent quite a bit of time around mid­dle school­ers in recent years and Clau­dia and Reese and their friends beau­ti­ful­ly cap­ture the diver­si­ty of matu­ri­ty, zani­ness, and crazy ener­gy of this age group. Clau­dia is a pulled-togeth­er, bossy, know-it-all who is thor­ough­ly exas­per­at­ed by her twin broth­er. Reese is such a twelve-year-old boy, and there­fore sort of bewil­dered by his sis­ter. Their friends are vari­a­tions on sim­i­lar themes. The dia­logue is spot on, the esca­la­tion of the con­flict true to form, and the rela­tion­ship between sib­lings, friends, and the mid­dle school as a whole is pret­ty per­fect­ly depict­ed. Through com­put­er screen­shots, gam­ing art, text mes­sages, doc­tored phots…..
Clau­dia inter­views the com­bat­ants and serves as the pri­ma­ry nar­ra­tor of the sto­ry of the war, which starts as a series of pranks and esca­lates to seri­ous (though not fright­en­ing) pro­por­tions. She includes the tes­ti­mo­ny of her clue­less par­ents (hilar­i­ous all on their own), the inept nan­ny, the allies, bystanders, and ene­mies. She is the one who draws the arrows and makes the cor­rec­tions and addi­tions to everyone's testimony.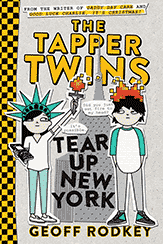 The rela­tion­ships are com­pli­cat­ed and the mis­un­der­stand­ings numer­ous. But the nov­el cir­cles back in a very good way — and there are some "teach­able moments," actu­al­ly, if a par­en­t/teacher-type doesn't ruin it by call­ing atten­tion to them. Kids can learn a lot about how things look from dif­fer­ent points of view, how social media can com­pli­cate things in ways you can't pre­dict, and how embar­rass­ments can turn into more or less than that depend­ing on how we react to them. I'm glad my social media new­bie read it.
Pick­ing up my copy of The Tap­per Twins Tear Up New York tomor­row! I'm a fan!