by Melanie Heuis­er Hill
I received Anne of Green Gables for my tenth birth­day. I fell in love imme­di­ate­ly. Absolute­ly In Love — that's the only way I can describe it.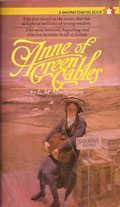 For the next sev­er­al years, I received the next book in the Anne series each birth­day and Christ­mas. I could spot the book in my pile of wrapped gifts — I have the Ban­tam Stare­fire Col­lec­tion, small mass mar­ket paper­backs not quite sev­en inch­es tall — the very size and shape of those books made my heart beat faster. The print is tiny, the mar­gins almost non-exis­tent, which wasn't in any way a prob­lem when I received them. Now that I've added a few decades, I need my new bifo­cals to read them. My hus­band sug­gest­ed I get anoth­er set of the books — one with larg­er print. As if.
For years, through high school and col­lege and young-adult­hood, I re-read the books on the sly. Usu­al­ly in times of stress. I'd rip through the entire series — Anne age ten in #1 all the way through to her youngest daugh­ter, Ril­la, a teenag­er in #8. A cou­ple of years might go by between the read­ings — but not more than that. Some­times I just read Anne of Green Gables, which remains my absolute favorite, but usu­al­ly if I read it, I read them all.
"A bosom friend – an inti­mate friend, you know – a real­ly kin­dred spir­it to whom I can con­fide my inmost soul."(Anne Shirley, in Anne of Greene Gables)
Sev­er­al years ago now I met my bosom friend. I sat in the back of a small group as she and her hus­band talked about writ­ing and read­ing, fam­i­ly and life. I was so entranced I could not even take notes. I loved her at once, some­how. I sat lis­ten­ing to her and I thought: This woman is a kin­dred spirit.
A heart­beat lat­er, as a part of a long list of excel­lent books worth re-read­ing, my kin­dred spir­it said "And Anne of Green Gables. I per­pet­u­al­ly read Anne of Green Gables, of course." Her hus­band nodded.
A zing went through me head to toe — why had I nev­er thought to do that?! It was the word per­pet­u­al­ly that got me. And the non-cha­lant of course. I was a thou­sand miles from home, but if I'd had my trusty Ban­tam Starfire Col­lec­tion with me, I would've start­ed per­pet­u­al­ly read­ing the Anne books right then and there. As it was, I had to wait until I got home. But I've been per­pet­u­al­ly read­ing them — a chap­ter or two most nights before bed — ever since. (Imag­ine my hus­band nodding.)
My own daugh­ter is not as infat­u­at­ed with Anne. She's a lit­tle over­whelmed with Anne's bois­ter­ous spir­it, inces­sant chat­ter, over-active imag­i­na­tion, and gen­er­al endear­ing exu­ber­ance. (Which is fun­ny, because she's real­ly quite like Anne Shirley.) She has a cou­ple of copies of Anne of Green Gables—hard­back col­lec­tor edi­tions she received as gifts. I gave her a box set of the whole series for her birth­day last year. (This is what has changed in a gen­er­a­tion — I received the books one at a time, but I gave her the entire series at once. But I digress.) They are sim­i­lar­ly sized to mine, and I thought maybe the size would some­how make the difference.
Alas no. They just aren't real­ly her thing. I thought I might be crushed by her indif­fer­ence — I wor­ried about it for years. My bosom friend (whose daugh­ters are old­er than mine) warned me this could, in fact, hap­pen. But now that it has, it's okay. Real­ly. My girl has read the hard­back a cou­ple of times, watched the excel­lent movies with me, and I've con­vinced her to read Anne of Avon­lea with me over vaca­tion this sum­mer. It's all good.
My dear bosom friend died quite unex­pect­ed­ly and hor­ri­bly a year and a half ago. The hole left in my life remains large — we cor­re­spond­ed dai­ly and often ref­er­enced Anne Shirley and her adages and escapades along­side our own. Nei­ther of us fit the role of Anne Shirley or Diana Bar­ry, but our friend­ship was deep, even though it start­ed lat­er in life.
My per­pet­u­al read­ing of the Anne series has been a gift dur­ing this time. I am so very grate­ful for my friend's unas­sum­ing words: per­pet­u­al, of course. With­out the zing that went through me that evening, I might not have been bold enough to con­tact her, and our result­ing bosom friend­ship, so rich and so much a part of my life, might not have been.
So I think of her each night as I open what­ev­er book in the series I'm on (just start­ed #7, Rain­bow Val­ley). It's bit­ter­sweet, to be sure, but it's been help­ful some­how. My heart is grateful.
Also, I'm still hold­ing out hope my girl will become an Anne-girl this sum­mer. We'll see.…