by Melanie Heuis­er Hill
We're at the one-month mark before #1 Son leaves for his first year of col­lege. This is big for our fam­i­ly. (I real­ize it's a big thing for every fam­i­ly, but it's feel­ing par­tic­u­lar­ly per­son­al for us right now — indulge me.) It's entire­ly right, he's absolute­ly ready, and he's going to a place that's a good fit for him. But my heart squeezes to think of it. (I'm try­ing pos­i­tive visu­al­iza­tion for the good-bye.)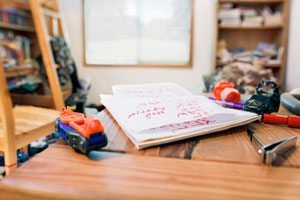 This week, he's clean­ing his room — a parental man­date. His room will remain his room when he goes, but long over­due is this clean­ing out of the sci­ence projects from ele­men­tary school, the soc­cer medals from the same era, the dusty cer­tifi­cates and papers and binders, the mess and detri­tus of a boy's life well lived and now out­grown. He's doing the clos­et today — he won't fin­ish. It's like an archae­o­log­i­cal dig with its lay­ers. He says he's sav­ing his book­shelf for last. "It's not so bad," he says.
Last week, I sat on his bed and looked at that book­shelf. It's one of the first my hus­band built. Floor to ceil­ing, near­ly as wide as the boy's wingspan. Or his wingspan a few years ago, any­way. It's stuffed and it exhibits a pecu­liar com­bi­na­tion of clut­tered and orga­nized stor­age. It's obvi­ous he once alpha­bet­ized his fic­tion by author. This astounds me — among all of his awards, there is nary a one com­mend­ing his orga­ni­za­tion­al skills. But he likes to find the book he's look­ing for quick­ly, and so at some point he gave it a go, I guess.
Many of the pic­ture books have moved on. A few favorites remain: Caps for Sale, an anthol­o­gy of Thomas The Tank Engine sto­ries, Clever Ali, The Vel­veteen Rab­bit, The Quiltmaker's Gift, Frog and Toad, sev­er­al books about inven­tors, sci­en­tists, and explor­ers, Win­nie-the-Pooh…
And then there are the glo­ri­ous chap­ter books that con­sumed weeks and months and years of his life. Some we read togeth­er, but many he devoured on his own. The well-worn Har­ry Pot­ter books in Eng­lish and Span­ish both, all of the Swal­lows and Ama­zons series, most any­thing Gary Schmidt has writ­ten…. There's a sec­tion or two of math books — cool math, not text­book math — and there's every­thing from sto­ries of drag­ons and wiz­ards to the biog­ra­phy of Mark Twain.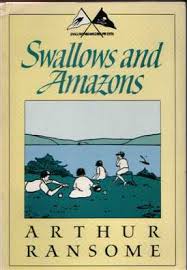 The boy has always read wide­ly. His­to­ry is mixed in with sci­ence, which is mixed in with his banned books col­lec­tion and var­i­ous works of Shake­speare. Con­tem­po­rary nov­el­ists sit piled under ancient clas­sics. He has the entire col­lec­tion of Calvin and Hobbes sit­ting next to The Atlas of Indi­an Nations, and var­i­ous graph­ic nov­els are shelved in the midst of an exten­sive col­lec­tion of Peter Pan pre­quels and sequels. I see both books he was required to read and books he could not put down.
I'm almost as proud of this book­shelf as I am the boy — it stead­ies me to look at it. With just a few weeks left until he heads out, I catch myself with pan­icked thoughts: Will he wash his sheets? Does he know the details of our fam­i­ly med­ical his­to­ry? Is the sal­ad bar in the din­ing ser­vice nice enough to tempt him to eat his veg­eta­bles? Does he know the signs of a con­cus­sion? Frost­bite? Will he call home before he makes Big Life Deci­sions? WILL HE READ?
That last one pops up a lot for this Eng­lish major Mama. He wants to be an engi­neer. That cur­ricu­lum does not fea­ture much in the way of lit­er­a­ture cours­es; though I'm impressed they have an all-cam­pus-read that plays a sig­nif­i­cant part in ori­en­ta­tion. Will our boy read for fun, or be so con­sumed with engi­neer­ing and math that he won't have time for sto­ries? If he decides to have a beer, will he pick up a new nov­el or an old favorite to enjoy with it? (A mom can dream.) Will he find a banned book to read in Sep­tem­ber dur­ing Banned Books Week, like we've always done? Will he lose him­self in the stacks of that fan­cy cam­pus library and maybe car­ry a pile of books back to his dorm room? If he stays up much too late, will it be—please let it be—because he's fall­en into a sto­ry and can't get out?
And then he shuf­fles into my office, laugh­ing at anoth­er arti­fact he's uncov­ered in the deep dark recess­es of his clos­et. We agree it can be "passed on."
"Hey Mom?" he says. "What do you do with your books when you go to college?"
I tell him there's not much room in the typ­i­cal dorm room to house books out­side of those you need for your studies.
"Maybe I can just take a few favorites?" he says.
I ask which few those would be.
"I'll have to think about it," he says. "I've got a lot of favorites."
Oh, I'm going to miss that boy.