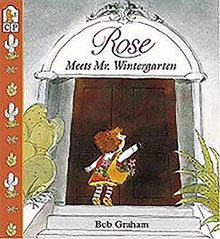 Rose meets Mr. Win­ter­garten by Bob Gra­ham has been around for awhile. I've been read­ing it to kids for almost as long as it's been on this side of the pond. But I've read it two dif­fer­ent ways, and I'm ready to con­fess that now.
I love most every­thing about this sweet pic­ture book. I adore the Sum­mers­es — what a great hip­pie-like fam­i­ly! — espe­cial­ly Mom in her loose fit­ting dress and san­dals and crazy ear­rings. I love the illus­tra­tions — par­tic­u­lar­ly the gobs and gobs of flow­ers. And I expe­ri­ence noth­ing but delight with the mar­velous con­trast pro­vid­ed by Mr. Win­ter­garten — his dark house that the sun nev­er hits; his cold, gray, uninvit­ing din­ner with float­ing gris­tle and mos­qui­toes breed­ing on top; his dusty coat­tails and huge emp­ty din­ing room table. I think the not-so-sub­tle puns found in the neigh­bors' last names (which a four-year-old had to point out to me) are brilliant.
And the sto­ry itself! Sweet Rose, brave enough to ven­ture over to her neighbor's house despite the neigh­bor­hood children's sto­ries of Mr. Wintergarten's mean and hor­ri­ble rep­u­ta­tion, his wolf-dog and salt­wa­ter croc­o­dile, his pen­chant for eat­ing chil­dren…. I love it all.
Except that last bit. "No one ever goes in there," said Arthur, "in case Mr. Win­ter­garten eats peo­ple." I hate that. And it func­tions almost like a spell in the sto­ry, because as soon as Arthur deliv­ers this worst-of-the-worse news, Rose's ball goes over Mr. Wintergarten's fence.
For a long time, I just left off the incaseMr.Wintergarteneatspeople part of what Arthur says. I thought it suf­fi­cient­ly excit­ing for my wee sto­ry-lis­ten­ers that nobody ever went in there…(drumroll!)…and now Rose would go in there. It was but a small change — a tiny omis­sion, I rea­soned. It's not like I total­ly changed the story.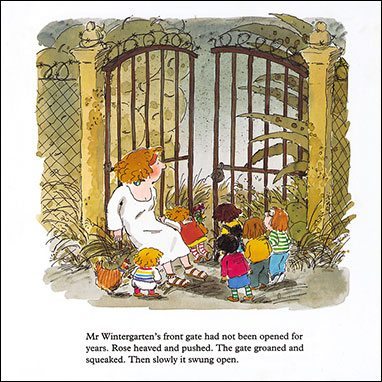 When Rose goes to ask her moth­er what to do and her moth­er sug­gests, like all good hip­pie-moth­ers, that she sim­ply go ask Mr. Win­ter­garten to give her ball back, Rose says she can't "Because he eats kids." To which her no-non­sense hip­pie-moth­er says, "We'll take him some cook­ies instead."
Again, the can­ni­bal­is­tic innu­en­do was just too much for me. I'd look at those sweet lit­tle faces, rapt in the sto­ry I was read­ing them…and it was just eas­i­est to have Rose remain silent when her moth­er asks why she doesn't just go make the prop­er inquiry. Then all I had to do was leave off the word "instead" when her moth­er sug­gests the cook­ie idea. The book taught hos­pi­tal­i­ty among neigh­bors — excellent!
I read it like this for years. I didn't feel bad about it at all. I was pro­tect­ing the chil­dren! And then one day, amongst the crowd of chil­dren at my feet, there was a reader.
"Hey!" he said. "You skipped a line."
"I did?" I said.
The boy stood and approached. "Yeah, right here. "No one ever goes in there," said Arthur, "in case Mr. Win­ter­garten eats peo­ple." He under­lined the words with his index fin­ger. I feigned sur­prise upon see­ing them. I com­pli­ment­ed him on his astute read­ing skills.
Ner­vous­ly, I checked on the rest of the wee vul­ner­a­ble sto­ry­time chil­dren at my feet. They were look­ing up at me in what I can only describe as thor­ough­ly delight­ed horror.
"He EATS kids?" a lit­tle girl said.
"For real?" said another.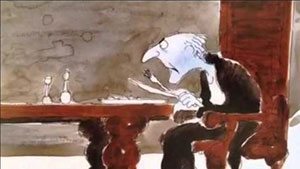 "Prob­a­bly not," said the read­ing child. "They prob­a­bly just think he eats kids."
"Oh…." Big eyes looked at me and the old­er, wis­er, more world­ly read­ing boy.
So when Rose's Mom says they'll take cook­ies, I, of course, put in the word "instead."
"That's a good idea," said a sweet lit­tle girl with dark curls. She nod­ded vig­or­ous­ly. "A real­ly good idea."
"Yeah," said her lit­tle broth­er. "Every­one likes cookies."
As you might guess, Rose's brave over­tures earn her a new friend in Mr. Win­ter­garten. Turns out her old neigh­bor hadn't even opened his drapes in years. Once he goes out­side and kicks Rose's ball back over the fence — los­ing his slip­per in the process — he's pret­ty much a new man. As are the chil­dren, who learn their reclu­sive neighbor's rep­u­ta­tion might be a bit exaggerated.
I've not omit­ted the can­ni­bal­is­tic lines since. I bite my tongue so I don't soft­en them with a "Oh that's just sil­ly, isn't it?!" I just read it straight. Kids love this book — I think, much as it pains me to admit it, all the more so because of the pre­vi­ous­ly cen­sored lines. They can take it, I guess. Who knew?