I've been read­ing gar­den­ing books these last few weeks. Gar­den­ing books found in the kids' sec­tion, that is. Not how-to gar­den­ing books so much as gar­den­ing sto­ries. They've kept me enter­tained and inspired while the tem­per­a­tures warm in my own gar­den so that I can begin plant­i­ng the flats of flow­ers I have under lights in my laun­dry room.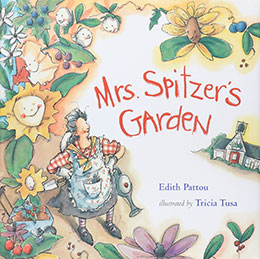 Mrs. Spitzer's Gar­den by Edith Pat­tou, illus­trat­ed by Tri­cia Tusa, is a favorite of mine from when my kids were lit­tle. I found it at the library this week and I real­ized I prob­a­bly haven't read it in fif­teen years, so I snatched it up.
Ms. Pat­tou wrote the book as a gift for her daughter's kinder­garten teacher. The back flap tells us that the real Mrs. Spitzer's "watch­ful, nur­tur­ing spir­it remind­ed [the author] of a gar­den­er tend­ing her garden."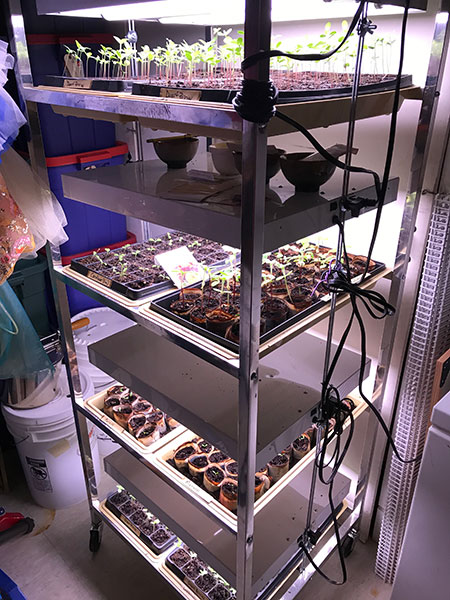 Mrs. Spitzer is a wise teacher. She knows many things — gar­dens and chil­dren being only two. She knows how to care for and cel­e­brate dif­fer­ences, allow­ing every­one to flour­ish. She knows that indi­vid­ual plants and chil­dren grow at dif­fer­ent rates and need dif­fer­ent things, and she knows to keep an eye on pests and weeds. She is the con­sum­mate tend-er of grow­ing things, be they ten­der hearts or frag­ile stems.
The art in this book is a hoot and it is the art that I have asso­ci­at­ed with a fun mem­o­ry of read­ing this book to Dar­ling Daugh­ter when she was small. On every page there are smiles — the oth­er teach­ers in the school to begin with, but then as Mrs. Spitzer moves to her gar­den to plant, the smiles are found on the faces of the insects and birds that come to work along­side Mrs. Spitzer. Page after page, the drag­on­flies smile, the birds and but­ter­flies grin.
Dar­ling Daughter's brow fur­rowed. "Why do they have faces?" she said point­ing to the army of cheer­ful pol­li­na­tors descend­ing on Mrs. Spitzer and her gar­den. "Why are they smil­ing?" she asked, per­turbed sus­pi­cion in her tone. I said some­thing like "They're so hap­py to be help­ing Mrs. Spitzer make her gar­den grow!"
She frowned. Dar­ling Daugh­ter was frus­trat­ed some­times with what she called "pre­tend things" that weren't con­vinc­ing to her (espe­cial­ly if she hadn't come up with them.) She loved imag­i­na­tive play, but some­times tripped on her own real­ism — yes, even at three.
I kept read­ing. Even­tu­al­ly there is a delight­ful spread of smil­ing flow­ers grow­ing in all of their diver­si­ty, stretch­ing up toward the sun. A smile replaced Dar­ling Daughter's dis­con­tent­ed frown.
I said, "See, the flow­ers smile, too."
"Yes," she said with an approv­ing nod. "Flow­ers always smile."
Which is how I think of my garden's flow­ers to this day — there they are, smil­ing away! Espe­cial­ly the ear­ly ones in spring — the tulips and daf­fodils pos­i­tive­ly grin in these crisp days of spring, don't they?
Do you have a favorite gar­den­ing book for kids? There are so many won­der­ful ones. I haven't done a gar­den­ing sto­ry­time in awhile, but I have a nice lit­tle pile sit­ting on a bench in my office right now — must find some kids!