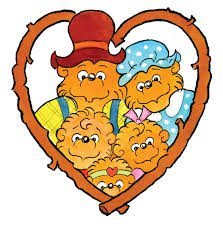 Last night, I was remind­ed of our family's love of The Beren­stain Bears books. (Hap­py Sigh.) Before I go any fur­ther in my homage, please under­stand — I'm not claim­ing these books are stel­lar lit­er­a­ture. I'm just say­ing that we read a lot of Beren­stain Bear books at our house once upon a time, and we loved, loved, loved them. And the we includes me. Absolute­ly. Yes, I know they are for­mu­la­ic, preachy, and moral­is­tic. Obvi­ous­ly, they flaunt fla­grant gen­der stereo­types. And nor­mal­ly, I steered clear of such books for my young impres­sion­able readers…but good­ness, we loved those Beren­stain Bears!
My daughter's piano teacher remind­ed us of them — she, too, adored the books. We've been reor­ga­niz­ing clos­ets and rooms late­ly and she com­ment­ed how much The Beren­stain Bears and the Messy Room informed her own (now adult) need for orga­ni­za­tion and tidi­ness. Instant­ly, we all remem­bered how won­der­ful the peg­board Papa Bear made was, and how sat­is­fy­ing and inspir­ing the neat­ly labeled and stacked box­es full of Broth­er and Sis­ter Bear's trea­sures were.
We con­tin­ued our love fest, remem­ber­ing togeth­er oth­er impor­tant books in the series — the mile­stones and tran­si­tions books, the anx­i­ety-address­ing books, the healthy habits series, and the behav­ior mod­i­fi­ca­tion titles — we loved them all! The list of titles is long. (I was amazed how long.) We didn't have near­ly as many as there are, but we had a lot — pur­chased for pit­tance at garage sales, inher­it­ed from old­er friends, res­cued from the trash bin at the library…. And I must've passed them on, because in the recent reshuf­fling of the book­shelves not a Beren­stain Bear book was to be found.
But the lessons remain: kind­ness and grat­i­tude are impor­tant, too much junk food or TV is just too much, tak­ing the time to do things right yields bet­ter results, and new sit­u­a­tions are less daunt­ing when we know some­thing of what to expect. We nev­er watched the TV shows or bought any of the mer­chan­dise etc., but I'd say Beren­stain Bears were a sig­nif­i­cant part of our kid­dos' child­hood. And I am not ashamed.
Are there books you read with kids (or have read with them) that you're just a little…shy about admit­ting to? Books you found in the check-out lane at the gro­cery store, in a bin of dreck at the library, or for week after week in your kid's back­pack? You know the ones I'm talk­ing about.
Now, how many of those did you secret­ly love? How many did your kids adore? Did you have a ____________ stage in your household's read­ing? 'Fess up! I've led the way — WE LOVE (present tense!) THE BERENSTAIN BEARS!