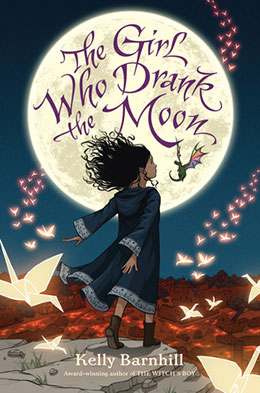 I con­fess, I'm a bit of a tough sell when it comes to fan­ta­sy books (unless they are for real­ly young kids). I don't do vam­pires, I'm not thrilled with dystopic set­tings, and although I love drag­ons and fairies, oth­er fan­tas­tic beasts tend to make my eyes roll, and I…well, I lose inter­est. I believe in mag­ic, but it has to be real­ly well writ­ten to keep my inter­est, and frankly, I've not fin­ished a lot of real­ly well done fan­ta­sy novels.
I do try. Reg­u­lar­ly, in fact. Dar­ling Daugh­ter is always try­ing to get me to make it through one of the huge fan­ta­sy tomes she's car­ry­ing around. (Side Note: Why are they all so large? I feel like I would fin­ish more if they were under three hun­dred pages.) And I always give it a go — par­tic­u­lar­ly when Kel­ly Barn­hill has a book come out, because her writ­ing is so lovely.
I held on to Barnhill's The Girl Who Drank the Moon for quite some time. I didn't let Dar­ling Daugh­ter read it first, as is often our pat­tern — I hid it for myself, sav­ing it for a time when I could enjoy it all on my own. It was worth the wait.
From the first Shirley Jack­son-esque (The Lot­tery) chap­ter I was hooked. It's a ter­ri­ble premise — every year the peo­ple of the Pro­tec­torate leave a baby as an offer­ing to the witch who lives in the for­est. But very quick­ly, thanks to Antain (who is at the begin­ning and the end of the sto­ry, but is only deft­ly sprin­kled through the mid­dle so you don't for­get how dear and impor­tant he is), the read­er real­izes that some­thing is wonky and ten­u­ous with regard to this care­ful­ly pre­served "tra­di­tion."
In any event, the baby in ques­tion — the one this book is about — is res­cued by a kind witch named Xan, who, as it turns out, has no idea why babies are left in the for­est. She has sim­ply res­cued the chil­dren and deliv­ered them to fam­i­lies on the oth­er side of the for­est for ages. She's been doing it for who-knows-how-long when she finds Luna, the baby who changes everything.
You see, Xan feeds the babies with starlight as she takes them to their new fam­i­lies. Starlight! This is exact­ly the sort of fan­ta­sy detail that makes my heart go pit­ter-pat. Such whim­sy, such metaphor! Love it! Luna gets moon­light, not starlight, how­ev­er — quite acci­den­tal­ly, you under­stand — and the moon­light fills her with extra­or­di­nary mag­ic. Which is why Xan decides to raise her instead of giv­ing her to a fam­i­ly as she usu­al­ly does. There­fore, Luna grows up with a wise Swamp Mon­ster, a Per­fect­ly Tiny Drag­on, and a kind witch as her fam­i­ly. These endear­ing char­ac­ters pro­vide a large share of the delight of the book. They did not once make me roll my eyes.
When Luna's thir­teenth birth­day is on the hori­zon, her mag­ic — care­ful­ly restrained by Xan for most of her child­hood — begins to leak about…and the plot thick­ens! As she grows and changes and learns, she becomes all the more mag­nif­i­cent. So does the sto­ry. There are creep­tas­tic birds, a woman with a Tiger's heart prowl­ing around, and hero­ic efforts made on the very world's behalf.
But Luna! Oh, Luna is so incred­i­ble! She is strong and deter­mined, lov­ing and wild, smart and mag­i­cal. The kind of mag­ic that is real. The kind of mag­ic all girls have — and we must help them tap it, because it's pre­cise­ly the kind of mag­ic that the world tries to beat out of them, and now more than ever they need to tap their mag­ic, people!
As soon as I fin­ished it, I hand­ed it to Dar­ling Daugh­ter. "It's ter­rif­ic," I said. I did not say "It's impor­tant!" but it is. So impor­tant. This is, as the book­jack­et says, "a com­ing-of-age fairy tale." It's a gor­geous book. And I'm giv­ing it today to one of my nieces on the occa­sion of her twelfth birth­day. I can't wait for her mag­ic to be ful­ly-real­ized — she's amaz­ing already.