by Melanie Heuis­er Hill
It was my job to read to the chil­dren. There were many oth­er sta­tions — crafts and col­or­ing, games and songs — all built around the most impor­tant task of the morn­ing: The Try­ing On of the Cos­tumes for the Christ­mas Pro­gram, which was to be held lat­er that afternoon.
I had my own lit­tle nook. Chil­dren and some­times their par­ents came and went between find­ing shep­herd robes and angel halos. I would put three or four Christ­mas books out on a table and when­ev­er a new batch of kids came in I'd ask some­one to pick a book for us to read. (Research. Always inter­est­ing to see what they pick and ask why they picked it.)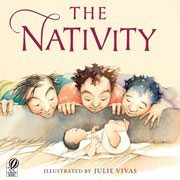 And it came to pass that I read a series of my favorites to a pre­co­cious, prag­mat­ic sev­en-year-old and a whim­si­cal three-year-old, whose favorite ques­tions always begin with Why? After the three of us had read sev­er­al books togeth­er, I put out four more and asked them to choose the next one. I knew which one they'd pick. And sure enough—The Nativ­i­ty by Julie Vivas won again.
This book is bril­liant. I love read­ing it with kids. It is so vis­cer­al, so phys­i­cal, so fleshy. The text is tak­en from the King James Ver­sion of Luke's Gospel — lots of thees and thous—but although they occa­sion­al­ly have a vocab­u­lary ques­tion ("What's swad­dling clothes?") kids aren't in the least put off by the language.
And so we began with the Angel Gabriel and his fan­tas­tic wings — Vivas's wings are tru­ly inspired.
In the days of Herod the King, the Angel Gabriel was sent from God to the
city of Nazareth. To a vir­gin espoused to a man whose name was Joseph, and the virgin's name was Mary.
3‑year-old: (wist­ful­ly) Why don't we have wings anymore?
7‑year-old: Humans don't have wings. Only birds and angels and insects have wings. What's a vir­gin? And what does espoused mean?
We watched Mary's bel­ly grow, and the sev­en-year-old said, "She real­ly IS great with child." The three-year-old remarked that Mary's butt was pret­ty big, too — there's a great view when Joseph boosts her up on the don­key. And then both vol­un­teered details of their own birth that I'm guess­ing their moth­ers did not antic­i­pate would be shared.
We con­tin­ued, attempt­ing to count the peo­ple in crowd­ed Beth­le­hem in a gor­geous two-page word­less spread. And then before we knew it "the day came that she should be delivered."
7‑year-old: Deliv­ered where?
Me: Deliv­ered just means Baby Jesus would be born.
7‑year-old: And deliv­ered where?
3‑year-old: To his Mom.
And she brought forth her first­born son.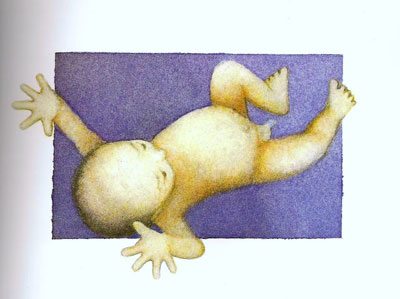 3‑year-old: He has a penis.
7‑year-old: Yes, he's a boy. Because his name is Jesus.
And lo, the angels came to the shep­herds. Again — the wings!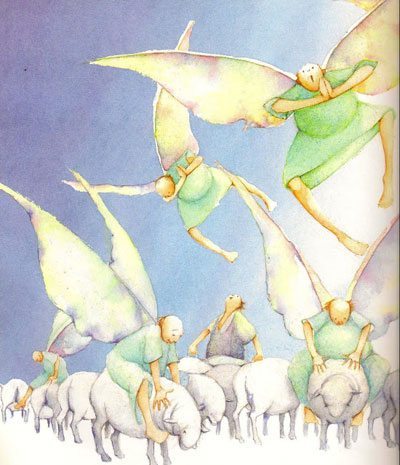 7‑year-old: I'm going to be an angel in the Christ­mas Pro­gram. I was last year, too. I have expe­ri­ence.
3‑year-old: (wist­ful­ly again) Why don't we still have wings?
7‑year-old: We nev­er had wings. Human don't have wings.
3‑year-old: I used to.
And behold, the wise men came to Jerusalem….
3‑year-old: I rode a camel. With my grand­ma and grandpa.
7‑year-old: Did you fol­low a star?
3‑year-old: Yes.
When we were fin­ished, we went through the book again, telling the sto­ry in our own words. The sev­en-year-old cor­rect­ly used the words vir­gin, swad­dling clothes, and espoused. She also threw in a few thees and thous. Most impres­sive. And the three-year-old stood and deliv­ered an inspired "Fear not!" when Gabriel vis­it­ed Mary, and again when the angel­ic choir came to the shep­herds. We dis­cussed the wings and the penis again, as well as the size of Mary's back­side. We mar­veled at the angels who rode the sheep and won­dered what that would be like.
It was holy time. Read­ing to chil­dren is holy.