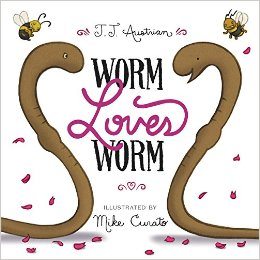 I final­ly had a chance to read one of my new favorite pic­ture books—Worm Loves Worm by J.J. Aus­tri­an, illus­trat­ed by Mike Cura­to — to a group of kids. It was Valentine's Day — the kids were mak­ing valen­tines, learn­ing origa­mi, and lis­ten­ing to love sto­ries read by moi.
My mis­take was try­ing to call them away from the origa­mi and stick­ers and scraps by say­ing: Hey kids! Let's read some love stories!
A cou­ple of them looked up and made a face, but most ignored me. The adults came to my aid and tried to get every­one to cir­cle up, but the assur­ances that every­one could go back to their craft­ing did lit­tle to per­suade. They're read­ers, but they're also crafters. Unfair to make them choose, but I did. I announced grand­ly, "The first book is about worms…."
That got their attention.
"Worms?" they said.
"I thought you said you were read­ing love sto­ries," said one child (who will be a lawyer some day.)
"Yes," I said. "This is a love sto­ry. About worms."
A few left their scraps and stick­ers and came over to see. I start­ed the story.
Worm loves Worm.
"Let's be mar­ried," says Worm to Worm.
"Yes!" answers Worm.
"Let's be mar­ried."
"I didn't know worms could get mar­ried!" said one child. More joined our circle.
I turned the page. Worm and Worm's friend Crick­et vol­un­teers to mar­ry them, because you have to have some­one to mar­ry you — "that's how it's always been done."
That's How It's Always Been Done is a major refrain in this book.
"Now can we be mar­ried?" asks Worm.
But no, not yet. Bee­tle insists on a best bee­tle, and vol­un­teers him­self for the role. The Bees insist on being bride's bees. And then there are the rings to con­sid­er — because, of course, "that's how it's always been done."
It goes on and on — the usu­al trap­ping of a wed­ding, the ways "it's always been done" — are trot­ted out as hur­dles, if not quite objec­tions. Patient­ly the worms adapt. Their friends see how things can be dif­fer­ent. They'll wear the rings like belts, not hav­ing fin­gers. They'll do The Worm at the dance, not hav­ing feet to dance with. Their friend Spi­der will attach the hat and flow­ers with sticky web and eat the cake "along with Crick­et and Bee­tle," since worms do not eat cake.
Now, the adults in the room under­stood the sto­ry as a clever way to turn the same-gen­der vs. dif­fer­ent-gen­der mar­riage debate upside down. They were delight­ed. These are par­ents who have raised their kids to sup­port mar­riage for all — indeed, some of the kids in my audi­ence are being raised in a fam­i­ly with two moms/dads.
The kids under­stood the more sub­tle mes­sage behind the sto­ry, though. It's about change. It's about learn­ing to see past How It's Always Been Done. They didn't even blink when one worm wore a veil and tux and the oth­er wore a dress and top hat. This is how kids play dress up, after all. Details do not stymie chil­dren the way they do adults.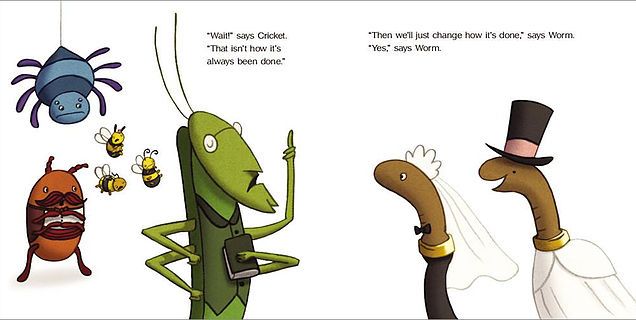 0797
The end­ing to this book is hap­py. When Crick­et objects that "That isn't how it's always been done." Worm says, "Then we'll just change how it's done." The oth­er worm said, "Yes."
And the chil­dren said, "Yes." And then they went back to their Valentines.