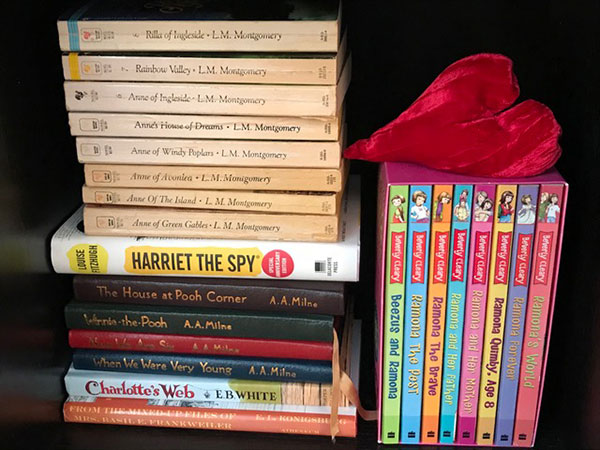 This stack is large­ly the Self-On-The-Shelf stack of my child­hood. There would be stacks of oth­ers, as well, you under­stand. I was sur­prised how many were miss­ing when I went to pull books for this col­umn, actu­al­ly. Where were all the Judy Blume books? Where was How To Eat Fried Worms? And, I sup­pose if I'm real­ly hon­est, I would need to include a small stack of Guin­ness Book of World Records from the late seventies…I wore the cov­ers off those books. Alas, some of my favorites from child­hood were library books that I checked out again and again but nev­er owned. And I sus­pect the world record books were thrown out by my moth­er who did not share my fas­ci­na­tion. (The lady with the longest fin­ger­nails in the world is the one that sticks forty years on….)
But the books in this stack — these were deeply deeply loved by me as a child. The Pooh books are the ones I have very clear mem­o­ries of my Mom read­ing to my broth­er and me. I know she read oth­er things to us, but these are the sto­ries and poems I remem­ber. She gave me the leather bound edi­tions when I had lit­tle ones of my own — our orig­i­nal copies, which were paper­backs, are a bit frail look­ing and might not have sur­vived anoth­er generation's love.
Bev­er­ly Cleary's Ramona books — and the Hen­ry Hug­gins and Rib­sy books, too— were favorites when I was in sec­ond and third grade and div­ing into inde­pen­dent chap­ter book read­ing. I picked up Ramona The Brave off a RIF table when I was in sec­ond grade. Mrs. Perkins, my teacher, read sev­er­al Cleary books to us and I was, and remain, a huge fan.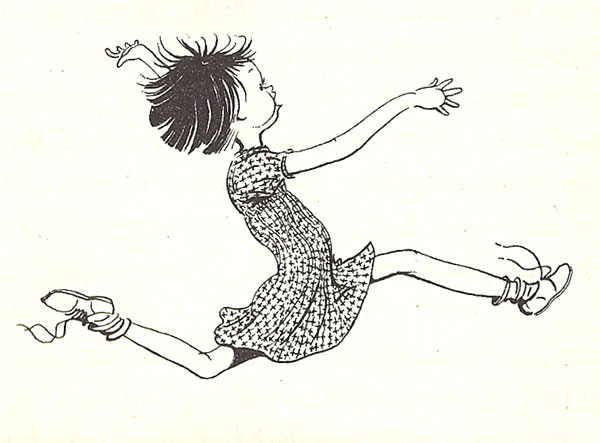 But Charlotte's Web is the first chap­ter book I clear­ly remem­ber read­ing on my own — same year, same teacher. I fell so com­plete­ly into this sto­ry that I couldn't bear to go out to recess. I couldn't even extract myself from the sto­ry to close the book and get my boots and coat on—it felt phys­i­cal­ly impos­si­ble. I remem­ber Mrs. Perkins say­ing that just once I might stay in dur­ing recess to read. I'm sure I didn't even say thank you, just kept turn­ing the pages, know­ing I had to fin­ish since I'd have to go out the next day.
From The Mixed-Up Files of Mrs. Basil E. Frankweil­er was kept from much of my ele­men­tary school because I so con­sis­tent­ly had it checked out from our school library. I was required to return it for a week every once in awhile "to see if some­one else might want to read it," but I vol­un­teered to re-shelve it so I could hide it behind oth­er books and be assured it'd be there for me the next week. (This auto­bi­o­graph­i­cal detail found its way into my nov­el Giant Pump­kin Suite—dif­fer­ent book, but one also on this list!) The Mixed-Up Files won the New­bery Award the year before I was born. It is bril­liant, as are all of E.L. Konigsburg's books, in my opin­ion. The book­ends of the nov­el are impor­tant, but if you'd asked me when I was a kid about Mrs. Basil E. Frankweil­er, I would've said her name was sim­ply in the title, for rea­sons I real­ly didn't under­stand…. For me, the book was entire­ly about sleep­ing at the Met­ro­pol­i­tan Muse­um of Art. I have always had a fas­ci­na­tion with what it would be like to be locked in after hours at a muse­um, or a library, or a gro­cery store — to just have run of the place and have it all to myself. I don't know if I had the fas­ci­na­tion before read­ing this book or if this book spawned it, but I remem­ber tak­ing notes on Clau­dia Kincaid's bril­liant plans of hid­ing in the bath­rooms until secu­ri­ty was gone, blend­ing in with school groups dur­ing the day so as not to be noticed, fish­ing the coins out of the foun­tain to spend at the automat, etc. I nev­er owned this book as a child, but I bought it as an adult at the Met the first time I went to New York City. I read it on the plane home…which was the first time I noticed Mrs. Basil E. Frankweiler!
Har­ri­et The Spy was a favorite of mine around the same time as The Mixed-Up Files, and between the two of them, I fell in love with New York City decades before I ever set foot in the city. I loved Har­ri­et because she was not nice — her blunt voice was often the tween voice in my head — and because she kept a note­book. I used to ask for note­books and pens/pencils for Christ­mas and birth­days. I loved that Har­ri­et did her spy­ing and wrote down what she noticed in ALL CAPS. Some­times I do that in my note­book, in homage. When Ole Gol­ly gave Har­ri­et advice, I con­sid­ered it advice to me, as well. This book, maybe more than any oth­er, gave me a yearn­ing to be a writer.
And the best for last…. The Anne of Green Gables series. I received the first nov­el in this series for my tenth birth­day. Over the next few years I received the next in the series each birth­day and Christ­mas. I love this series so much it makes my heart ache. And, as I wrote here, I per­pet­u­al­ly read them as an adult. I always have one going. It's not great for my writ­ing. L.M. Mont­gomery wrote in a dif­fer­ent time, and style has changed con­sid­er­ably. I always have to cut my drafts by half — and I still use more words than many writ­ing today. But for char­ac­ter study and emo­tion­al arc, I think I can still learn from Mont­gomery. In any event, there's not a bet­ter way to end the day than read­ing a chap­ter of Anne, as far as I'm con­cerned. I com­mend the prac­tice of "per­pet­u­al read­ing" to you — what­ev­er series makes your heart glad.