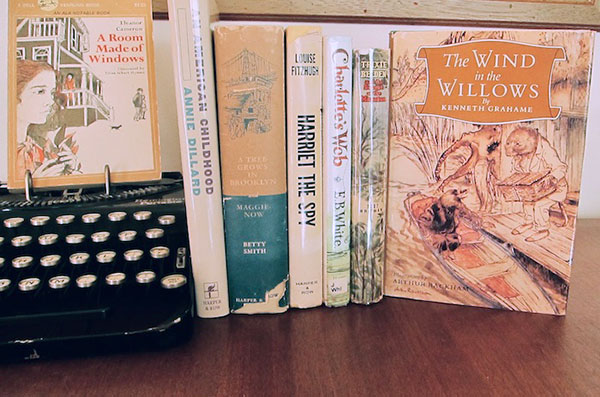 Books swept me away, one after the oth­er, this way and that; I made end­less vows accord­ing to their lights, for I believed them. (Annie Dil­lard, An Amer­i­can Child­hood)
It's hard to say which came first: did I adopt traits of the main char­ac­ter in cer­tain books I read, or did I grav­i­tate towards those books because I already had those traits? One thing I know is that I loved to read and because I was a read­er I became a writer. Even today, I can't wait to get my work over with so I can read.
In no par­tic­u­lar order, here are the books on my shelf that I see myself in.
An Amer­i­can Child­hood by Annie Dil­lard. I didn't come upon this book until it was pub­lished in 1987. I'd loved Dillard's Pil­grim at Tin­ker Creek and my copy is a first edi­tion hard­cov­er. I've re-read it sev­er­al times. This is my favorite passage:
"Chil­dren ten years old wake up and find them­selves here, dis­cov­er them­selves to have been here all along … They wake like sleep­walk­ers, in full stride; they wake like peo­ple brought back from car­diac arrest … in media res, sur­round­ed by famil­iar peo­ple and objects, equipped with a hun­dred skills. They know the neigh­bor­hood, they can read and write Eng­lish, they are old hands at the com­mon­place mys­ter­ies, and yet they feel them­selves to have just stepped off the boat … to lodge in an eeri­ly famil­iar life already well under way."
I woke up when I was ten years old, too. I had just been to a coun­try funer­al and after I stuffed myself with corn pud­ding and coconut cake, I walked up the road, past the ceme­tery, to look out over the rolling fields of Shenan­doah Coun­ty, Vir­ginia. I stared at an old stone house and right then, I woke up. I knew a bunch of things: that I was meant to be liv­ing here and not Fair­fax Coun­ty, that I loved this land, that the old stone house was prob­a­bly the site of a mur­der and I would find out what happened.
Which leads me to my sec­ond book, Trix­ie Belden and the Secret of the Man­sion by Julie Camp­bell. My detec­tive career began with the Trix­ie Belden series. I nev­er did find out what hap­pened in the old stone house, if any­thing, main­ly because it was a hun­dred miles from where I lived, but I could solve mys­ter­ies at home! All I need­ed was a rich friend and an old house to explore:
"Crabap­ple Farm, Trix­ie reflect­ed, was real­ly a grand place to live, and she had always had a lot of fun there, but she did wish there was anoth­er girl in the neigh­bor­hood. The big estate, known as the Manor House, which bound­ed the Belden prop­er­ty had been vacant ever since Trix­ie could remem­ber. There were no oth­er homes near­by except the crum­bling man­sion where queer old Mr. Frayne lived alone."
I was not a cheer­ful child. I was bossy and not par­tic­u­lar­ly like­able. I want­ed oth­er kids to play what­ev­er game I'd invent­ed because my ideas were bet­ter. Clear­ly, I wasn't over­loaded with friends. But when I read Har­ri­et the Spy, I felt relieved, val­i­dat­ed, even. Har­ri­et was like me: she had an agen­da, she liked spy­ing, and she kept a note­book (though I nev­er thought to com­bine spy­ing and writ­ing). Harriet's New York City world was noth­ing like mine, yet I iden­ti­fied with her. I was mis­un­der­stood, too. Why couldn't I go my own way, I'd argue with my moth­er. Well … because I was only eleven. Like Har­ri­et, I even­tu­al­ly learned to rein in my ambi­tions and occa­sion­al­ly think of oth­er people.
"WHY DON'T THEY SAY WHAT THEY FEEL? OLE GOLLY SAID 'ALWAYS SAY EXACTLY WHAT YOU FEEL. PEOPLE ARE HURT MORE BY MISUNDERSTANDING THAN ANYTHING ELSE.' AM I HURT? I DON'T FEEL HURT. I JUST FEEL FUNNY ALL OVER."
Although I craved adven­ture, I was a home­body at heart, and for rea­sons I've nev­er under­stood, a work­er-bee. At age nine, I had an agen­da to "do my work." For­mer class­mates who knew me in fourth grade have told me this.
I came to The Wind in the Wil­lows as an adult, too, a book I wish I'd read as a kid. I'm Mole, the char­ac­ter with the approach/avoidance com­plex. At the begin­ning of the book, Mole is busy spring-clean­ing when sud­den­ly he breaks bad, as my moth­er used to say. He leaves the dust mop and meets Rat and they have all sorts of adven­tures. Mole is hap­py to have a friend and do excit­ing above-the-ground things. But his home calls to him:
"It was one of those mys­te­ri­ous fairy calls from out of the void that sud­den­ly reached Mole in the dark­ness, mak­ing him tin­gle through and through with its very famil­iar appeal, even while as yet he could not remem­ber what it was. He stopped dead in his tracks, his nose search­ing hith­er and thith­er in its efforts to recap­ture the fine fil­a­ment, the tele­graph­ic cur­rent, that had so strong­ly moved him. A moment, and he had caught it again, and with it this time came rec­ol­lec­tion in fullest flood. Home!"
Charlotte's Web made me wish there was a spi­der to save one of our pigs. We raised two hogs every year to kill and eat. I learned ear­ly on not to name the piglets we bought each spring. Though I'd like to be calm, clever Char­lotte, who sac­ri­fices her life, I know I'm more like Wilbur, the dra­ma pig. When the sheep tell Wilbur what his fate will be, he puts on quite a show. I'm the same the way with almost any bad news — the world is com­ing to an end!
"'Stop!' screamed Wilbur. 'I don't want to die! Save me, some­body! Save me!'" [Garth Williams' illus­tra­tion of this scene is price­less.]
I read A Tree Grows in Brook­lyn when I was twelve. I don't know if my sis­ter gave it to me to read, or if I just fell upon it in the library, but Bet­ty Smith's nov­el changed my life. I was Fran­cie Nolan. I didn't live in a ten­e­ment in 1912 Brook­lyn. I didn't know what a fire escape was or an air shaft. But I was Fran­cie and she was me. We both loved the library. We both longed to own a real book (I had cheap Gold­en Books and Trix­ie Belden mys­ter­ies and Fran­cie tried to copy a book in a cheap note­book by hand). After my week­ly vis­it to the library, I read my book lying on the glid­er in the breeze­way in the sum­mer, or across my bed if it was win­ter, often while eat­ing a box of Lemonheads:
"As she read, at peace with the world and hap­py as only a lit­tle girl could be with a fine book and a lit­tle bowl of can­dy, and all alone in the house, the leaf shad­ows shift­ed and the after­noon passed."
The last book on my shelf I read at the age of 19, a year after I'd grad­u­at­ed from high school. A Room Made of Win­dows by Eleanor Cameron came out in 1971, with inte­ri­or illus­tra­tions by Tri­na Schart Hyman. Chap­ter One opens with a spot illus­tra­tion of a long-haired girl, sit­ting at a desk in front of a bank of win­dows, writ­ing furi­ous­ly in a note­book. Although I was work­ing at my first sec­re­tar­i­al job, I want­ed to be Julia Red­fern. We shared a burn­ing desire to be writ­ers. I envied Julia her big wood­en desk with lock­ing draw­ers, and the project she was work­ing on. I'd been writ­ing since I was sev­en, yet I nev­er thought to keep a Book of Strange­ness­es:
"[She] turned to her lists of most beau­ti­ful and most detest­ed words. Under the beau­ti­ful words, which began with 'Mediter­ranean' and 'quiver' and 'undu­lat­ing' and 'empyre­an,' she added 'mel­liflu­ous.' She added 'intestines' to her list of most detest­ed words: 'rutaba­ga,' 'lar­va,' 'mucous,' and 'okra.'"
My edi­tion of A Room Made of Win­dows is a Year­ling paper­back, price $1.25. Inside, on the dou­ble-spread title page with Hyman's pen and ink draw­ing of an old house and a huge tree and an over­grown gar­den and two fig­ures — a young girl and an old woman — is this inscrip­tion: Warm greet­ings to Can­dice from Eleanor Cameron.
When Eleanor Cameron auto­graphed my copy, I was already writ­ing and pub­lish­ing children's books. Yet I felt like Julia Red­fern, a young girl look­ing up to the old­er, more accom­plished writer. Just now, when I opened my copy for the first time since Cameron signed it near­ly thir­ty years ago, I real­ized that I'm the old­er woman in Hyman's drawing.