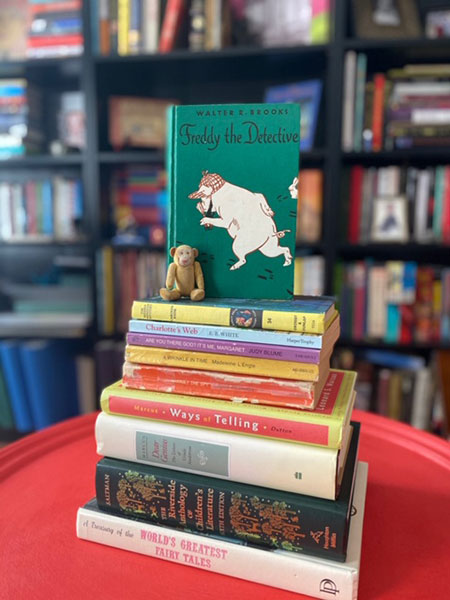 When I pic­ture myself as a kid, I think of my bed­room in our split-lev­el West Vir­ginia house, a room I loved but had to leave behind at age eleven when my fam­i­ly moved to Mary­land. For years, that room was my own lit­tle world, my book nook, my place to cud­dle my cat Rag, col­lect chi­na-cat fig­urines, and, yes, read books about cats. Was I feline-obsessed? Yes! But I won't bore you with the list of cat-ori­ent­ed fic­tion and non­fic­tion I con­sumed as a child. You might be a dog lover after all. My read­ing taste also includ­ed some of the nov­els that plen­ty of girls grow­ing up in the sev­en­ties loved: the Nan­cy Drew mys­ter­ies, Madeleine L'Engle's A Wrin­kle in Time, and Judy Blume's Are You There God? It's Me, Mar­garet. I also adored books about pigs, and for years, I imag­ined that some­day on one of my family's many vis­its to farms and pet­ting zoos, a real-life pig would final­ly talk to me, con­firm­ing my belief that pigs are not only smart but also mag­i­cal, and good con­ver­sa­tion­al­ists, too. That lit­tle bed­room was a riot of col­or: avo­ca­do-green shag car­pet­ing, a bright patch­work quilt, yel­low fur­ni­ture, stuffed ani­mals in all shades and states of dress (over­alls, tiny skirts, fun­ny hats). It was the place where I could most be myself.
Experts say that around the time of puber­ty, most girls expe­ri­ence a nose­dive in con­fi­dence — a cri­sis that par­ents and edu­ca­tors have for years tried to address. At age eleven, I couldn't have put into words how or why my once-fiery self was dimin­ish­ing week by week, and for years lat­er. The tran­si­tion from child into teen is intense and often painful, a time when you still believe in talk­ing ani­mals and por­tals to oth­er worlds yet must face the ways in which your body and self-image are chang­ing day by day. I read and reread books that seemed to hold the answers — or a sense of "I see you." Like me, Mar­garet Mur­ry (in A Wrin­kle in Time) wres­tled with her frizzy hair and teas­ing peers. Like me, anoth­er Mar­garet (this time in a Judy Blume book) was wor­ried about her family's move, not to men­tion bras, boys, and B.O. And there was Har­ri­et, the young "spy" who exu­ber­ant­ly con­fessed her feel­ings in her note­book: "I FEEL THERE'S A FUNNY LITTLE HOLE IN ME THAT WASN'T THERE BEFORE, LIKE A SPLINTER IN YOUR FINGER, BUT THIS IS SOMEWHERE ABOVE MY STOMACH" (Har­ri­et the Spy, p.132). I knew that emp­ty feel­ing. Read­ing helped fill it.
These pro­tag­o­nists were life­lines when I want­ed to hide or cry, laugh and scream at the same time, or just play pre­tend like a lit­tle kid. When you're not quite a child any­more but you're not offi­cial­ly a teen, you still feel that urge to become a char­ac­ter you're read­ing about: I bought a com­po­si­tion note­book like Harriet's and spied beneath the neigh­bors' win­dows; I wore bor­rowed eye­glass­es to cre­ate my Mar­garet Mur­ry per­sona; and I decid­ed to start pray­ing ("Are you there God? It's me, Eliz­a­beth"). Some­times I'd pre­tend to be Nan­cy Drew, brave and wise beyond her years. Oth­er times I was Fern from Charlotte's Web, wheel­ing dolls and my oblig­ing cat in a baby car­riage, call­ing him "Wilbur." That in-between stage is lone­ly and con­fus­ing, watch­ing your peers play Spin the Bot­tle when you'd rather be home play­ing Bar­bie ER (it involved crash­ing her Coun­try Camper). Books don't judge you — they under­stand. They offer up heroes and add col­or and mag­ic to every­day life.
I often felt dif­fer­ent from peo­ple my age, in that I held on to child­hood for so long. Through­out high school, I returned to pic­ture books and my time­worn Judy Blume nov­els, even though I was also read­ing Stephen King. I'd pull out my Nan­cy Drew books, lin­ing them up to choose the best cov­er or make my room resem­ble a library. When feel­ing espe­cial­ly nos­tal­gic, I'd dig out Fred­dy the Detec­tive, a 1932 nov­el by Wal­ter R. Brooks about an adven­tur­ous, can-do pig, and ask my dad to read aloud. I want­ed to pub­lish sto­ries myself some­day, but when I lat­er sub­mit­ted work to my college's lit­er­ary mag­a­zine, I was told the pieces skewed "too young" and would only appeal to kids.
What I didn't know then was that there was a whole world of peo­ple who loved work that cen­tered on chil­dren and teens. When I moved to St. Paul after col­lege, I got a job as a book­seller at the Red Bal­loon Book­shop, where walk­ing in the front door felt like com­ing home. Walls of kids' books! Rows of stuffed-ani­mal lit­er­ary char­ac­ters! A vis­it from the Madeleine L'Engle! There, I didn't have to be more "adult" than I want­ed to be. Maybe those past days of por­ing over book cov­ers in my bed­room had done more than sim­ply sat­is­fy my curios­i­ty or cre­ate a sense of calm. I'd been devel­op­ing a respect for sto­ry­tellers and illus­tra­tors — per­haps even gain­ing that first lit­tle bit of what Ira Glass of This Amer­i­can Life describes as "taste," or your impulse to do cre­ative work. I even­tu­al­ly found a job in book pub­lish­ing, where I learned to edit man­u­scripts and help design book inte­ri­ors. I took a class at the Uni­ver­si­ty of Min­neso­ta taught by Karen Nel­son Hoyle, who had stu­dents read The River­side Anthol­o­gy of Children's Lit­er­a­ture, which exam­ines the impor­tance of folk­tales, poet­ry, pic­ture books, and nov­els writ­ten for young peo­ple. I was still a begin­ner, and as Glass explains (wish­ing some­one had told him when he was a begin­ner): "All of us who do cre­ative work, we get into it because we have good taste. But there is this gap. For the first cou­ple years you make stuff, it's just not that good. It's try­ing to be good, it has poten­tial, but it's not … A lot of peo­ple nev­er get past this phase, they quit." I often gave up, shred­ding my own sto­ries before any­one could see them. But dur­ing that time, I helped oth­er writ­ers find their voic­es and bring their books into the world, a role I cherished.
Some­thing changed, deep­ened, when I had kids of my own. That call to children's lit­er­a­ture grew even stronger. I took writ­ing class­es at the Loft Lit­er­ary Cen­ter in Min­neapo­lis, and I even­tu­al­ly got an MFA in writ­ing for chil­dren and teens from Ham­line Uni­ver­si­ty in St. Paul. Along the way, I learned from authors whose books elicit­ed the feel­ings of yearn­ing I'd had at age eleven — Min­neso­ta writ­ers like Anne Ursu and Kate DiCamil­lo. I stud­ied new and clas­sic pic­ture books, and I longed to write in that short (yet decep­tive­ly com­plex) form. I hoped to some­day feel as con­fi­dent as Har­ri­et M. Welsch, intre­pid girl spy and jour­nal-keep­er, who used writ­ing to under­stand the world and her­self. That was pie-in-the-sky think­ing. Today, any time I start a new man­u­script, my con­fi­dence plum­mets and I feel like a begin­ner again. But guess what? Most writ­ers do! Ira Glass says, "It's nor­mal to take awhile. You've just got­ta fight your way through."
When you read a word-per­fect pic­ture book or a beau­ti­ful­ly writ­ten nov­el, it's easy to think the book popped into the world like "Presto!" because you feel the mag­ic as you turn the pages. But writ­ers, illus­tra­tors, and edi­tors know how much behind-the-scenes work it takes to cre­ate that illu­sion. If you're curi­ous about "book-mag­ic," you might want to read Ways of Telling: Con­ver­sa­tions on the Art of the Pic­ture Book by Leonard S. Mar­cus, and one of Marcus's oth­er works, Dear Genius: The Let­ters of Ursu­la Nord­strom, who was the direc­tor of Harper's Depart­ment of Books for Boys and Girls from 1940 to 1973 (and edi­tor of clas­sics such as Charlotte's Web, Good­night Moon, and Where the Wild Things Are). It's fas­ci­nat­ing to learn about Nordstrom's cor­re­spon­dence with E. B. White and illus­tra­tor Garth Williams, who worked togeth­er on Charlotte's Web. (Should Williams draw Charlotte's eight eyes? Should her mouth be vis­i­ble?) In Ways of Telling, author/illustrator Eric Car­le reveals that he had cre­at­ed a man­u­script called "A Week with Willi Worm!" that, after advice from his edi­tor, trans­formed into The Very Hun­gry Cater­pil­lar. Books, like but­ter­flies, emerge only after a messy process of meta­mor­pho­sis. And that's fit­ting because, after all, we're talk­ing about works for chil­dren, who in the words of E. B. White, "… are the most atten­tive, curi­ous, eager, obser­vant, sen­si­tive, quick, and gen­er­al­ly con­ge­nial read­ers on earth." It's an hon­or to write for them.
I'm far from eleven, but I'm still obsessed with cats (dogs too). I'm still wait­ing for the day a pig might talk to me. And books are still my best friends. Some things nev­er change.