Lester Lam­i­nack is sought after as a speak­er in school dis­tricts all over the coun­try. A retired pro­fes­sor, active­ly involved in lit­er­a­cy on many lev­els, he's thought­ful, artic­u­late, and has a sparkling sense of humor. We're pleased that this very busy author and speak­er took time to share his thoughts with Bookol­o­gy's read­ers this month.
What's the weirdest place you've ever read a book?
Well, it isn't really all that weird, but most of my reading happens on airplanes. I fly a lot to work with kids and teachers around the country.
Do you keep your bookshelves in a particular order?
I do. Most of my books are arranged in alphabetical order by author's last name. However, I have several sets of books that I like to keep clustered by theme. I have some books on shelves next to my desk and those rotate depending on the project I'm working on at the moment.
How many bookcases do you have in your house?
I have a room for books. I call it my library. Then, there is my office and it also has lots of books. And I have books in crates at my house.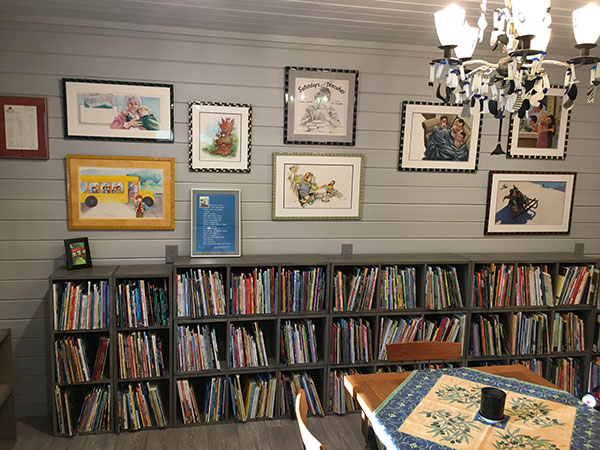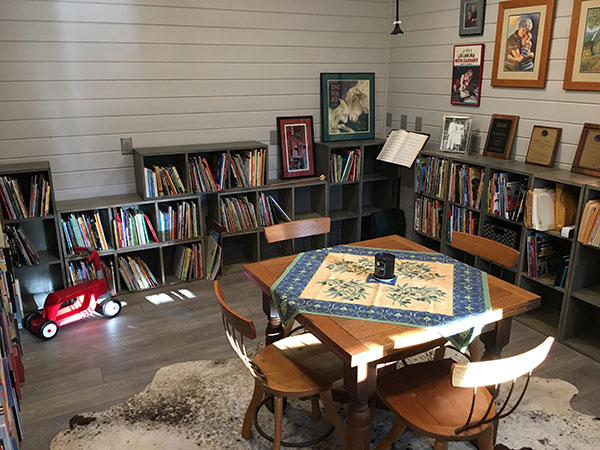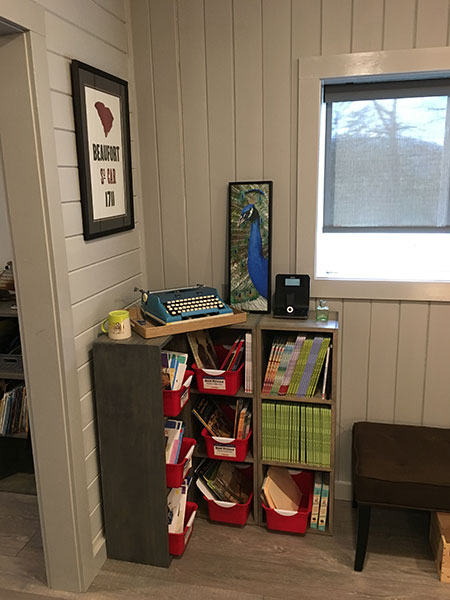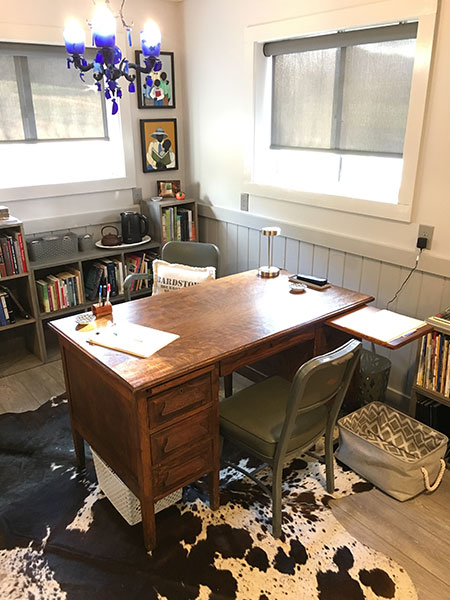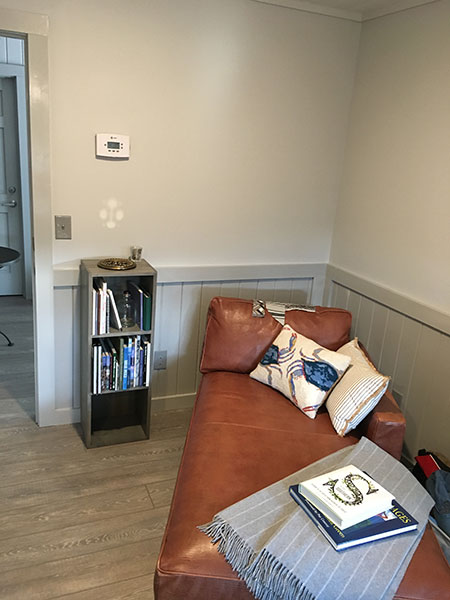 What's the predominant color in your wardrobe?
Blue. I like lots of colors and wear reds and orange and pink and green and gray and black, and I have mostly plaids and checks, but the color you'll see most in my closet is blue.
Which library springs to your mind when someone says that word? What do you remember most about it?
I have spent a lot of time in many libraries, but that word most often conjures memories of the library in the elementary school I attended as a child—Cleburne County Elementary in Heflin, Alabama. I can still hear the voice of Mrs. Hand, our librarian, reading The Boxcar Children. She had the best read aloud voice.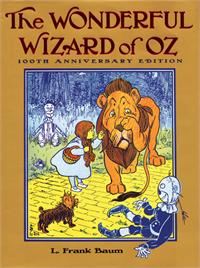 Which book you read as a child has most influenced your life?
Hmmmm, I think that would be The Wizard of Oz. When I was in the fifth grade my family moved to Key West for a year. In that year I read The Wizard of Oz and for the first time I fell inside and lived in the book. It was an amazing experience to be there, in the story, with that cast of characters. That experience changed the way I read.
What's your food weakness?
Hmmm, bread. Oh, and did I say bread? OK, and éclairs. I do love a good éclair.
What's your favorite form of exercise?
Walking and yoga, but I have fallen out of the habit of doing yoga. So, if you don't do it, does it still count as a favorite? Hmmm, I need to get back into that again. Maybe I'd lose that 20 pounds I found. Note: If you have lost 20 pounds in the last 24 months please contact me. I think I found them.
What do you consider to be your best accomplishment?
My son. He is a kind, decent, caring young man with a lovely, confident, intelligent wife and a beautiful young daughter. He is also a college English professor.
What's your favorite flower?
Daylilies. And dahlias. Oh, and Azalea and rhododendrons and mountain laurel and dogwood and camellia and peony. I almost forgot crepe myrtle. Say, did I mention zinnias?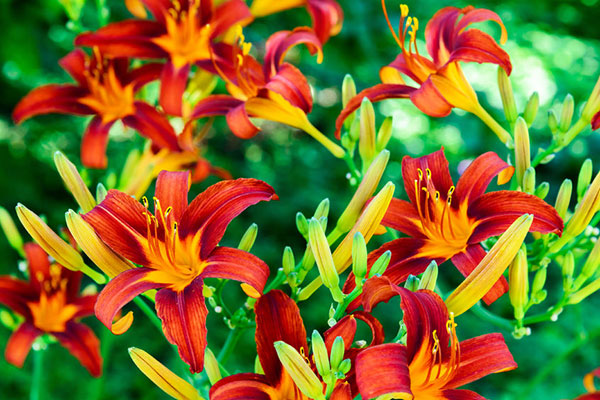 Have you traveled outside of your state? Which state draws you back? (How many states have you visited?)
I have traveled in 47 of the 50 states, all but North Dakota, South Dakota, and Montana. But, I'm going to speak in Montana in 2018. I grew up in Alabama, but I have lived in North Carolina since 1982. North Carolina is my home now and no matter where I travel I am always delighted to return to these mountains. With that said, I do love the area around Sedona, Arizona, and Taos, New Mexico.
Have you traveled outside of the United States? Which country is your favorite to visit? Why?
I love Italy. The language is music. Dining is an experience. Art is an essential part of life. I adore Paris. And I'm traveling to Scotland in about three weeks, so I may have a new favorite.
Who's your favorite artist?
Any child who makes art with joy and abandon. I have long admired the art of Mary Cassatt. I greatly admire the art of Jonathan Green in Charleston, South Carolina. At present I collect the art of two artists from the South Carolina Lowcountry. Mary Segars and Cassandra Gillens.
What's the last performance you saw at a theater?
Bodyguard.
What's your favorite word because you like the way it sounds?
Dénouement and asparagus and corduroy and bourbon …
What would you wear to a costume party?
I'm not a costume party guy. I'm sort of a character in regular clothes. When I'm working you'll almost always find me in Levi jeans, a button down shirt, and a bow tie. Otherwise I'm likely to be in jeans and a sweatshirt or t-shirt.
Who's at the top of your list of Most Admired People?
Mr. Rogers.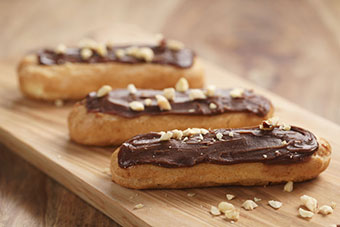 When you walk into a bakery, what are you most likely to choose from the bakery cases?
Hands down I will go directly to the éclair. And a really good looking slice of carrot cake can easily get my attention.
What are your favorite pizza toppings?
Mushrooms, green and black olives, ham, lots of cheese.
Do you remember your dreams?
Sometimes, not always. I don't usually make any sense out of them, but I can sometimes remember snippets. About once a year I will have a dream that I am rushing like crazy and finally get to school with all the kids busy at work not even noticing that I'm late.
What foreign language would you like to learn?
I took French in high school. I wish I could speak fluently. I love the sound of Italian and I'd love to have it flow from my mouth like a waterfall. But, to be practical I would like to learn Spanish because I believe it would be most useful.
Do you read the end of a book first?
Never. And I never eat dessert before dinner either.
If you had a choice, would you live under the ocean or in outer space, and why?
Neither. I am just figuring out how to live on this earth. I'll stay right here if you don't mind.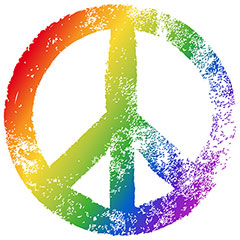 If you could write any book and know that it would be published and tens of thousands of people would read it, which book would you write?
A memoir written for adults.
If you could be granted one wish, what would you wish for?
Peace on this globe. If I could have one wish granted it would be for all people to have enough, to live in kindness and harmony with others and to be good stewards of this earth.