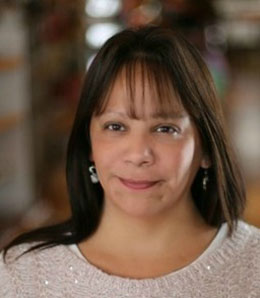 This month we wel­come author Cheryl Min­nema to our Skin­ny Dip tra­di­tion, learn­ing more about this Ojib­we author who has pub­lished two pic­ture books, Hun­gry John­ny and John­ny's Pheas­ant, each based on mem­o­ries of grow­ing up with her broth­er and grand­moth­er. Enjoy this audio inter­view with Cheryl by Lisa John­son at KUMD.
What keeps me up at night: Poten­tial dia­logue for a sto­ry I'm work­ing on.
My phi­los­o­phy: Speak from the heart and you'll nev­er have to wor­ry about what to say.
One habit I keep try­ing to break: Drink­ing soda.
I nev­er thought I would: Be on television.
My mom was right about: Some day I would know how it feels to argue with a child who does­n't want to wear win­ter gear.
No one knows that I: Trained to be a box­er as a pre­teen and boxed boys in the ring, blood­ing the lip of one par­tic­u­lar boy I used to be afraid of.
The bravest thing I've ever done: I donat­ed a kid­ney to my sister.
Guilti­est plea­sure: Eat­ing cheeseburgers.
I yearn to: Retire to a log cab­in on a lake with a wood burn­ing fireplace.
The food I can't resist: Bread
The piece of cloth­ing in my clos­et I can't let go: Melis­sa Etheridge's con­cert t‑shirt.
What I do when I want to feel joy: Go on a nature pho­to adven­ture in the summer.