A ded­i­cat­ed edu­ca­tor in Penn­syl­va­nia, we invit­ed Pat­ti Lapp to answer our twen­ty Skin­ny Dip questions.
Who was your favorite teacher in grades K-7 and why?
Mr. Jor­dan was my favorite teacher who taught 7th grade. He was fun­ny and straight­for­ward; all of us stu­dents respect­ed him, and he cer­tain­ly kept every­one in line. I attend­ed a Catholic school, and he was unique in that setting.
When did you first start reading books?
My mom read to me when I was very young, and because of her dedication, I could read independently when I entered kindergarten. I have been reading voraciously since.
Your favorite daydream?
I daydream of having time to write!
Dinner party at your favorite restaurant with people living or dead: where is it and who's on the guest list?
The dinner party would be at Soggy Dollar in Jost Van Dyke, BVI. The guest list would include: Jesus, of course! This choice is cliché, but how interesting would this dinner conversation be with Him?! At this dinner, I would also invite Mary Magdalene, Stephen Hawking, David Bohm, Albert Einstein, Gregg Braden, Nikola Tesla, Edgar Cayce, Nostradamus, Shirley MacLaine, Nelson Mandela, Charles Dickens, Maya Angelou, Avi, Viggo Mortensen, Paul McCartney, and my father and grandfather, both deceased.
All-time favorite book?
A Tale of Two Cities—brilliant plotline, indelible characters, and a notable beginning and end!
Favorite breakfast or lunch as a kid?
My mom made the best French toast. The key is a lot of cinnamon.
What's your least favorite chore?
Getting ready the night before for the next day's work.
What's your favorite part of starting a new project?
Inspiration.
Barefoot? Socks? Shoes? How would we most often find you at home?
Barefoot or socks—season dependent.
When are you your most creative?
Sitting alone in the quiet dark at night, decompressing before bedtime.
Your best memory of your school library?
When in elementary school, my best memory is of the Nancy Drew mystery stories that I borrowed every week. Now, as a teacher, my best memories are discussing novels with the many librarians that we have had over the years. They read a lot; so do I.
Favorite flavor of ice cream?
Cherry Garcia.
Book on your bedside table right now?
William Kent Krueger's Purgatory Ridge, the third novel in his Cork O'Connor murder/mystery series of currently 16 books. I got hooked on his brilliant story, Ordinary Grace, a standalone novel. He writes beautifully.
What's your hidden talent?
I can weave.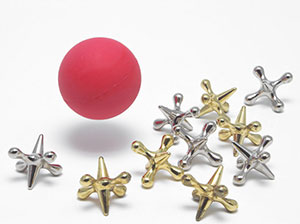 Your favorite toy as a child …
Jacks—Anyone remember that game?
Best invention in the last 200 years?
Clean water and indoor plumbing and the printing press and the electric light.
Favorite artist? Why?
I love Van Gogh because of his textured brush strokes, color, and creativity.
Which is worse: spiders or snakes?
Snakes are the worst. I do not kill spiders because they will consume most of the insects in our homes. If they are big and hairy, they pack their bags and leave—in a cup—to move outside.
What's your best contribution to taking care of the environment?
I am a vegetarian. It takes 15 pounds of feed to generate 1 pound of meat; hence, more people in the world can be fed when people consume a vegetarian diet. Additionally, animals are saved, many that would be raised in inhumane conditions, many that would be treated inhumanely.
Why do you feel hopeful for humankind?
Ideas are humans' most valuable resource. If we continue to invest in innovation and research that make our planet healthier and improve the quality of life for the global community, we have hope. As a very simple example, look at the fairly new awareness of GMOs in our food. With awareness, comes demand. With demand, comes change—and humanity clearly needs to continue to make pioneering and positive changes.