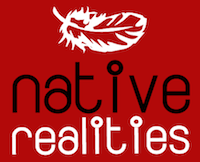 A lit­er­ary super­hero him­self and an indige­nous leg­endary com­ic cre­ator, a pro­po­nent of Native Pop Cul­ture, and cre­ator of a new Native pub­lish­ing ven­ture, I am excit­ed to intro­duce to you Dr. Lee Fran­cis IV and his pub­lish­ing house, Native Real­i­ties.
What kind of press is this? Think Comics, books, inter­ac­tive. Native Amer­i­can authors and artists. Think Indige­nous Com­ic Con.
This new pub­lish­ing house is an indige­nous imag­i­na­tion com­pa­ny ded­i­cat­ed to pro­duc­ing high qual­i­ty media that dra­mat­i­cal­ly changes the rep­re­sen­ta­tion of native and indige­nous peo­ple through pop­u­lar culture.
Native Real­i­ties pub­lish­es books and comics fea­tur­ing super­hero tales of indige­nous icons, First Nations free­dom fight­ers, Abo­rig­i­nal astro­nauts, and Native Amer­i­can super­heroes. In addi­tion to edit­ing and con­tribut­ing a sto­ry to the graph­ic anthol­o­gy Tales of the Mighty Code Talk­ers, Dr. Lee Fran­cis is the author of the comics Sixkiller, Native Entre­pre­neurs, and the upcom­ing Moon­shot Vol.3.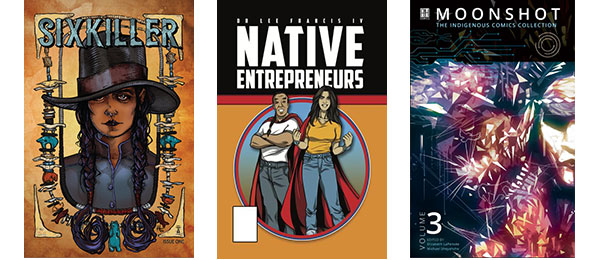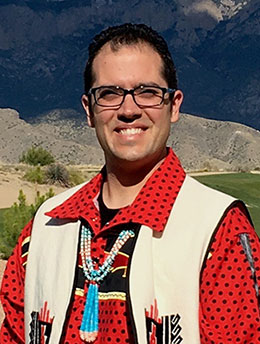 Dr. Lee Fran­cis is also the founder of Indige­nous Com­ic Con, now a nation-wide event that was held this sum­mer in Den­ver, Col­orado, and will be in Albu­querque in March 2020. Indige­nous Com­ic Con high­lights and cel­e­brates the imag­i­na­tive new pop-lit­er­a­ture being cre­at­ed by young Native artists and authors. Lit­er­a­ture pre­sent­ed in comics is acces­si­ble, fun, sur­pris­ing, and chal­lenges past stereo­typ­ing. Native Real­i­ties has brought the indige­nous expe­ri­ence to the world of pop­u­lar cul­ture and to read­ers of all ages.
Dr. Lee Fran­cis IV was born in Vir­ginia as an only child, from a remark­able fam­i­ly, who were and con­tin­ue to be lead­ers and activists in pol­i­tics, cul­ture, and lit­er­ary arts. Lee's father, Elias Lee Fran­cis III, was the founder of the Word­craft Cir­cle of Native Writ­ers and Sto­ry­tellers. Lee's grand­moth­er, Ethel Haines, was of Lagu­na Pueblo / Anishi­naabe and Scot­tish descent. His aunt, Paula Gunn Allen, was a schol­ar of both Eng­lish and Amer­i­can Indi­an lit­er­a­ture, a pro­fes­sor at UCLA, and one of the fore­most voic­es in Native Amer­i­can lit­er­a­ture. And Leslie Mar­mon Silko is Lee's Lagu­na cousin.
Dr. Lee Fran­cis IV car­ries on the spir­it of his fam­i­ly in many ways, espe­cial­ly inno­v­a­tive ways that speak to young read­ers. I was for­tu­nate to meet with Lee at Red Plan­et Books and Comics in Albu­querque and ask him a few questions:
What was the passion that gave you the courage to form a brand new press?
The pas­sion was real­ly about my stu­dents. I want­ed them to have dynam­ic and pos­i­tive rep­re­sen­ta­tions of Native peo­ple in the media they were engag­ing in. I want­ed them to see them­selves in the comics they were read­ing. I want­ed to cul­ti­vate their imag­i­na­tions and I was tired of wait­ing around for some one else to do it. So I start­ed publishing.
What is most rewarding about being a publisher?
Being able to explore top­ics and ideas no one else is writ­ing about. Being able to see a fin­ished prod­uct, to hold it in my hands, to see some­one else tak­ing a copy home for their own library. Most reward­ing, indeed!
What are your challenges as a publisher?
Always dis­tri­b­u­tion. As Native folks, we are incred­i­bly cre­ative but there are still gate­keep­ers that con­trol access to the market.
What are your visions and hopes for the future of your press?
More books, more pub­li­ca­tions. We'd like to branch into toys and espe­cial­ly more games — table­top and roleplaying!
Who do you hope is reading and talking about your books?
Real­ly, every­one! Oprah? Oba­ma? Influ­encers of every sort? LOL. But seri­ous­ly, my hope is always that Native kid­dos and Native fam­i­lies are read­ing and talk­ing about our books and how they have impact­ed them in a pos­i­tive way. (But Oprah would be very cool.)
Tell us about a few of your recent publications and why they are unique.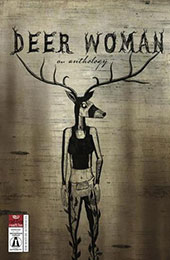 Deer Woman: An Anthol­o­gy is the only graph­ic anthol­o­gy com­plete­ly cre­at­ed by Native women. Native Entre­pre­neurs is a fun com­ic and entre­pre­neur work­book rolled into one. Ghost Riv­er (Decem­ber 1 release) is an incred­i­ble his­to­ry and teach­ing graph­ic nov­el about the mas­sacre of the Con­esto­ga peo­ple in Penn­syl­va­nia. Very proud of all the things we have worked on over the years.
How does one order books from Native Realities?
You can find all our books as well as many more through Red Plan­et Books and Comics.We have lots of great titles and have begun to focus on dis­trib­ut­ing Native-cen­tric, Native-authored con­tent (books and comics) for institutions.
For fur­ther read­ing, enjoy Cyn­thia Leitich Smith's inter­view with Dr. Lee Fran­cis IV
or "The Stan Lee of Indi­an Coun­try: Comics Pub­lish­er Dr. Lee Fran­cis," pub­lished by Indi­an Coun­try Today.