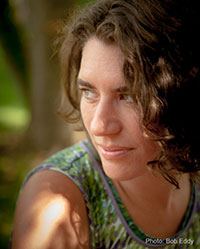 For teach­ers, par­ents and any­one look­ing for "school-at-home" non­fic­tion books, Nomad Press is an excel­lent resource for activ­i­ty-based non­fic­tion books. With Nomad's infor­ma­tion­al series, stu­dents not only "read about" impor­tant top­ics of our times but also inves­ti­gate, "ask about" and "do about" these topics.
First I tried out sev­er­al of their books. I found excel­lent infor­ma­tion com­bined with engag­ing activ­i­ties and chal­leng­ing ques­tions. Top­ics include a large diver­si­ty of sci­ence and social sci­ence issues — earth, water, human genomes, social jus­tice, civ­il rights, Black Lives Mat­ter, women in sci­ence, girls who dare, etc.
I asked Andi Diehn, senior edi­tor and con­tent mar­ket­ing man­ag­er, ques­tions about the vision and focus of Nomad Press books.
How do you decide what type of activ­i­ties and "sci­ence projects" to include?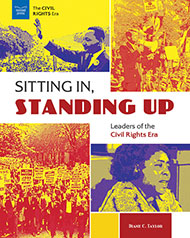 Andi: We look for projects that are more than sim­ply steps to be fol­lowed. We want to get kids think­ing about what might hap­pen after the activ­i­ty or exper­i­ment is "com­plete" and what that means in the larg­er world. For exam­ple, an activ­i­ty to mea­sure the air pol­lu­tion in your own yard can be expand­ed to include an entire neigh­bor­hood, and those results can be used to explore the ques­tion of air qual­i­ty around the world and how this is relat­ed to cli­mate change. Our authors do an incred­i­ble job of find­ing cre­ative ways to incor­po­rate hands-on learn­ing in every book. This applies to our social stud­ies books, too, which all have research projects or hands-on activ­i­ties that let kids explore top­ics even further.
Two books that have become my favorites are Plan­et Earth and Rivers and Streams.
Andi, tell us about a few of your recent pub­li­ca­tions and why they are unique. What new books are you excit­ed to tell read­ers about?
Andi: I'm very excit­ed about a new series we're pub­lish­ing this fall that looks at the his­to­ry and peo­ple of the Civ­il Rights Era and includes lots of ques­tions that encour­age kids to exam­ine the social protests we've seen in the Unit­ed States dur­ing the last sev­er­al months. How is the Black Lives Mat­ter (BLM) move­ment sim­i­lar to the Civ­il Rights Move­ment? How is it dif­fer­ent? What will peo­ple write and say about BLM in 50 years? Kids (and all of us!) need to rec­og­nize that his­to­ry is nev­er firm­ly but­toned into the past and this set of four new books is a great reminder of that.
Take a look at Nomad Press's series: Social Jus­tice for Kids. The text is engag­ing; the his­tor­i­cal per­spec­tive is com­pre­hen­sive. To quote from their website:
These past few years have been a les­son in the pow­er of young peo­ple to con­front a social issue head-on and make their voic­es heard. We've seen walk-outs, demon­stra­tions, march­es, inter­views, calls for action — teenagers are prov­ing them­selves a force to be reck­oned with, and it's an impres­sive sight, whether or not you agree with their politics.
What can adults do to sup­port them? Besides try­ing our hard­est to ensure their safe­ty, we can also give them con­text! Begin­ning with King's "I Have a Dream" speech, Nomad books offer both con­text and his­tor­i­cal perspective.
Then I asked Andi, what is most reward­ing — and chal­leng­ing — about being an edi­tor or publisher?
Andi: The most reward­ing part of edit­ing books is see­ing the end result in the hands of a young per­son. Anoth­er great thing is hear­ing a teacher or par­ent exclaim that THIS book is EXACTLY what they've been look­ing for! What's most chal­leng­ing is the cur­rent edu­ca­tion land­scape we're all strug­gling to under­stand. Since books take so long to pro­duce, pub­lish­ers have always had to strive to see into the future, and with the pan­dem­ic chang­ing the very struc­ture of the edu­ca­tion sys­tem in this coun­try, that view has only got­ten cloudi­er. How­ev­er, one thing remains cer­tain: kids need books that get them excit­ed about learn­ing, no mat­ter where they are. So that's our goal.
For writ­ers and illus­tra­tors inter­est­ed in sub­mit­ting work, what are your guidelines?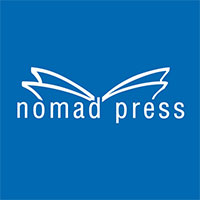 Andi: Nomad Press does­n't actu­al­ly accept pitch­es for fin­ished projects at this point (except occa­sion­al­ly from writ­ers we're already work­ing with) — instead, we con­sid­er queries from writ­ers look­ing for work-for-hire assign­ments. Authors are very wel­come to send along a writ­ing sam­ple and some info on what types of sub­jects you're inter­est­ed in writ­ing about.
This high praise and recog­ni­tion by Skip­ping Stones speaks to the mis­sion of Nomad Press:
"Yet anoth­er edu­ca­tion­al and infor­ma­tive book in the Inquire and Inves­ti­gate series, this vol­ume is of spe­cial men­tion because its sub­ject mat­ter impacts us every day." (Skip­ping StonesMag­a­zine Hon­or Award Win­ner for Nature and Ecol­o­gy Books)