Imag­ine walk­ing into an old-time dry-goods store. Hear the wood­en floor squeak. Peer through the glass case at the won­drous dis­play of pen­ny can­dy. Close your eyes and taste your favorite … root beer bar­rels, red-wax lips, ropes of red licorice.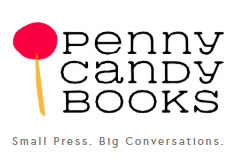 Instead of sug­ary sweets, Pen­ny Can­dy Books offers a selec­tion of books that delight, engage, and chal­lenge. Their books reflect today's glob­al con­cerns. Pen­ny Candy's vision is to work with a vari­ety of authors and illus­tra­tors to offer impor­tant sto­ries well told by a diver­si­ty of voic­es. Found­ed in 2015 by poets Alex­is Org­era and Chad Reynolds, Pen­ny Can­dy released its first title in the fall of 2016. Pen­ny Can­dy's imprint, Pene­lope Edi­tions, released its first title in Jan­u­ary 2017.
I asked Chad Reynolds, head of mar­ket­ing, to describe the vision of this new press. I was struck with how sev­er­al of his phras­es echoed how I would describe their wide vari­ety of books: "few words, impor­tant ideas … small press, big con­ver­sa­tions … not afraid to take risks … an engaged world view." As stat­ed on the Pen­ny Can­dy web­site, we will not exclude any­one from our cat­a­log, we focus on under­rep­re­sent­ed, unheard, or for­got­ten voices.
Tell us about a few of your recent publications and why they are unique.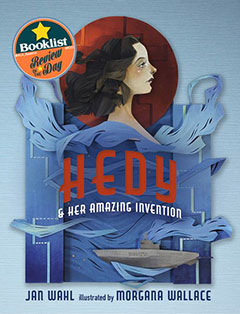 PCB: We are very proud of our Spring 2019 cat­a­log. We have five titles that touch on a vari­ety of sub­jects, such as Hedy Lamar­r's work as an inven­tor; how a lit­tle girl feels when her grand­moth­er in India dies; a book about a boy with a phys­i­cal dis­abil­i­ty; anoth­er one about depor­ta­tion; and a friend­ship book using com­pound words to tell a sto­ry. The "com­pound book," Be/Hold: A Friend­ship Book," feels both utter­ly unlike any­thing I've seen and also very familiar.
Intrigued, I asked Chad addi­tion­al questions:
What is the passion that gives you the courage to create and publish books?
PCB: We were inspired by a series of op-eds in the New York Times sev­er­al years ago by Wal­ter Dean Myers and his son Christo­pher, who called out the lack of diver­si­ty in chil­dren's lit. We want­ed to be part of a grow­ing num­ber of pub­lish­ers who val­ue real diver­si­ty and who want to have con­ver­sa­tions around that. It's been grat­i­fy­ing and encour­ag­ing to see the enthu­si­as­tic respons­es our titles have been get­ting – and I don't just mean sales.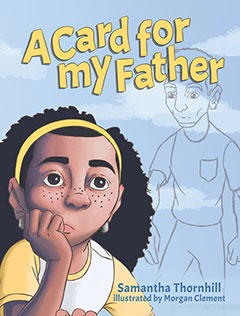 For exam­ple, when Saman­tha Thorn­hill vis­it­ed a school in D.C. to dis­cuss her book about a child who does­n't know her father because he's incar­cer­at­ed, there was one child in par­tic­u­lar who was real­ly engaged in the con­ver­sa­tion. Appar­ent­ly, this child had nev­er opened up, was always reserved and with­drawn, and in fact often got in trou­ble for pick­ing fights and talk­ing back. But when Sam vis­it­ed, he opened up and after­wards shared he could empathize with the main char­ac­ter because he too had vis­it­ed his father in prison and it was a scary place. It's sto­ries like this that give us the pas­sion to cre­ate and pub­lish books.
What do you want librarians and teachers to know about your vision of a good book?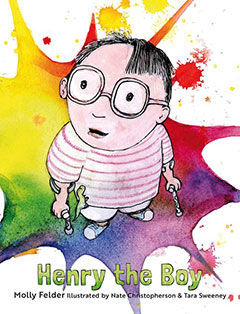 PCB: We think our mot­to — small press, big con­ver­sa­tions — does a nice job of cap­tur­ing what our books are about. We want to remem­ber who our main audi­ence is — kids. We want our books to spark big con­ver­sa­tions between kids and adults about time­ly, impor­tant top­ics. We feel that our titles — whether they be about parental incar­cer­a­tion, a boy with a phys­i­cal dis­abil­i­ty, or the impor­tance of see­ing past stereo­types — will be a won­der­ful tool in many settings.
Also our aes­thet­ic is inten­tion­al­ly dif­fer­ent from most press­es. Our cus­tom­ary trim size at 6.5″ W by 8.5″ tall is a bit small­er than most pic­ture books because we want peo­ple to see a book and say, oh there's a new Pen­ny Can­dy title! We don't require our books to be a cer­tain page length — some have been 36 pages and oth­ers are up to 68! We don't require peo­ple to sub­mit via agents. We want to cast a wide net, to give peo­ple out­side the nor­mal chan­nels a chance to let us fall in love with the sto­ries they've created.
We aren't afraid to take risks.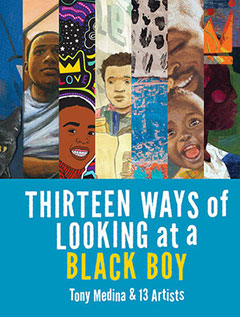 What are your visions and hopes for the future of children's literature?
PCB: I think chil­dren's lit­er­a­ture is bet­ter than it's ever been. We're in a good moment, with the #own­voic­es move­ment offer­ing some pro­found sto­ries and per­spec­tives and with the high qual­i­ty of pic­ture books, mid­dle grade, and young adult nov­els. I think kid-lit has always had a vital role in deliv­er­ing hard truths to kids in ways they can under­stand. Think Aesop's Fables or Grimms' fairy tales or the work of Hans Chris­t­ian Ander­sen. I think kid-lit can remain rel­e­vant if it helps chil­dren make sense of their world — and there's a lot to make sense of now.