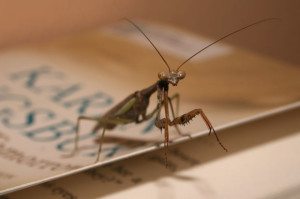 What ani­mal are you most like?
Some­times I am a Zen-like pray­ing man­tis, sit­ting and watch­ing the world. And oth­er times I am hopped up like a hum­ming­bird zip­ping around try­ing to get a bunch of things done at once or, if I am at a par­ty, try­ing to meet every­one in the room.
Which book of yours was the most dif­fi­cult to write or illus­trate?
My new book Bee Dance was the most dif­fi­cult. It is only 250 words long, but it took me 9 years to write it! I should tell you that's not the only thing I worked on dur­ing that time. I did the research about how hon­ey­bees com­mu­ni­cate and wrote a man­u­script. When I read it out loud I felt like it just wasn't good enough. So I put it away and worked on oth­er projects. A cou­ple years lat­er I pulled it out again and worked on it some more. But it still wasn't good enough. I worked on oth­er books and for­got about it. Then a few years after that, my good friend Susan Marie Swan­son said "Hey, what­ev­er hap­pened to that bee book?"
I pulled it out of the draw­er where I keep sto­ries in progress and read it again. And you know what? It wasn't that bad! I learned that if I just focused specif­i­cal­ly on the bee dance that would be the way to go. I worked on it some more, and took it to my writ­ers' group. They helped me make it a lit­tle bet­ter still. Then I did sev­er­al dum­mies to fig­ure out how the illus­tra­tions should look. I showed it to my edi­tor, Lau­ra God­win, and she loved it. My advice to writ­ers out there: some­times your work might take longer than you think it should. But, if you believe that it's a good idea, don't ever give up! I could have giv­en up on Bee Dance so many times. I'm real­ly glad I didn't.
Which of your books would make a good movie and who would be the star?
Hmmm. I actu­al­ly think that the book I'm work­ing on right now would make a cool movie. But I can't tell you about that one yet….so let's see, I'll pick Big Brown Bat. John­ny Depp would make a great bat, I'm sure.
What's your favorite line from a book?
"Then the owl pumped its great wings and lift­ed off the branch like a shad­ow with­out sound." From Owl Moon, writ­ten by Jane Yolen.
What book do you tell every­one to read?
I real­ly love the Amulet graph­ic nov­el series by Kazu Kibuishi. I would rec­om­mend it to any­one, even if you don't like long-form comics.
Are you a night owl or an ear­ly bird?
If I am on a tight dead­line I work late into the night. Oth­er­wise I like to see the morn­ing sun.
Were you most like­ly to vis­it the school office to deliv­er attendance/get sup­plies, vis­it the nurse, or meet with the prin­ci­pal?
None of the above. In my ele­men­tary school the library was very tiny and it was in the principal's office! Who would want to pick out a book with the prin­ci­pal watch­ing? I won­der if that's why I was nev­er a big read­er as a kid. Now I love to read and I usu­al­ly have 2 or 3 books going at once, but back then I liked play­ing out­side or draw­ing pic­tures in my room more than any­thing else.