by Mau­r­na Rome
Long gone are the days of "Don't do this or that or the oth­er thing" lists of class­room rules. At least I hope they are long gone… The influ­ence of "respon­sive class­room," greater aware­ness of the pow­er of being pos­i­tive and much research on effec­tive class­room man­age­ment have ush­ered in a new approach to estab­lish­ing expec­ta­tions in our schools. Most edu­ca­tors know that in order to learn, there has to be order in the court. Most edu­ca­tors know that "buy in" from the kids is the short­est route to arrive at the des­ti­na­tion. Most edu­ca­tors know that it is a worth­while invest­ment of time and ener­gy to lay a sol­id foun­da­tion at the start of each school year that incud­es dis­cus­sion about goals, hopes and dreams (see First Six Weeks of School, Respon­sive Class­room).
Yet after 24 years (this year marks the begin­ning of my 25th !) I have just recent­ly real­ized how much eas­i­er it will be to estab­lish and rein­force the shared class­room agree­ments we will be cre­at­ing using some of my favorite lit­er­ary trea­sures. My vision includes a fair amount of "guid­ed dis­cov­ery," AKA, I know what I want the out­come to be but I want the kids to feel like they have come up with it on their own. Here's my plan…
The 31 let­ters are scram­bled on the wall. This invi­ta­tion is post­ed above.
Dear Students,

Please think about the kind of class­room where cool kids make

awe­some things hap­pen every day. A place where we are all making

our hopes and dreams come true. The type of envi­ron­ment where

learn­ing and look­ing out for each oth­er are the name of the game.

Using the 31 let­ters below, can you help build the 9 words that will

guide us as shared agree­ments on this won­der­ful jour­ney together?

Thanks! Mrs. Rome

My hope is that my stu­dents will think, dis­cuss and work togeth­er to take 31 let­ters and turn them into our class­room creed con­tain­ing just nine words. Nine pow­er­ful words that when com­bined become five sim­ple and short, yet pow­er­ful sen­tences. Just 31 let­ters that will guide us all year long as we design and nav­i­gate the roadmap to suc­cess in our 4th/5th grade Human­i­ties classroom.
Be safe. Be kind. Work hard. Have fun. Grow.
These nine pow­er­ful words encom­pass all that I hope to accom­plish with each one of my 50 schol­ars in the com­ing year. I am con­vinced that this mantra is some­thing we can all agree on. Bring­ing these words to life, mak­ing them a part of our dai­ly actions and most impor­tant­ly, what we feel com­pelled to do in our hearts, is anoth­er order of busi­ness. A tall order of busi­ness. Yet this IS my busi­ness… to keep kids safe, to help them be kind and devel­op a strong work eth­ic, to expe­ri­ence joy as often as pos­si­ble, and always, to cul­ti­vate their tal­ents so they can grow and develop.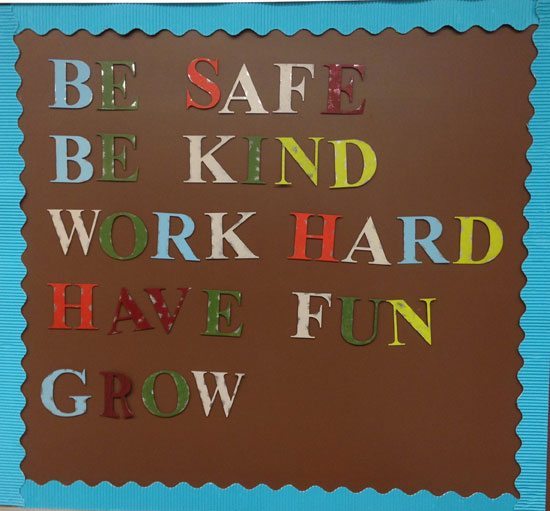 As is most often the case, when I find myself search­ing for wis­dom from a reli­able friend, I turn to the vast col­lec­tion of books in our class­room library. As I begin my 25th year as an edu­ca­tor, I mar­vel at just how impor­tant my books and the lessons they pro­vide are. Allow me to share how my trea­sures — pic­ture books and chap­ter books — will pave the way to cre­at­ing our class­room com­mu­ni­ty in Room 123.
I will begin by shar­ing some of my favorite pic­ture books, sto­ries that can be shared in the first week or two of the new school year to help us estab­lish the impor­tance of our 31 let­ters. I don't hes­i­tate to read aloud these books that are usu­al­ly reserved for the younger crowd, because I know that the big kids ben­e­fit from pic­ture books just as much. The insights and dis­cus­sions that come from these ter­rif­ic titles help my stu­dents learn more about how our shared agree­ments will sup­port our learn­ing. The chap­ter books will unfold over days, weeks, months, yet again, the sto­ries will illus­trate how those 31 let­ters take our fic­tion­al friends through many life lessons.
At this very moment, edu­ca­tors all across the coun­try are care­ful­ly plan­ning or pre­sent­ing lessons that are designed to pro­mote enthu­si­asm for read­ing. At the same time, those ded­i­cat­ed indi­vid­u­als are work­ing on build­ing a pos­i­tive class­room com­mu­ni­ty. Most edu­ca­tors know that the right book in the hands of the right kid can make an enor­mous dif­fer­ence. Some of us even believe books have the abil­i­ty to changes lives. I am grate­ful to know, love, and share these books with my colleagues.
Be Safe
The Huge Bag of Wor­ries by Vir­ginia Ironside
The War That Saved My Life by Kim­ber­ly Brubak­er Bradley
Be Kind
Each Kind­ness by Jacque­line Woodson
The One and Only Ivan by Kather­ine Applegate
Work Hard
Amaz­ing Grace by Mary Hoff­man and Thank You Mr. Falk­er by Patri­cia Polacco
Long Walk to Water by Lin­da Sue Park
Have Fun
Wum­bers (or any­thing by Amy Krause Rosenthal)
Escape from Mr. Lemoncello's Library by Christo­pher Grabenstein
Grow
Beau­ti­ful Oops by Bar­ney Saltzberg and Beau­ti­ful Hands by Kathryn Otoshi
Won­der by RJ Palacio