As the first month of a new school year comes to a close, I offer some food for thought about nour­ish­ing our teach­ers. Lit­er­al­ly and fig­u­ra­tive­ly. Years ago when I was work­ing on my administrator's license I dis­cov­ered a gem of a book called If You Don't Feed the Teach­ers, They Eat the Stu­dents! Guide to Suc­cess for Admin­is­tra­tors and Teach­ers by Neila Con­nors. In a nut­shell, this play­ful tome sug­gests that serv­ing teach­ers with a steady diet of appre­ci­a­tion, encour­age­ment, and acknowl­edge­ment is a recipe for suc­cess in any school com­mu­ni­ty. Sim­ply put, teach­ers have a lot on their plates which explains why they are hun­gry for support.
It isn't always an easy-as-pie endeav­or. How­ev­er, one of my goals as an instruc­tion­al coach is to make sure my hard-work­ing and ded­i­cat­ed col­leagues know how much their effort and com­mit­ment to kids, learn­ing, and teach­ing are val­ued. I also strive to help teach­ers grow pro­fes­sion­al­ly. I believe the recipe for suc­cess includes two essen­tial ingre­di­ents; first, you must reach the heart before you can reach the head and sec­ond, one way to the heart is through the stomach.
As I vis­it­ed class­rooms dur­ing the open­ing weeks of the new school year to deliv­er some tasty lit­tle treats, I was for­tu­nate to be able to feed some hearts and minds with book sug­ges­tions. Teach­ers were eager to fill their pantries with excep­tion­al read aloud books that would con­tribute to cre­at­ing pos­i­tive class­room com­mu­ni­ties. They were also search­ing for pro­fes­sion­al books that might make the dif­fer­ence between engaged and dis­en­gaged learners.
In addi­tion to shar­ing some sweet treat ideas, here are a few titles to digest!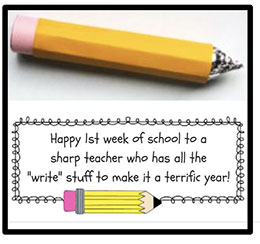 Week One Menu: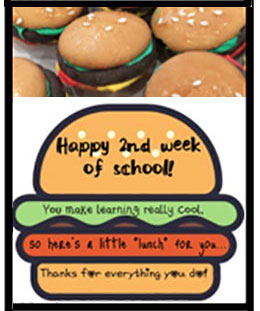 Week Two Menu: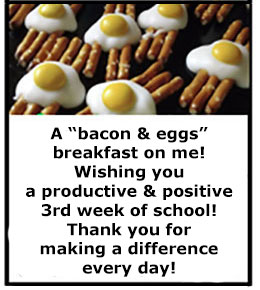 Week Three Menu:
And to cap off this month of thought-pro­vok­ing and appre­cia­tive food:
Week Four Menu:
My hope is that this month's arti­cle will pro­vide you with a buf­fet of ideas when it comes to feed­ing your teach­ing and lit­er­a­cy soul so you can walk away feel­ing satiated.