by Mau­r­na Rome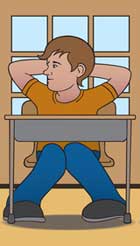 Flash­back to the first week of school … we were pass­ing the micro­phone around our large cir­cle of 29 third-graders. It was easy to see that many stu­dents were shy and ner­vous, but one young man was appar­ent­ly look­ing for some shock val­ue. He began with "My name is Michael" then non­cha­lant­ly added, "I'm a slack­er." Huh? Most of the class mum­bled and mur­mured about that intro. Many were obvi­ous­ly not famil­iar with this unique adjective.
I made note of the kid's atti­tude and advanced vocab­u­lary, and put him at the top of my list for a one-to-one read­ing con­fer­ence. A few days lat­er, I dis­cov­ered that Michael devours books, has excel­lent com­pre­hen­sion and is actu­al­ly a very moti­vat­ed read­er. He became quite ani­mat­ed when telling me all about Greg, the main char­ac­ter from Diary of a Wimpy Kid (who no doubt was Michael's cur­rent role mod­el). In the weeks to come, my clas­sic under-achiev­er proud­ly and often pro­claimed to his peers how much he enjoyed being lazy. I was deter­mined to help Michael find a new iden­ti­ty by fig­ur­ing out how to tap into his obvi­ous love of reading.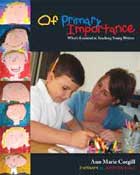 Thanks to an insight­ful book called Of Pri­ma­ry Impor­tance by Anne Marie Corgill (Sten­house, 2008), I am com­mit­ted to immers­ing my stu­dents in authen­tic lit­er­a­cy learn­ing. Pub­lish­ing "real" hard cov­er books in my 1st grade class­room proved to be a suc­cess­ful strat­e­gy. How­ev­er, now that I was begin­ning my first year in a 3rd grade class­room, I knew I need­ed to change things up a bit. Find­ing the best men­tor texts and sim­ply get­ting kids to want to read vora­cious­ly was the first order of business.
I quick­ly learned that this group of 8- and 9‑year-olds could be reeled in by read­ing graph­ic nov­els. Since our class­room inven­to­ry of graph­ic nov­els main­ly con­sist­ed of Squish, Bone, and Lunch Lady, I did some research and over the next few months added more titles to our class­room library. Baby Mouse, Zita the Space­girl, Card­board, Knights of the Lunch Table, The Light­en­ing Thief, and Sea of Mon­sters (graph­ic nov­el ver­sions) became all the rage. Library check­out of high demand titles has includ­ed Amulet, Smile, Sis­ters, and all of the titles from our class­room col­lec­tion, since they are lim­it­ed in number.
I've learned that a pow­er­ful approach to moti­vat­ing kids to read is to be selec­tive when sug­gest­ing a new book to stu­dents. Some­times, I share whole-class "book talks" but, more often, I pull a stu­dent aside and con­fide that I thought of him (or her) the minute I turned the first page. I am sin­cere when I say that I am inter­est­ed in his opin­ion, and would real­ly appre­ci­ate hear­ing if he would rec­om­mend the book after read­ing it. Kids care much more about what their peers are say­ing or think­ing, so it makes sense to drum up busi­ness for spe­cif­ic book titles in this way.
Giv­ing kids access to what they want to read and find­ing ample time for inde­pen­dent read­ing dur­ing the school day (usu­al­ly 30 – 40 min­utes dai­ly) was just the first half of my strat­e­gy to con­vert my smug slack­er and inspire the rest of the class as well. The dis­cov­ery of blank com­ic books on the Bare Books web­site ($15 for 25 books, just 60 cents each); was the gold­en tick­et. Offer­ing choice and no judg­ment (or at least very lit­tle) about what kids are read­ing com­bined with encour­age­ment to explore their own inter­ests in writ­ing, became the per­fect combination.
Kids were eager to cre­ate their own ver­sion of graph­ic nov­els and soon, our class­room library grew to include such inter­est­ing titles as The Day Lady Lib­er­ty Came to Life and Bacon Man and Pig Guy, both of which became series, each with 5 vol­umes! The adven­tures con­tin­ued with a line-up of Pigeon titles; Don't Let the Pigeon Ride a Uni­corn and Don't Let the Pigeon Play Five Nights at Freddy's along with a fun and frol­ick­ing set of books enti­tled Par­ty in the USA!
Here is one of the graph­ic nov­els cre­at­ed in the class, Bacon Man and Pig Guy, by Ian Clark.
Click on the four-head­ed arrow sym­bol to view in full screen mode.
No flip­book found!
Stu­dents in my class are encour­aged to use lit­er­a­cy choice time to con­tin­ue read­ing or writ­ing inde­pen­dent­ly, with a part­ner or a col­lab­o­ra­tive group. This type of peer mod­el­ing and men­tor­ing has led to an explo­sion of self-pub­lished graph­ic nov­els and short sto­ries in 3MR. Kids actu­al­ly cheer when I announce that we will have time to write in both the morn­ing and after­noon. They are "pub­lish­ing" their own graph­ic nov­el series, ask­ing each oth­er to write reviews of their books and they are wait­ing patient­ly for their turn to read a classmate's lat­est offer­ing. Best of all, they are sign­ing up in droves to do a "Book Share" on Fri­days, a new addi­tion to our "Book Talk, Book Shop, Book Swap" Fri­day activ­i­ties (see my pre­vi­ous arti­cle on that topic!).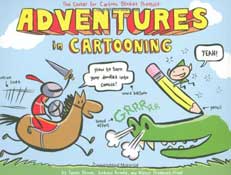 Fast for­ward to the end of Decem­ber. Stu­dents were once again intro­duc­ing them­selves, this time to a vis­i­tor in our class­room. How­ev­er, when it was time for my "slack­er" to take cen­ter stage, he offered this: "Hi, my name is Michael and I'm a car­toon­ist." My heart did som­er­saults! To real­ly seal the deal, this same stu­dent recent­ly approached me with a delight­ful idea. Tak­ing the lead from our "Card­board L.I.T. Club" – an after­school book club designed to Link Imag­i­na­tion Text, he pro­posed a "Car­toon­ing L.I.F.T. Club", adding "F" for FUN to the acronym! This one-time slack­er had actu­al­ly jot­ted down all the infor­ma­tion need­ed for the invi­ta­tion­al fly­er, com­plete with a catchy expla­na­tion about the club's pur­pose, a sched­ule, and con­test ideas. Despite the crazi­ness of the last few weeks of the school year, how could I say no? 20 aspir­ing "Car­toon­ing L.I.F.T. Club" mem­bers will be div­ing into our newest men­tor text, Adven­tures in Car­toon­ing, for three after-school ses­sions in May.