Recent head­lines are sound­ing the alarm: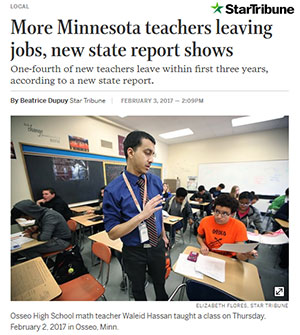 More Min­neso­ta teach­ers leav­ing jobs, new state report shows
One-fourth of new teach­ers leave with­in first three years, accord­ing to a new state report.
The statewide teacher short­age described as an "epi­dem­ic" has Min­neso­ta school dis­tricts search­ing for strate­gies that will increase teacher reten­tion. A Feb­ru­ary, 2017, Star Tri­bune arti­cle offers a star­tling sta­tis­tic that should be stop­ping school boards, admin­is­tra­tors, leg­is­la­tors and most impor­tant­ly par­ents in their tracks:
"The 2017 ver­sion of the Min­neso­ta Teacher Sup­ply and Demand report issued Wednes­day found a 46 per­cent increase in the num­ber of teach­ers leav­ing the pro­fes­sion since 2008."
While I believe a num­ber of oth­er issues also deserve our atten­tion (increas­ing the num­ber of teach­ers of col­or, improv­ing teacher train­ing, and clos­ing the achieve­ment gap), we can­not ignore the fact that the future of edu­ca­tion is uncer­tain at best. Some might even say the future is bleak.
How­ev­er, as a self-pro­fessed cham­pi­on of pos­i­tiv­i­ty and on behalf of the hun­dreds of col­leagues I have worked with over the past 26 years, I have com­piled a short list of requests. Invest­ing in these five straight­for­ward con­di­tions would send a strong mes­sage that we are seri­ous about address­ing the need to attract and retain high-qual­i­ty teach­ers for our children.
Isn't it time to lis­ten to the teach­ers when we ask for the fol­low­ing?
#1. High qual­i­ty train­ing in class­room man­age­ment and engagement
Ask any first year edu­ca­tor what he/she learned about these essen­tial com­po­nents of teach­ing in their under­grad­u­ate cours­es and the answer will like­ly be "Lit­tle, if any­thing." The sad truth is that our col­leges and uni­ver­si­ties are not doing an excep­tion­al job of prepar­ing new teach­ers for the chal­lenges they will face when it comes to cre­at­ing class­room envi­ron­ments that are con­ducive to learn­ing. We must do bet­ter. Before the degrees are grant­ed, as well as once new teach­ers are stand­ing in front a class­room full of kids, learn­ing how to estab­lish a cli­mate where kids can and want to learn is essen­tial.
#2. Rea­son­able class sizes
And speak­ing of that class­room full of kids… Despite the stud­ies that insist class size doesn't real­ly mat­ter all that much, 99.9% of teach­ers will tell you, CLASS SIZE MATTERS! A lot! Last year I taught two sec­tions of Lan­guage Arts. My first sec­tion had 31 stu­dents, my sec­ond sec­tion just 22 stu­dents. The amount of time I could devote to small group read­ing with stu­dents in the sec­ond sec­tion was obvi­ous­ly much greater than with stu­dents in the first sec­tion. Excel­lent teach­ers strive to cre­ate mean­ing­ful rela­tion­ships with stu­dents, they believe in pro­vid­ing rel­e­vant feed­back, and they under­stand the impor­tance of con­nect­ing with par­ents. Accom­plish­ing these goals is pos­si­ble with 22 stu­dents. Mak­ing it hap­pen con­sis­tent­ly with 31 stu­dents is a feat that most teach­ers find overwhelming.
#3. Ample class­room library and sup­ply budgets
There is a joke often shared on social media that teach­ing is the only pro­fes­sion where you steal from home and take things to work. Sur­veys have shown that the aver­age teacher spends at least $500 out of their pock­et for every­thing from Kleenex to snow boots to gra­ham crack­ers. We not only wor­ry about keep­ing stu­dents healthy, warm, and fed, but we also invest heav­i­ly in putting books on our shelves year after year. Many teach­ers I know dream of win­ning the lot­tery in order to stock his/her class­room with the basic essen­tials. Rather than make us wait for our lucky num­bers to hit, how about if the school boards, admin­is­tra­tors, and school finance gurus help us meet the needs of stu­dents today! We're not ask­ing for mil­lions, but $500-$1,000 per year would help a great deal.
#4. Time in our class­rooms dur­ing "back to school work­shop" days
Every August it's the same old sto­ry. Teach­ers sit through hour after hour, day after day of meet­ings and work­shops that are sup­posed to help us become the best teach­ers we can be. The inten­tions are hon­or­able. Most of us real­ize this. But here's the thing, our minds are else­where dur­ing this cru­cial time peri­od. It is tough to get or stay engaged in talk about inter­ven­tions, effec­tive math rou­tines or even worse, new rules for using the lam­i­na­tor, when more than two dozen lit­tle peo­ple and their fam­i­lies will be walk­ing through the door for open house in 48 – 72 hours. Give us the time we need to get our class­rooms ready. Make it a pri­or­i­ty to lim­it those August work­shop ses­sions in favor of sup­port­ing us in a sub­stan­tial way – with ade­quate time to be in our class­rooms prepar­ing for our learn­ers and the adven­tures that lie ahead.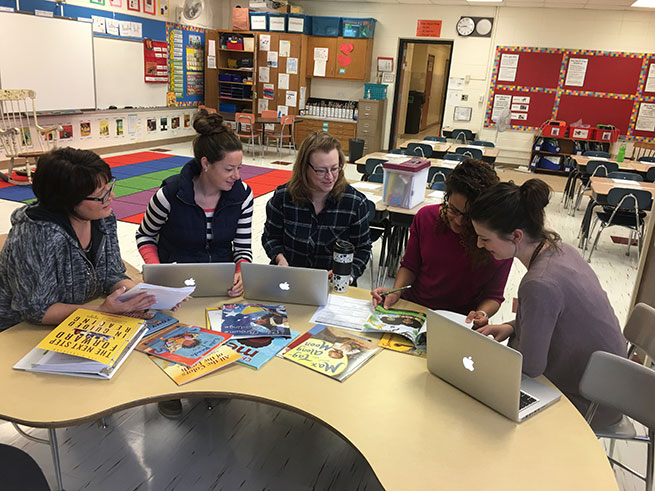 #5. Ongo­ing, job-embed­ded, teacher-dri­ven pro­fes­sion­al development
The ben­e­fits of "one and you're done" or "sit and git" work­shop train­ing days are min­i­mal. Often­times there is lit­tle change in beliefs or behav­iors after attend­ing this type of PD. As an instruc­tion­al coach, I am priv­i­leged to be in a dis­trict that val­ues invest­ing in teacher devel­op­ment and growth. I have worked in sev­er­al oth­er dis­tricts that have not approached pro­fes­sion­al devel­op­ment in the same way. Hon­or­ing teacher voic­es in this process is the way to fos­ter sys­temic change and sus­tain improve­ments. Recent­ly I joined a group of teach­ers as they col­lab­o­rat­ed on cre­at­ing a teacher-friend­ly guid­ed read­ing les­son plan for­mat. It was so impres­sive to see how they bounced ideas off of one anoth­er, dis­cussed their ratio­nale and insights, or offered dif­fer­ing opin­ions on how to approach the plan. There was a love­ly mix of syn­er­gy, respect, and affir­ma­tion. They knew what they were doing and they were doing it well. The next day, they decid­ed to put in a request for half-day subs so every­one on the team could dig even deep­er into their under­stand­ing and imple­men­ta­tion of the new approach to guid­ed read­ing. This is the type of pro­fes­sion­al devel­op­ment we need. No one at the dis­trict office or State Depart­ment of Edu­ca­tion could do a bet­ter job of pre­scrib­ing or design­ing effec­tive training.
Ask the teach­ers. And most impor­tant­ly, lis­ten to them. They know. Trust me. They know. Trust them. They real­ly know.