After post­ing pho­tos on Face­book of a recent trip to Chica­go, my friend Joanne post­ed the above com­ment. My heart soared a bit, know­ing that my pas­sion for books and book­stores gar­nered such a love­ly, pos­i­tive obser­va­tion. It's no secret that just about any­time I find myself traips­ing through a new town, I am eager to check out the local book­store. It seems fit­ting that as 2019 comes to a close, I recap my book­store adven­tures from the past year and share a few high­lights from five favorites.
Riv­er Lights 2nd Bookstore
1098 Main Street
Dubuque, IA
Why it's worth the visit
Dubuque is my home­town and though there are three col­lege book­stores, Riv­er Lights is the only inde­pen­dent book­seller in the city. The quaint and com­fy estab­lish­ment is con­ve­nient­ly locat­ed on Main Street and it's open sev­en days a week. What I love most about it is the qual­i­ty and quan­ti­ty of rec­om­mend­ed titles and how they are dis­played. The space is not huge, but they make use of the space in a most charm­ing man­ner. Floor to ceil­ing shelves with a cool slid­ing lad­der pro­vide plen­ty of oppor­tu­ni­ty for explor­ing. There's also a cute lit­tle nook espe­cial­ly for kids.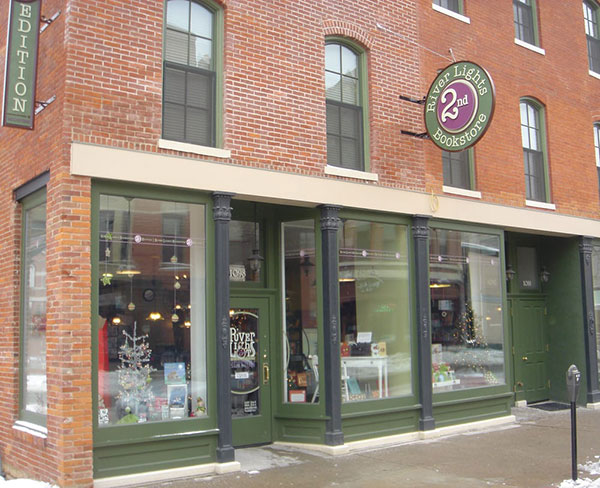 If I still lived in Dubuque, I would be thrilled to take advan­tage of the many book clubs spon­sored by Riv­er Lights; Chow Bel­la for food groupies, Slight­ly Creepy — a hor­ror book club, Page and Palette for art lovers, the lunch time book group, and the "read and be empow­ered" fem­i­nist book group. I'll con­tin­ue to vis­it Riv­er Lights when I return to Iowa for fam­i­ly events and I hope any­one pass­ing through or stop­ping by Dubuque for a longer stay also checks it out.
Riv­er Lights has a great web­site fea­tur­ing a cal­en­dar of events, book sug­ges­tions, local author fea­tures and more. They offer an edu­ca­tor dis­count of 10% and a 30% dis­count to edu­ca­tors buy­ing books in bulk.
Chang­ing Hands Bookstore
6428 McClin­tock Dr.
Tempe, AZ
Why it's worth the visit
I'm for­tu­nate to head south mul­ti­ple times a year to vis­it my daugh­ter (and get a break from the Min­neso­ta win­ters!). Chang­ing Hands, billed as "Arizona's lead­ing inde­pen­dent book­store," has two loca­tions in the val­ley, one in Phoenix and one just a few miles from my Ari­zona retreat. The expan­sive space offers a mul­ti­tude of new and used books to peruse along with lots of adorable gift buy­ing options. There's a great cof­fee shop con­nect­ed to Chang­ing Hands and there is always a "side­walk sale" with bar­gain books tak­ing place outside.

If I lived in Tempe, I would espe­cial­ly appre­ci­ate the many work­shops and events (more than 400 per year) spon­sored by Chang­ing Hands. Their doors first opened in 1974, as "a social­ly respon­si­ble, envi­ron­men­tal­ly sound busi­ness that would also be a com­mu­ni­ty gath­er­ing place" and after 45 years, two of the orig­i­nal own­ers con­tin­ue to make it their mis­sion to raise aware­ness of social jus­tice issues, pro­mot­ing inclu­sion and a love of lit­er­a­cy. I pre­dict my next vis­it to Ari­zona will include a stop at the Phoenix Chang­ing Hands loca­tion which also includes the "First Draft Book Bar," a unique venue fea­tur­ing cof­fee, wine, beer and snacks.
Chang­ing Hands has an impres­sive social media pres­ence. Their web­site offers a week­ly newslet­ter, ideas, events, staff book picks, and my favorite, the "B.I.T." and "LILB.I.T." book picks. Tweens, aged 8 – 12, com­prise an élite group of book review­ers who offer their opin­ion on books pri­or to release dates or "Before Its Trendy." This impres­sive fix­ture in the Ari­zona lit world offers an edu­ca­tor dis­count of 10% and a wide range of oth­er ben­e­fits and pro­grams for teach­ers and kids.
Indi­go Books
1033 Rob­son St.
Van­cou­ver, BC, Canada
Why it's worth the visit
While not an inde­pen­dent book sell­er, Indi­go (Canada's lead­ing book retail­er), is led by two pas­sion­ate women who are intent on spread­ing a mis­sion of joy, con­nec­tions, expe­ri­ences and pas­sion. With 89 super­stores and 111 small stores in all 10 Cana­di­an provinces, chances are if you love books and have spent time in Cana­da, you've heard of Indi­go. Last year they opened their first store in the U.S. in Short Hills, New Jer­sey. I stum­bled upon the Indi­go store locat­ed in Van­cou­ver while trav­el­ing to Alas­ka last sum­mer. Though I man­aged to make my way through most of the numer­ous rooms, sec­tions and floors in less than two hours, I could have eas­i­ly spent two days in this lit­er­a­cy haven.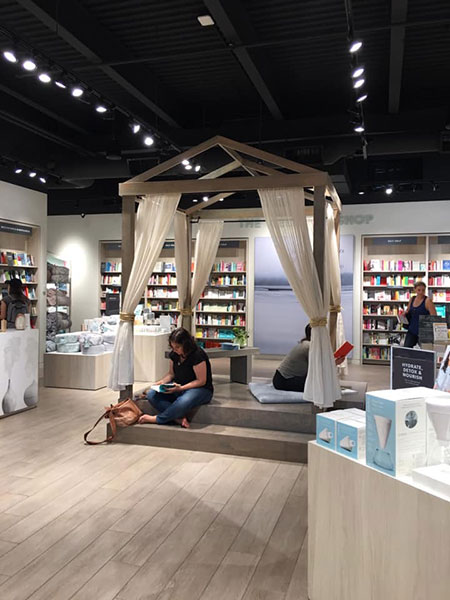 If I vis­it Cana­da again, I would seri­ous­ly plan my trip around anoth­er vis­it to an Indi­go book­store. I also know that should my trav­els take me out east, a stop in Short Hills, New Jer­sey, would be a pri­or­i­ty. The smart dis­plays, beau­ti­ful mur­al paint­ings, and cre­ative­ly designed depart­ments at Indi­go give it a hip, con­tem­po­rary feel. Though it is far dif­fer­ent from the inti­ma­cy of small inde­pen­dent book­stores, I still felt a sense of allure and delight as I explored the 29,000 square foot space.
For book enthu­si­asts who are inter­est­ed in Indi­go but may not be able to trav­el so far to check them out, the Indi­go web­site pro­vides lots to check out and the "about us" page is espe­cial­ly inter­est­ing. The Indi­go Love of Read­ing Foun­da­tion is ded­i­cat­ed to help­ing high-needs ele­men­tary schools in Cana­da pro­vide stu­dents access to books. Unfor­tu­nate­ly, order­ing online from Indi­go brings with it hefty inter­na­tion­al ship­ping charges so I sug­gest vis­it­ing in per­son if at all possible.
Par­nas­sus Books
5 Creek Street
Ketchikan, Alaska
Why it's worth the visit
My first trip to Alas­ka last July began with a stop in the rainy, lit­tle vil­lage of Ketchikan. Strolling through the pic­turesque down­town board­walk, one can­not miss the ide­al­ly locat­ed Par­nas­sus Books. The native pride that emanates from the shelves and dis­plays is also easy to spot.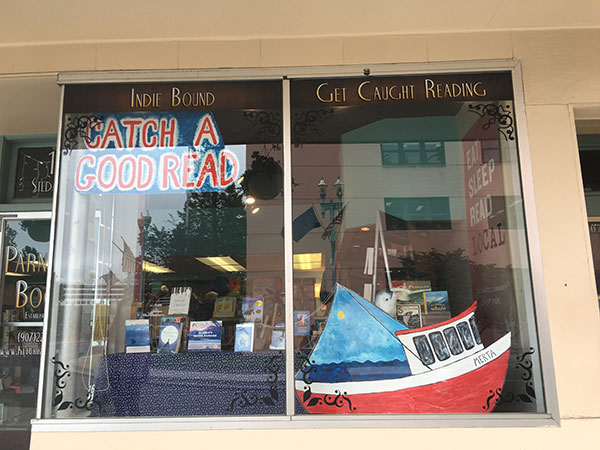 If I am lucky enough to go on anoth­er Alaskan adven­ture, I would def­i­nite­ly want to vis­it Par­nas­sus Books again. I loved find­ing sev­er­al MN authors fea­tured in the tiny but well-stocked children's sec­tion and my pur­chas­es that day made ter­rif­ic sou­venirs for the grandkids.
Ketchikan is a pop­u­lar stop for tourists and cruise ships. My hope is that all who spend time in this love­ly place also make their way to Par­nas­sus Books. The book­store is active on their Face­book page where new books and vis­i­tors to the store are fre­quent­ly fea­tured in posts. You know you're in good book-lov­ing com­pa­ny when the own­er shares a mes­sage like this:
Win­ter Hours
Tues­day-Sat­ur­day 10 – 5
Sun­day 12 – 4
CALL 225‑7690 to grab a book after hours as we may be in the store cleaning.
Harvey's Tales
216 James St.
Gene­va, IL
Why it's worth the visit
If you love books and Bernese Moun­tain dogs, this book­store is a must for your buck­et list! Locat­ed in the his­toric city of Gene­va, Illi­nois, just 50 min­utes east of Chica­go, the trans­formed two-sto­ry is one of the most fun book­stores I've ever seen. A recent girl's week­end with col­lege friends brought me to the bustling streets of this gem of a town.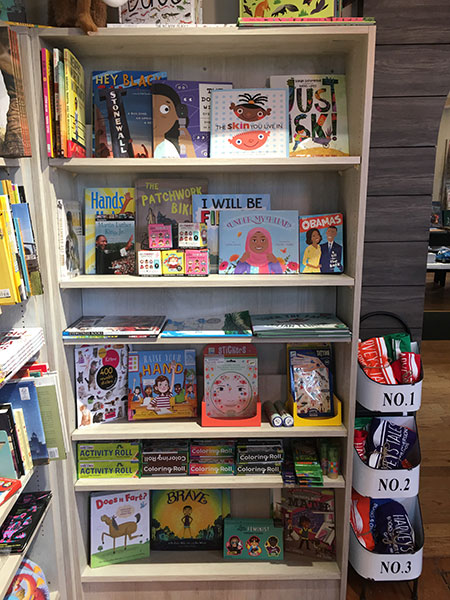 The own­ers of Harvey's, Chuck, a retired teacher and Rox­anne, a retired real estate pro­fes­sion­al, along with their friend­ly staff, go out of their way to make sure shop­pers find what they are look­ing for. More than a book­store, Harvey's Tale is a last­ing trib­ute to a beloved pup who passed away last year. The family's new addi­tion gets spe­cial men­tion as the name­sake for Hazel's House, an adorable book room and a Birth­day Club, both devot­ed to young read­ers. The well-designed space in the large house offers some­thing for every­one and even man­ages to fit in a cof­fee café which fills the store with deli­cious aromas.
I will def­i­nite­ly return to Harvey's Tale as it was a high­light of our girl's week­end. The vari­ety of books and book-relat­ed gifts was incred­i­ble. Such an excep­tion­al assort­ment of book-themed socks, t‑shirts, cards, bags, posters, book­marks, and more! Their web­site show­cas­es their fam­i­ly-based phi­los­o­phy and how they strive to impact their com­mu­ni­ty in many ways.
Who knows, some­day I might just find myself emu­lat­ing the retire­ment plan that Chuck and Rox­anne put togeth­er… Wel­come to Rome's Read­ers Book­store has a nice ring to it!