"Thank" "You Jason." Three sim­ple words on a cake … an anal­o­gy for one of my great­est inner con­flicts as an educator.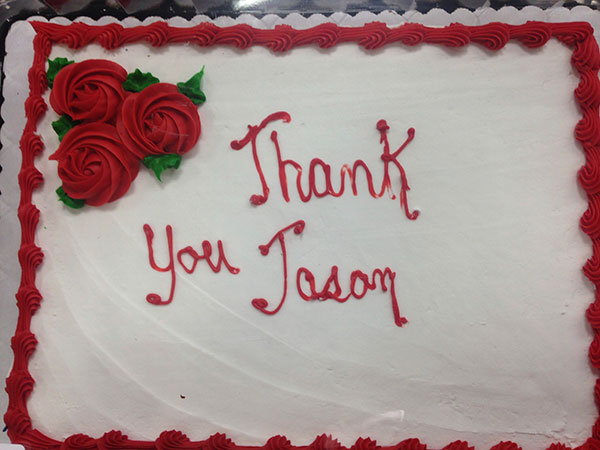 One morn­ing in March I stopped at Sam's Club on my way to school to pick up a cake. A cel­e­bra­tion hon­or­ing a col­league was tak­ing place that day. I quick­ly found a love­ly one with cheery red flow­ers and asked the bak­er to add the sen­ti­ment "Thank you, Jason." A few min­utes lat­er she hand­ed me the cake, flip­pant­ly men­tion­ing, "I'm not that great at cake writ­ing …" then adding the zinger "but, what­ev­er, it's going to taste the same." I inspect­ed her hand­i­work and was tak­en aback. "Thank" appeared on the first line. "You Jason" was scrawled across the next line. My ini­tial reac­tion was a quizzi­cal look. Was she kid­ding? I real­ized she didn't know I was a teacher and I wasn't try­ing to be rude or dif­fi­cult, but seri­ous­ly, doesn't every­one know that "Thank You" on one line makes more sense than "You Jason" on one line? I looked at it again. "Thank" fol­lowed by "You Jason"!? I shook my head, as a myr­i­ad of thoughts bounced around my head.
What would hap­pen if I told her the writ­ing on this cake was sim­ply not acceptable?
If I made a fuss…
I might sound like a com­plain­er if I asked to speak to the man­ag­er — feel­ing embarrassed.
I might be late for school — feel­ing inconvenienced.
I might get the bak­er in trou­ble for a sub-par per­for­mance — feel­ing guilty.
What would hap­pen if I silent­ly but grudg­ing­ly accept­ed this con­fec­tionery mini-crisis?
If I didn't make a fuss…
I could arrive at school on time with a sor­ry look­ing cake — feel­ing embarrassed.
I could try scrap­ing off the messed up mes­sage — feel­ing inconvenienced.
I could miss an oppor­tu­ni­ty to help the bak­er improve her skills and per­for­mance — feel­ing guilty.
I was per­plexed but Min­neso­ta Nice won out (tem­porar­i­ly) as I ambiva­lent­ly put "Thank. You Jason" in my cart. How­ev­er, by the time I got to the check­out, I had a change of heart and knew I couldn't and shouldn't remain silent. When the check­out clerk asked me if I found every­thing all right I point­ed to the cake and said, "Well, almost … I wish I would have found bet­ter writ­ing on my cake …" She took a quick look at my boxed dilem­ma and called the man­ag­er over. In less than 10 min­utes the cake was returned to the bak­ery and then came back to me with a nice­ly aligned sen­ti­ment, along with an apol­o­gy from the bak­er. I thanked her sin­cere­ly, accept­ed the apol­o­gy, and com­pli­ment­ed her on the new ver­sion. The "icing on the cake" was receiv­ing a store gift card from the man­ag­er as an addi­tion­al token of apol­o­gy for my inconvenience.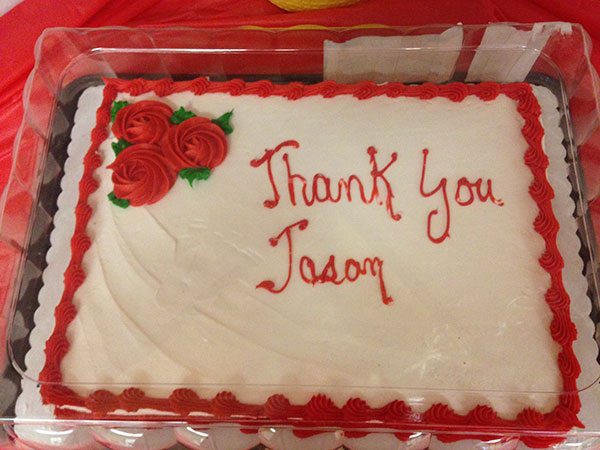 As I wheeled my cart across the park­ing lot, I sud­den­ly expe­ri­enced an epiphany. This entire inci­dent remind­ed me of my district's recent lan­guage arts cur­ricu­lum adop­tion (aka a new "core" basal read­ing pro­gram). The whole sit­u­a­tion was like the unac­cept­able writ­ing on the cake. The thought of kids los­ing their voice and choice in their dai­ly read­ing lives was sim­ply not okay. I could not let my feel­ings of embar­rass­ment, incon­ve­nience, or guilt stop me from speak­ing up.
So I con­tin­ued to raise the ques­tions … Are they (dis­trict deci­sion mak­ers) kid­ding? I real­ize some peo­ple don't know just how pas­sion­ate I am about kids and lit­er­a­cy and I'm not try­ing to be rude or dif­fi­cult. But seri­ous­ly, doesn't every­one know that there is no "mag­ic bul­let" read­ing pro­gram that will auto­mat­i­cal­ly "fix" test scores sim­ply because it is taught with fideli­ty? What about the prac­ti­tion­ers? How about invest­ing in long-term, high-qual­i­ty pro­fes­sion­al devel­op­ment for teach­ers? What about the stu­dents? How about meet­ing kids' indi­vid­ual needs based on what we learn about them as we cre­ate pos­i­tive class­room com­mu­ni­ties? What about the par­ents? How about get­ting their input about a com­pa­ny that puts out ele­men­tary lev­eled texts that have been found to be "offen­sive and inac­cu­rate."
Chances are no one is going to present me with a gift card for mak­ing a fuss this time. Unfor­tu­nate­ly, I'm not expect­ing an "icing on the cake" hap­py ending.
Stay tuned for part 2 of "Thank. You Jason" in the next install­ment of Teach it For­ward.