Pos­i­tiv­i­ty, prac­tice and per­sis­tence… a pow­er­ful approach to over­com­ing a mul­ti­tude of chal­lenges and unbe­liev­ably bad school expe­ri­ences. The one and only, Dav Pilkey, shared sev­er­al heart­felt sto­ries to inspire kids (and adults) dur­ing his recent stop in St. Paul as part of his "Dog Man, Do Good Tour."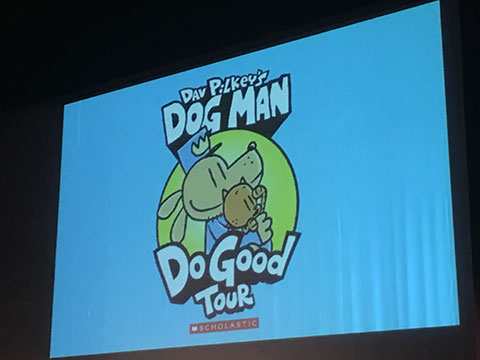 With humor and vul­ner­a­bil­i­ty, Dav explained that as a kid with both ADHD and dyslex­ia, read­ing was any­thing but pleas­ant. To make mat­ters worse, his 2nd and 3rd grade teach­ers showed lit­tle com­pas­sion or under­stand­ing for fid­gety, day dream­ing, class clowns like Dav. One of those teach­ers actu­al­ly made fun of him in front of his class­mates for read­ing slow. Unbe­liev­able, but true.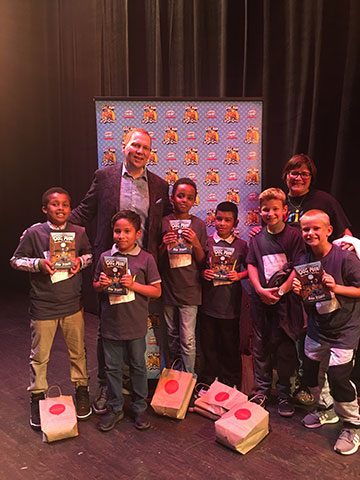 Giv­ing tremen­dous cred­it to his mom for instill­ing the three "Ps," Dav point­ed out that we all need some­one in our life who believes in us. Some­one who makes us want to be bet­ter peo­ple. Some­one who ulti­mate­ly helps us make the world a bet­ter place. Dav's mom taught her son to ask him­self one impor­tant ques­tion any­time he was faced with some­thing bad, "How can I turn this into some­thing good?"
With an obvi­ous tal­ent for draw­ing and lots of time in the hall­way after being removed from the class­room, Dav did just that. Tap­ping into his cre­ativ­i­ty, famil­iar­i­ty with unkind teach­ers and a pen­chant for pulling pranks, he would go onto to make a mul­ti­tude of books loved by kids every­where (80 mil­lion have sold worldwide!).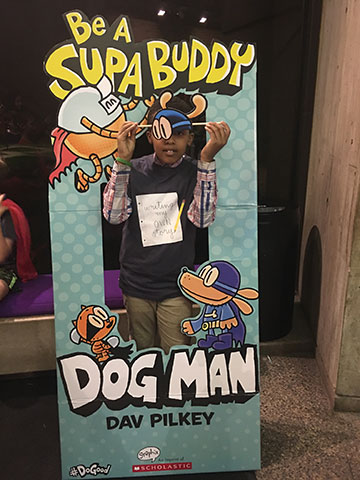 Although it makes my heart hurt to think that he, and oth­ers like him, have to suf­fer through so many mis­er­able years at school, being a part of Dav's audi­ence was indeed a treat. And although I sup­pose some teach­ers take issue with the neg­a­tive car­i­ca­tures of the evil edu­ca­tors found in his books, I am grate­ful for Dav and for his work. I am grate­ful that kids who deal with ADHD and/or dyslex­ia can see them­selves and all of their tremen­dous poten­tial, in some­one like Dav Pilkey. I am grate­ful he had such a wise and car­ing mom.
I was for­tu­nate to be able to share this momen­tous event with six boys from Room 212. Their lev­el of excite­ment, smiles, screams and sheer delight, could quite eas­i­ly be com­pared to the thrill and fren­zy of fans who greet­ed the Bea­t­les on a Feb­ru­ary day back in 1964. The pho­tos and mem­o­ries are price­less and I can only hope that Dav's mes­sage leaves a last­ing impres­sion. We could all use a gen­er­ous help­ing of the three Ps!