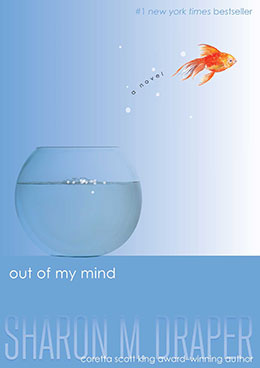 Inspi­ra­tion. Sat­is­fac­tion. Sad­ness. Tri­umph. Long­ing. All of these emo­tions might describe what read­ers feel when reach­ing the end of a great story.
Room 212 just wrapped up anoth­er read-aloud and the over­whelm­ing con­sen­sus was that Out of My Mind by Sharon Drap­er gave us lots of mixed emo­tions to sort out and just as much to think about. For some, this pow­er­ful sto­ry about a bril­liant girl with cere­bral pal­sy strength­ened our beliefs and was a call to action. When asked to share their thoughts, feel­ings, and beliefs relat­ed to the book, along with how they might be moti­vat­ed to take action, the kids had plen­ty to say…
This book makes me want to stand up to bul­lies so peo­ple could have a good time at school and learn bet­ter. I feel good about "Out of My Mind" because it tells us that peo­ple who have a dis­abil­i­ty are smart. I believe this book is good to show peo­ple who have a dis­abil­i­ty are talented.
I think "Out of My Mind" is one of the best chap­ter books I've ever read. It made me so sad when we fin­ished the book. Almost every­one in my class was sad and we all asked is there a sequel? I loved that book. This book makes me sad, hap­py and con­fused. If I were in the book "Out of My Mind," I would stick up for Melody.
This book makes me want to have even more empa­thy than I have already and it makes me want to give peo­ple a lot of chances because peo­ple might be rough on the out­side but nice in the mid­dle. I think that Melody was very tough. I real­ly think they should make a sequel. I wish Melody could be a real per­son so I could meet her. I believe that after every­thing Melody's been through, she can get through anything.
To some, end­ing a read-aloud and mov­ing onto a new title might not seem like such a big deal. But in Room 212, it's more than a big deal. With a teach­ing and learn­ing plate that's always over­flow­ing, it's a nev­er-end­ing chal­lenge to fit every­thing into our school day. The time we man­age to carve out for this favorite activ­i­ty has become sacred. I feel a strong sense of respon­si­bil­i­ty to make sure our dai­ly read-aloud is all that it can be. When decid­ing which books deserve a seat at the table, I con­sid­er my com­mit­ment to "win­dows and mir­rors" and mak­ing sure kids get to expe­ri­ence a wide range of cul­tur­al­ly and racial­ly diverse sto­ries and char­ac­ters. I think about the impor­tance of shar­ing a range of gen­res. I con­tem­plate how the lan­guage and vocab­u­lary in the books might impact my mul­ti-lin­gual stu­dents. Final­ly, I take into account the length of the book, know­ing that if we're lucky, we might only get to share a half dozen dif­fer­ent read-alouds dur­ing the school year.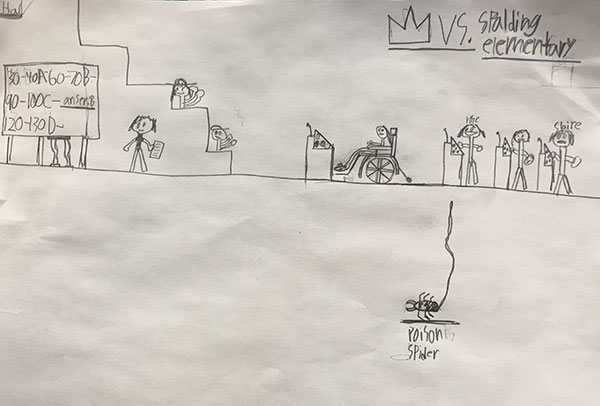 As we neared the end of Out of My Mind, the kids were already start­ing to buzz about what we should read next. My desire to give kids voice and choice is always a pri­or­i­ty yet I also have many per­son­al favorites that I'd love to share. So, what's a teacher to do?
In Room 212, we start by com­pil­ing a list of book sug­ges­tions. Kids take turns "book talk­ing" the titles they've nom­i­nat­ed. This time around, we had sev­en dif­fer­ent books to con­sid­er (five from stu­dents and two from me). After we heard a bit about each book, we did a first round of vot­ing with kids get­ting two votes each. They cast both votes for the same book or choose two dif­fer­ent titles to award one vote each. Our list got nar­rowed down from sev­en to three. Next, we watched a book trail­er of the top three vote-get­ters. We talked a bit more about the books' gen­res, main char­ac­ters and rea­sons for want­i­ng or not want­i­ng a cer­tain title. Final­ly, we held our sec­ond round of bal­lots, one vote per stu­dent, and our cov­et­ed new read-aloud was selected!
Sounds like a great plan, right? How­ev­er, just like a din­ner par­ty that doesn't always meet your expec­ta­tions, some­times a great plan doesn't work out. This time it didn't.
Our top three titles were Ms. Bixby's Last Day by John David Ander­son, The Endling, by Kather­ine Apple­gate and Framed by James Pon­ti. The kids in Room 212 showed tremen­dous sup­port for the high­ly-acclaimed book The Endling, thanks to the enthu­si­as­tic stu­dent-led book talk and the book trail­er pre­sent­ed by the author. We eager­ly launched the book (which received starred reviews from ALA, Kirkus, Publisher's Week­ly, School Library Jour­nal, and more) by read­ing the first three chap­ters. We quick­ly dis­cov­ered that this 400+ page book might not actu­al­ly be a great fit for our class. A num­ber of stu­dents expressed con­cern about keep­ing all of the made-up ani­mal names and words straight. One stu­dent explained that he was hav­ing trou­ble visu­al­iz­ing the sto­ry because he wasn't sure what the fan­ta­sy ani­mals looked like and oth­ers agreed. Sev­er­al more point­ed out that it would take a long time to fin­ish such a long book.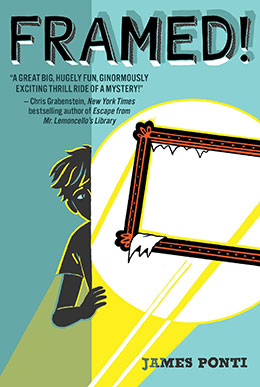 It was obvi­ous that we need­ed to rethink our choice. We talked about how read­ers some­times aban­don books and recalled that it hap­pened once last year with a dif­fer­ent read-aloud. We also dis­cussed the pow­er of "yet"… Maybe we weren't ready for this book "yet" but we might be in the future. Then we went back to the menu of books before us and turned our atten­tion to the run­ner up title, Framed. The stu­dent who shared the book loved this clever and cap­ti­vat­ing tale about a 12-year-old covert FBI agent, Roman­ian mafia, and an art heist. We decid­ed to read a cou­ple of chap­ters and the major­i­ty of kids were instant­ly intrigued and enter­tained (we also real­ized this would be our very first mys­tery read-aloud!). We made a pact that in the future, before tak­ing our final vote, we would read a chap­ter or two from each of the finalists.
Read­ing a great book aloud with the kids in Room 212 is most def­i­nite­ly one of the high­lights of our day. This is one of the ways we dis­cov­er the mag­ic of books and read­ing. This is how we explore feel­ings, thoughts, and beliefs that books and read­ing can bring to us. This is what builds our com­mu­ni­ty. This is why we are often­times called to action. It all starts with a great book and some real­ly great kids.