I love the word "serendip­i­ty." I also love when I actu­al­ly expe­ri­ence the feel­ing of serendip­i­ty. It shows up unex­pect­ed­ly in moments when I feel a sur­pris­ing con­nec­tion or hap­py coin­ci­dence between two seem­ing­ly sep­a­rate things. It makes me believe in the pow­er of the uni­verse and often leaves me ques­tion­ing whether these occur­rences are more than a fluke. I espe­cial­ly love when serendip­i­ty shows up in my teach­ing, learn­ing, and lit­er­a­cy life.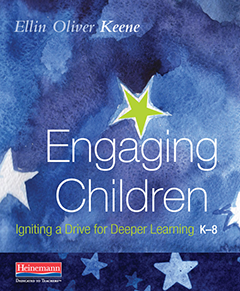 A book I've been read­ing the past cou­ple of months has filled me with more serendip­i­tous moments than any oth­er I can recall. Start­ing with the beau­ti­ful blue cov­er and its title Engag­ing Chil­dren, all the way to the last page of Appen­dix G; "Essen­tial Con­di­tions for Engage­ment," I have felt an over­whelm­ing sense of awe because it seems as if this book was writ­ten espe­cial­ly for me! More than any of my oth­er pro­fes­sion­al books about teach­ing (and trust me, I have an exten­sive col­lec­tion), this trea­sure of a book by Ellin Oliv­er Keene, feels like a cul­mi­na­tion of my teach­ing career as well as a per­fect reflec­tion of my edu­ca­tion­al phi­los­o­phy, my most pas­sion­ate hopes and dreams for kids.
The first chap­ter enti­tled "Let Me Enter­tain You!" imme­di­ate­ly grabbed my atten­tion with the first sen­tence: "A pie in the face: What does it take to moti­vate?" Just days ear­li­er, we had kicked off an excit­ing Rea­dathon fundrais­er at my school and one of the chal­lenges for kids was to meet a cer­tain dol­lar amount to win a chance to toss a pie at our beloved prin­ci­pal. Keene opens her lat­est book with a replay of a con­ver­sa­tion she shared with edu­ca­tors about exter­nal and inter­nal moti­va­tion as it relates to kids' read­ing. She calls on her read­ers to rethink moti­va­tion. She pon­ders whether our attempts to moti­vate stu­dents, though well-intend­ed, are actu­al­ly fail­ing kids. She also shares research from Mari­nak and Gam­brell about the pit­falls of extrin­sic rewards (some­times hand­ed out in the form of points, piz­zas, or pies in the face) and how these incen­tives have actu­al­ly been shown to decrease moti­va­tion for some kids. From there, Keene offers var­i­ous def­i­n­i­tions of moti­va­tion and explains impor­tant dis­tinc­tions between four pro­files that impact learn­ing; com­pli­ance, par­tic­i­pa­tion, moti­va­tion and engagement.
At this point in my read­ing (still on Chap­ter One!), I was so excit­ed about what this book was offer­ing that I couldn't keep it to myself. I start­ed tex­ting my teach­ing "soul-sis­ter" Kris. I sent her screen shots of sev­er­al pages of the e‑book, mar­veling at all of the coin­ci­dences I was encoun­ter­ing. In addi­tion to the pie sto­ry, there was a ref­er­ence to moti­va­tion being described as attain­ing a "flow"; in oth­er words, find­ing one­self so immersed in a book or activ­i­ty that all sense of time and place is lost. The term "flow" also hap­pens to be the title of the month­ly newslet­ter our dis­trict super­in­ten­dent sends to staff. Then Keene brought up read­ing logs, a very rel­e­vant top­ic giv­en the recent con­ver­sa­tions Kris and I had shared about our mixed feel­ings and ques­tions about using them effec­tive­ly. Yet anoth­er con­nec­tion popped up when Keene rem­i­nisced about being a third grad­er who loved maps… my bud­dy Kris has often pro­claimed her own love of maps and we both teach third grade! Serendip­i­ty sur­round­ed me as I read on and final­ly stopped tex­ting Kris so she could enjoy her Fri­day evening.
It wasn't just that this book res­onat­ed with me because it con­tin­u­al­ly referred to top­ics and ideas that were famil­iar and rel­e­vant. It was so much more. You see, through­out my teach­ing career, I have always main­tained that pro­mot­ing an excite­ment for learn­ing was the tick­et. All this time I believed that moti­vat­ing kids was one of the most impor­tant approach­es to teach­ing I could embrace. And now, here was a new take on moti­va­tion. Rather than just hope kids would catch the moti­va­tion bug, I could actu­al­ly teach engage­ment using strate­gies that help kids rec­og­nize when they become dis­en­gaged so that they can reengage.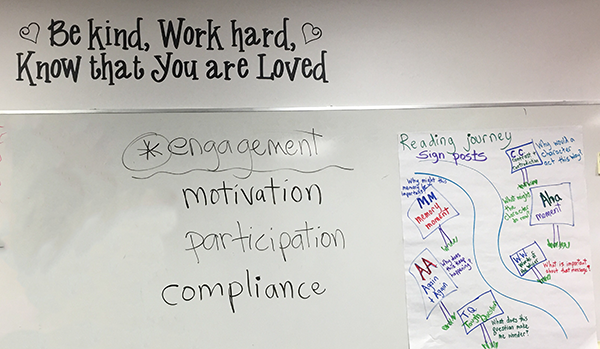 So that's exact­ly what I decid­ed to do when we returned to room 212 the fol­low­ing Mon­day. I start­ed by intro­duc­ing my stu­dents to the four pro­files: com­pli­ance, par­tic­i­pa­tion, moti­va­tion and engage­ment. Next, I accept­ed Keene's chal­lenge to share with my stu­dents some of my most mem­o­rable and engaged learn­ing expe­ri­ences. Since that first attempt to put Engag­ing Chil­dren into prac­tice, we con­tin­ue to talk about the impor­tance of all four pro­files and how to dis­tin­guish the dif­fer­ences between them. I strive to weave engage­ment into our dis­cus­sions on a dai­ly basis. Kids are encour­aged to share their own sto­ries of engage­ment, to offer exam­ples of how they know they are expe­ri­enc­ing engage­ment. I've already noticed a dif­fer­ence in how my stu­dents take own­er­ship of their learn­ing and this is just the beginning!
Keene has put togeth­er an exten­sive and pow­er­ful col­lec­tion of prac­ti­cal ideas and use­ful tools from which all edu­ca­tors and stu­dents can ben­e­fit. I am con­vinced that Engag­ing Chil­dren has the poten­tial to trans­form the learn­ing tak­ing place in our class­rooms. The appen­dix is full of check­lists, rubrics, record-keep­ing forms, engage­ment reflec­tion guides for book clubs, and so much more. Please don't just take my word for it, though. Bet­ter yet, check it out for your­self. Get your hands on this book and see if you dis­cov­er a bit of serendip­i­ty for yourself!
In clos­ing, I offer a few quotes from the book and the uncan­ny con­nec­tions they have to past arti­cles I've writ­ten for Teach It For­ward. This my friends, is serendip­i­ty at its finest!
"In a large group les­son, a craft­ing ses­sion, for exam­ple … I ask stu­dents to pay atten­tion to what they think, feel, believe and are com­pelled to act upon." (pg. 84) "Win­dows, Mir­rors, Slid­ing Glass Doors, and Maps"
"Engage­ment is often born of an emo­tion­al res­o­nance for ideas – engaged chil­dren can describe expe­ri­ences when a con­cept is imprint­ed in the heart as well as the mind." (pg. 115) "It's All About the Heart"
"Chil­dren will devel­op a sense of agency and inde­pen­dence — and engage in learn­ing — if giv­en time and prop­er scaf­fold­ing." (pg. 71) "The Beau­ty of Imper­fec­tion"