"There seems lit­tle chance of devel­op­ing the humil­i­ty so urgent­ly need­ed for world coöper­a­tion, instead of world con­flict, as long as our chil­dren are brought up on gen­tle dos­es of racism through their books." —Nan­cy Larrick

"When chil­dren can­not find them­selves reflect­ed in the books they read, or when the images they see are dis­tort­ed, neg­a­tive or laugh­able, they learn a pow­er­ful les­son about how they are deval­ued in the soci­ety of which they are a part." —Rudine Sims Bishop

"Per­haps this exclu­siv­i­ty, in which chil­dren of col­or are at best back­ground char­ac­ters, and more often than not absent, is in fact part of the imag­i­na­tive aspect of these books. But what it means is that when kids today face the real­i­ties of our world, our glob­al economies, our inte­gra­tions and over­lap­pings, they all do so with­out a prop­er map. They are nav­i­gat­ing the streets and avenues of their lives with an inad­e­quate, out­dat­ed chart, and we won­der why they feel lost." —Christo­pher Myers
Three pro­found quotes, all con­tem­plat­ing the trou­bling real­i­ty of the pre­dom­i­nant­ly white world of children's lit­er­a­ture. These quotes appeared in three sep­a­rate arti­cles that were writ­ten decades apart in 1965, 1990 and 2014, respec­tive­ly. It has been more than 50 years since Nan­cy Lar­rick penned "The All White World of Children's Books." And then, 25 years lat­er, Rudine Sims Bish­op addressed the same trav­es­ty in her arti­cle "Mir­rors, Win­dows and Slid­ing Glass Doors." Skip ahead anoth­er two dozen years and we hear from Christo­pher Myers when he dis­cuss­es "The Apartheid of Children's Lit­er­a­ture." It is a sad real­i­ty that so lit­tle progress has been made over so many years.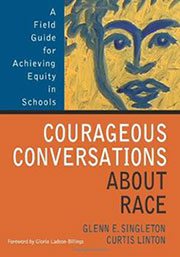 Yet, I am com­pelled to feel opti­mistic. I have sin­cere hopes and dreams that big­ger change is pos­si­ble. One rea­son for this pos­i­tiv­i­ty comes from the invest­ment and effort my new school dis­trict has made towards racial equi­ty and pro­mot­ing the equi­ty jour­neys of every dis­trict employ­ee. The two-day "Beyond Diver­si­ty" work­shop I recent­ly attend­ed, based on the work of Glenn Sin­gle­ton and his book Coura­geous Con­ver­sa­tions About Race, was one of the most pow­er­ful "back to school" pro­fes­sion­al devel­op­ment ses­sions I have ever expe­ri­enced. Sim­ply put, race mat­ters, and so do our dis­cus­sions, beliefs, feel­ings, thoughts, and actions relat­ed to race.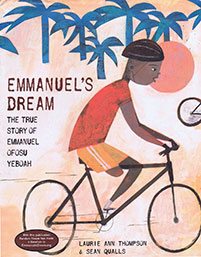 So how do I grap­ple with the cur­rent real­i­ty, my role as a white woman work­ing in class­rooms with a mix­ture of pre­cious brown, black, and white faces, eager to share a side of children's lit­er­a­ture that hon­ors each and every one of them? We are in our sec­ond week of school, estab­lish­ing class­room com­mu­ni­ties, dis­cussing our hopes and dreams. I pull out a trea­sured book, one that packs a pow­er­ful mes­sage about the impor­tance of not let­ting dis­abil­i­ties become inabil­i­ties. A true sto­ry that deliv­ers an uplift­ing mes­sage of brav­ery, respect, deter­mi­na­tion and love. As I read the first few pages of Emmanuel's Dream by Lau­rie Ann Thomp­son, the lit­tle guy right in front of me asks the ques­tion, "Hey, how come every­one in that book looks like me?." I dream of a day when this expe­ri­ence, the shar­ing of a pic­ture book filled with chil­dren and adults of col­or, does not prompt a child, any child, to feel this is an unusu­al occur­rence, but rather one that is com­mon­place and expected.