As in past years, in lieu of a New Year's res­o­lu­tion, I've cho­sen a sin­gle word to frame the year ahead. There are numer­ous web­sites and blogs that cel­e­brate this idea. This is my favorite. The fol­low­ing sen­ti­ment from the site real­ly sums it up beau­ti­ful­ly; My One Word replaces bro­ken promis­es with a vision for real change. When you choose a sin­gle word, you have a clar­i­ty and focus. You are mov­ing toward the future rather than swear­ing off the past.
Drum roll, please … PERSPECTIVE. That's my focus and goal for 2020. When I chose the word "per­spec­tive" I hon­est­ly didn't even make the con­nec­tion with the num­bers in the new year, 2020. It seems so fit­ting that "20÷20" vision means visu­al acu­ity, the clar­i­ty and sharp­ness of vision. For me, gain­ing per­spec­tive is all about expand­ing my under­stand­ing of sit­u­a­tions, of oth­ers and of life so that I have mul­ti­ples lens­es with which to view them.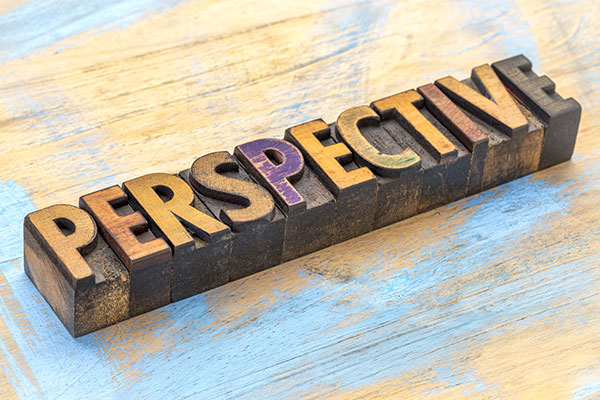 Once my word was cho­sen, I began con­tem­plat­ing how I would add more per­spec­tive to my think­ing, feel­ings, beliefs and, ulti­mate­ly, my actions. It will come as no shock to my friends, col­leagues, and faith­ful Teach it For­ward fol­low­ers, that the ulti­mate answer lies in the pages of my many books.
While lis­ten­ing, real­ly lis­ten­ing, with the heart and not just one's ears, is an essen­tial way to gain per­spec­tive, I believe that vora­cious read­ing is also an espe­cial­ly impor­tant approach to gain­ing and focus­ing on per­spec­tive. Find­ing myself lost in a book that takes me to anoth­er place or time, with char­ac­ters so real they feel like long-lost friends, is def­i­nite­ly one way I will keep per­spec­tive in the fore­front of my mind through­out the year ahead.
When I read books for plea­sure, whether it be for my month­ly book club, from a rec­om­men­da­tion from one of my book enthu­si­ast friends (join our Face­book group here) or a title I've dis­cov­ered from the many book blogs or sites I fol­low, I often find myself think­ing about my stu­dents. I share my read­ing life with them reg­u­lar­ly, but I also want them to hear about how and why the books I read change me and make my life better.
One idea I have for pro­mot­ing the idea of per­spec­tive is to not only offer insight about what I'm read­ing, but also to offer kid-appro­pri­ate book rec­om­men­da­tions that con­nect to the themes and top­ics of my books. Fol­low­ing is a list of books I have on my "just read," "cur­rent­ly read­ing," or "to-be-read" lists and the children's or mid­dle grade titles I would pair with them. My hope is that as I gain per­spec­tive from read­ing, I can share that goal and ben­e­fit with my stu­dents, inspir­ing them to be life-long readers.
The Giv­er of Stars by Jojo Moyes + Bib­liobur­ro: A True Sto­ry from Colom­bia by Jeanette Winter
Both books fea­ture sto­ries of trav­el­ing libraries, with books deliv­ered to read­ers in remote loca­tions by horse­back and don­key. Five fierce women in the late 1930s impact the lives of the moun­tain folk in rur­al Ken­tucky as well as expe­ri­ence dra­mat­ic change in their own lives, thanks to FDR's New Deal. In Colum­bia, a boy named Luis decides to share his love of books by deliv­er­ing sto­ries to chil­dren in far­away vil­lages with his bur­ros, Alfa and Beto. Read­ers of these books will gain per­spec­tive about the deter­mi­na­tion of some very spe­cial librar­i­ans who are will­ing to go to the extreme to spread lit­er­a­cy to all cor­ners of the world.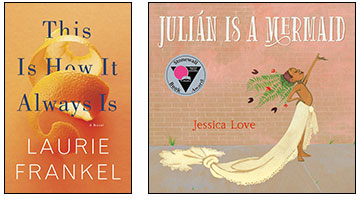 This is How it Always Is by Lau­rel Frankel + Julián is a Mer­maid by Jes­si­ca Love
Both books invite the read­er to imag­ine what it is like to yearn for a trans­for­ma­tion even when that change risks ridicule and requires a great deal of courage. Frankel shares the heart wrench­ing yet uplift­ing sto­ry of a child named Claude, a family's secret and the lib­er­at­ing free­dom that comes from hon­or­ing the truth. Love's ten­der sto­ry about a boy, his secret desire and his grandma's uncon­di­tion­al love and accep­tance is sim­ply exquis­ite. Read­ers of these books will gain per­spec­tive about being the par­ent or grand­par­ent of a pre­cious child who is deal­ing with a desire to be who they are meant to be (along with per­spec­tive about being that child).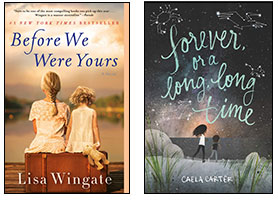 Before We Were Yours by Lisa Wingate + For­ev­er or a Long Long Time by Caela Carter
Both books explore the com­plex and unre­solved feel­ings that some­times impact kids in fos­ter care or orphan­ages. Wingate's saga is based on actu­al events from the Ten­nessee Children's Home Soci­ety orphan­age and reveals the incred­i­ble bond that can nev­er be sev­ered among sib­lings. Carter's poignant sto­ry por­trays the strug­gle of build­ing trust when your life has been a nev­er end­ing series of good­byes and start­ing over. Read­ers of these books will gain per­spec­tive of the need to explore one's past in order to see the future.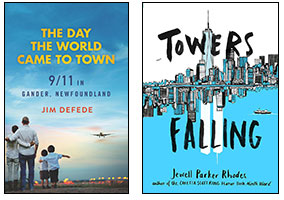 The Day the World Came to Town by Jim DeFede + Tow­ers Falling by Jew­ell Park­er Rhodes
Both books exam­ine the after­math of 9⁄11. The adult book fea­tures the true sto­ry that inspired the hit Broad­way musi­cal Come from Away about a small town in New­found­land that wel­comed 7,000 strand­ed pas­sen­gers fol­low­ing the cri­sis. The mid­dle grade book intro­duces Dèja's point of view, a fifth grade girl search­ing for answers about the ter­ri­fy­ing event that impact­ed her fam­i­ly and com­mu­ni­ty in so many ways. Read­ers of these books will gain per­spec­tive about how we can find some­thing about human­i­ty to trea­sure even in the midst of tragedy.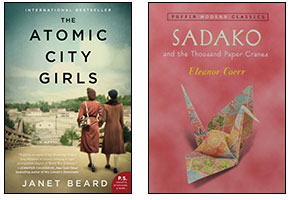 The Atom­ic City Girls: A Nov­el by Janet Beard + Sadako and the 1000 Paper Cranes by Eleanor Coerr
Both books are based on true events and shed light on a tough and sen­si­tive top­ic, the atom­ic bomb. The first title delves into life in Oak Ridge, Ten­nessee, lat­er known as "Atom­ic City," where peo­ple worked unknow­ing­ly on the Man­hat­tan Project dur­ing World War II. The sec­ond book is a trib­ute to a young Japan­ese girl who was just two years old when the bomb was dropped in Hiroshi­ma and was lat­er diag­nosed with leukemia. Read­ers of these books will gain per­spec­tive about the dev­as­tat­ing effects of war.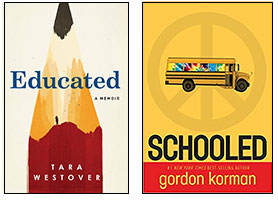 Edu­cat­ed: A Mem­oir by Tara West­over + Schooled by Gor­don Korman
Both books present a nar­ra­tive about learn­ing in an unortho­dox man­ner. West­over shares the sto­ry of her incred­i­ble jour­ney of learn­ing which start­ed as a child in Ida­ho with her sur­vival­ist par­ents and even­tu­al­ly led to a PhD from Cam­bridge Uni­ver­si­ty. Korman's mid­dle grade nov­el fea­tures a young boy, Capri­corn (Cap), who has lived most of his life in a com­mune with his grand­ma. Iso­lat­ed from the real world until his grand­ma is hos­pi­tal­ized, Cap is sud­den­ly thrown into an unfa­mil­iar world and the harsh real­i­ties of mid­dle school. Read­ers of these books will gain per­spec­tive on what it's like to assim­i­late into a soci­ety that seems for­eign while try­ing to under­stand the life and fam­i­ly you've left behind.
"A read­er lives a thou­sand lives before he dies, said Jojen. The man who nev­er reads lives only one." ― George R.R. Mar­tin, A Dance with Dragons