Encour­age kids to be cre­ative with­out wor­ry­ing about being perfect.
—Dav Pilkey
At the start of the fall pro­gram sea­son, I asked our youngest patrons what pro­grams they would like the library to offer. I heard a child yell out, "DOGMAN"! I smiled and I told him that was a great idea. Dog­man© is a graph­ic nov­el series writ­ten and illus­trat­ed by Dav Pilkey that tells the sto­ry of George and Harold's new­ly cre­at­ed hero of jus­tice. Dog­man© is part dog, part man, sniff­ing out crime to save the world. The series is hilar­i­ous and it helps read­ers learn the impor­tance of empa­thy and hav­ing con­fi­dence. We launched our first Dog­man© pro­gram on Wednes­day, Sep­tem­ber 4, 2019. The fol­low­ing pro­vides the objec­tive and steps you can take to cre­ate your own program.

Pro­gram Objec­tive: Our Dog­man© pro­gram pro­vides chil­dren the oppor­tu­ni­ty to read the sto­ry aloud with oth­er fans and to design and cre­ate their own graph­ic nov­el based on the series. Cur­rent­ly, the pro­gram occurs once a month and lasts between 1 to 1.5 hrs. It is geared for chil­dren in grades 2 to 4, but we wel­come all Dog­man© fans and those who are interested.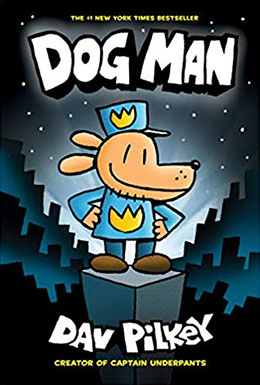 Sup­plies: Dog­man© books, com­put­ers, mark­ers, pen­cils, pens, LEGO© bricks, and plain paper.
Steps:
Read Aloud: At the start of the pro­gram, have chil­dren read aloud to the group from one of the Dog­man© titles. Let them know that if they strug­gle with a word to ask for assis­tance.
Brain­storm: Encour­age the chil­dren to use Pilkey's sto­ries as inspi­ra­tion for their sto­ry. Dur­ing this step, chil­dren will devel­op their char­ac­ters, choose a plot and set­ting. They can expand on one of Pilkey's sto­ries or cre­ate an entire­ly new sto­ry. They can draw or sketch their ideas. I pro­vide LEGO© bricks as an option if they want to cre­ate 3D mod­els. It is impor­tant to let chil­dren know that per­fec­tion is not the key. Encour­age them to have fun and explore their imagination.
LEGO© Sto­ryS­tarter: LEGO© Sto­ryS­tarter is part of LEGO© Edu­ca­tion, pro­vid­ing a vari­ety of cre­ative writ­ing tem­plates for chil­dren to cre­ate, doc­u­ment, and share their sto­ries. It is a free down­load. After the brain­storm­ing stage, chil­dren will use the Sto­ryS­tarter pro­gram to for­mat their sto­ry and use LEGOs©, their draw­ings, or a free image web­site such as Pix­a­by for char­ac­ters and scenes. They can upload every­thing to Sto­ryS­tarter and every­thing can be saved to a desk­top or flash dri­ve. View this video for more infor­ma­tion: LEGO Edu­ca­tion Sto­ryS­tarter Build­ing the Sto­ry.
Print and Share: At the com­ple­tion of this pro­gram, print the sto­ries off and have chil­dren share them with the group. I plan to cre­ate a com­mu­ni­ty open-house where their sto­ries can be on dis­play for the pub­lic to read and enjoy.
Arti­cles Sup­port­ing the Impor­tance of Graph­ic Novels:
5 Great Rea­sons to Read Graph­ic Nov­els

from Play­ful Learning
The Research Behind Graph­ic Nov­els and Young Learn­ers by Leslie Morrison

The Case for Graph­ic Nov­els in Edu­ca­tion

by Amer­i­can Library Association
In Defense of Graph­ic Nov­els by Dr. Kathryn Strong Hansen
Mr. Z's Graph­ic Nov­el Top Picks:
Dog­man by Dav Pilkey
Amulet by Kazu Kibuishi
Per­cy Jack­son series by Rick Riordan
Smile by Raina Telgemeier
El Deafo by Cece Bell
Bone by Jeff Smith
Cora­line by Neil Gaiman
Sand War­rior by Alex­is Siegel
Lunch Lady by Jar­rett Krosoczka
Roller Girl by Vic­to­ria Jamieson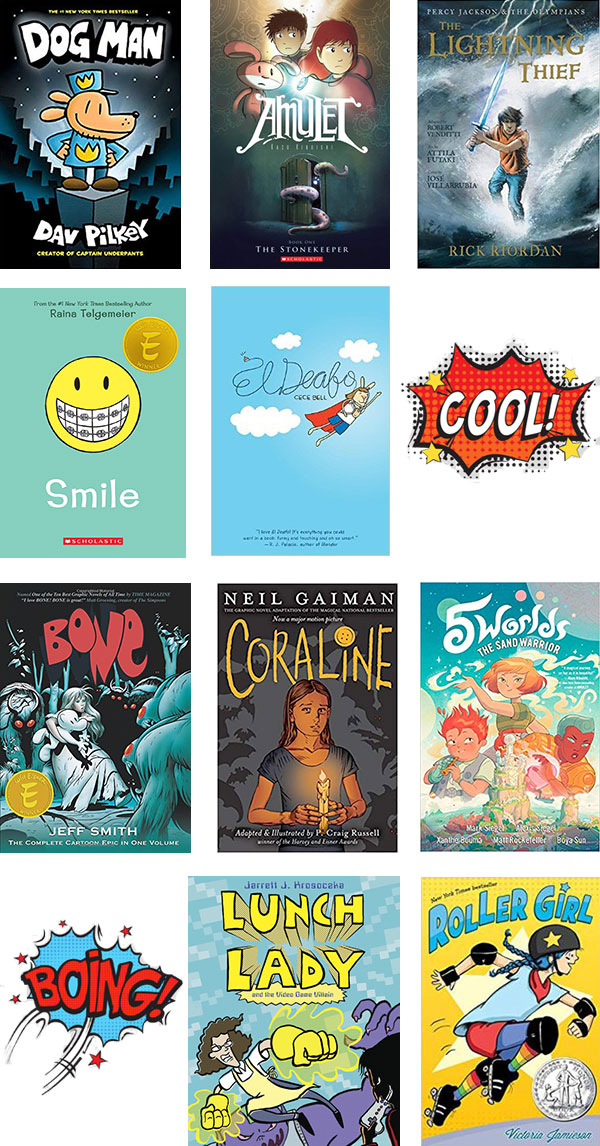 Books to Gen­er­ate Ideas: