"One of the most beau­ti­ful qual­i­ties of a true friend­ship is to under­stand and to be under­stood." (Lucius Annaeus Seneca)
Grow­ing up it was dif­fi­cult for me to make friends. Some of the key phras­es I was told includ­ed: "it is a nat­ur­al process," "the sky is full of many stars, but hav­ing one friend is larg­er than the uni­verse," and "smile to every­one you walk past."
As an adult, how­ev­er, I real­ize that, despite these strug­gles, estab­lish­ing a friend­ship is impor­tant to cel­e­brate the good times and to have sup­port dur­ing the dif­fi­cult times. My arti­cle this month focus­es on friend­ship by pro­vid­ing activ­i­ty ideas, books, and links to arti­cles. All activ­i­ties can be done virtually.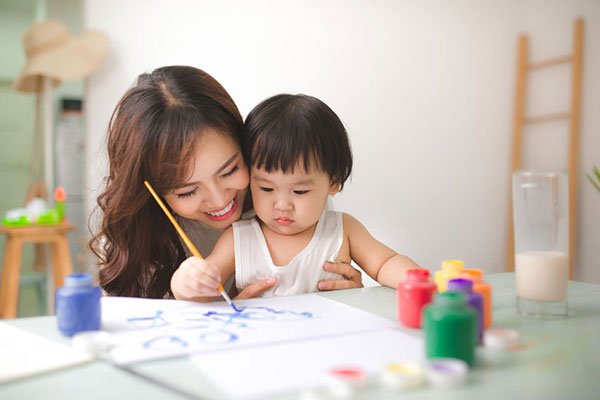 Activity #1: The Friendship Mural
The pur­pose of a friend­ship mur­al is to offer an artis­tic oppor­tu­ni­ty to express your friend­ship. To do this, each friend choos­es an artis­tic for­mat such as a paint­ing or draw­ing, and then cre­ates some­thing that rep­re­sents their friend­ship. Some ideas include a favorite mem­o­ry, a spe­cial phrase, a spe­cial mes­sage, and attrib­ut­es each per­son brings to the friend­ship. Here is a list of sug­gest­ed mate­ri­als for this activity:
Paint­ing sup­plies (water­col­or, tem­pera, and paint brushes)
Card­stock or con­struc­tion paper
Can­vas (option­al)
Copies of pho­tos of past experiences
Any oth­er mate­r­i­al you would like to use to artis­ti­cal­ly express your friendship
Chil­dren can meet togeth­er online as they work on the mur­al. Once the mur­al is com­plete, each child can take a pho­to of their part of the mur­al. With the help of a grownup, the pho­tos will need to be copied and past­ed into in a doc­u­ment that can be shared elec­tron­i­cal­ly. If pos­si­ble, show the indi­vid­ual projects side by side so the chil­dren can see their mur­al as one large picture.
Activity #2: The Friendship Plant
The friend­ship plant is a sym­bol of growth in a friend­ship — and a lit­tle time spent get­ting dirty is fun. For this activ­i­ty, you will need the fol­low­ing materials:
Plas­tic cup (to hold dirt and water)
Small bag of pot­ting soil
Bean seeds
Water
Sun
Here are direc­tions for com­plet­ing this activity.
You can dec­o­rate the plas­tic cup with stick­ers, stick on jew­els, or just write the name of the friend. Chil­dren can write a spe­cial note to their friend. Dur­ing these dif­fi­cult times, it may be dif­fi­cult for friends to be togeth­er. I sug­gest that you arrange a time to drop the plant off at their home. Next, wait a week or two and chat online to see what your plants look like.