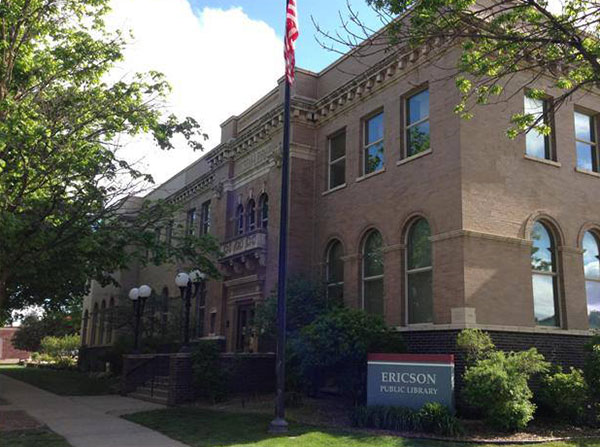 For the past four years, my library has pro­vid­ed our com­mu­ni­ty with a sum­mer read­ing car­ni­val to kick­start our sum­mer read­ing pro­gram. For the first two years, we had a few bounce hous­es and cot­ton can­dy and 400 patrons attend­ed. To plan our past car­ni­val, I brain­stormed ideas on how to con­tin­ue by pro­vid­ing a car­ni­val with more than bounces hous­es and cot­ton can­dy. The one word that was in my head was part­ner­ships. I made a list of cur­rent library part­ners and sent them an email invi­ta­tion. Every part­ner agreed to par­tic­i­pate. When word got out about our car­ni­val, I received emails from new agen­cies and orga­ni­za­tions ask­ing if they could par­tic­i­pate. A total of 42 part­ners par­tic­i­pat­ed and our atten­dance was over 1,600 (our pop­u­la­tion is at or around 12,500)!
A kick-off car­ni­val is a won­der­ful oppor­tu­ni­ty for any library to begin its sum­mer read­ing pro­gram. I per­son­al­ly love these types of pro­grams because library part­ners pro­vide the activ­i­ties at no cost to us or the com­mu­ni­ty. We do apply for a local grant to help with any addi­tion­al costs. It is always impor­tant to remem­ber that a pro­gram does not have to cost mon­ey to be suc­cess­ful nor does it have to be large scale.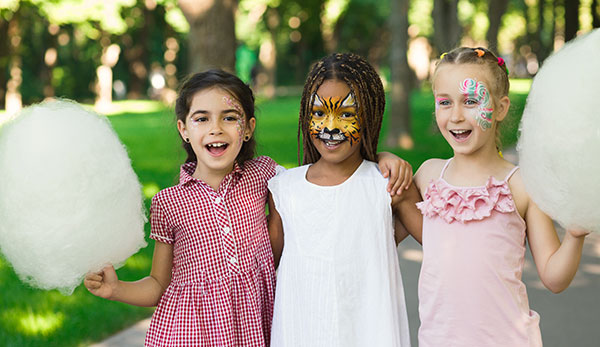 The fol­low­ing is my plan­ning process to pull off a suc­cess­ful kick-off program.
SEPTEMBER:
Spend time review­ing the past car­ni­val and iden­ti­fy both the suc­cess­es and the areas need­ing improve­ment. For exam­ple, last we year we did not have a map for patrons to locate activ­i­ties and to ensure part­ners had enough space;
Send a thank you let­ter to the part­ners and invite them to the next carnival.
Do you see a lack of activ­i­ties for a spe­cif­ic age group?
NOVEMBER:
Review the cur­rent list of part­ners and begin to research new part­ners. Our kick-off car­ni­val has a com­bi­na­tion of part­ners from social ser­vice agen­cies, schools, ear­ly learn­ing orga­ni­za­tions, local com­mu­ni­ty col­leges, ser­vice orga­ni­za­tions, and uni­ver­si­ty departments.
Begin reach­ing out to new part­ners and invite them to the carnival.
JANUARY:
Con­tin­ue adding new part­ners if need­ed. Remem­ber to think about both spaces inside the library and out­side the library so you can accom­mo­date the amount of part­ners attend­ing. Do you have a street out­side of your library you could block-off? Our library is three sto­ries and has a large street so we can accom­mo­date a lot of partners;
Send out the first email about the date for the kick-off event, infor­ma­tion about last year and the date for them to con­firm their participation.
If you are using a street, reach out to your city to request a street clo­sure for your kick-off program.
MARCH:
Fol­low up with part­ners if they have questions;
If you have room, con­tin­ue invit­ing part­ners to the kick-off program;
Begin review­ing your space and map­ping out con­firmed partners;
Begin cre­at­ing posters, draft­ing out social media posts, and locat­ing poten­tial mar­ket­ing avenues. The poster I cre­ate for this event does not list every activ­i­ty, only high­lights. See exam­ple below.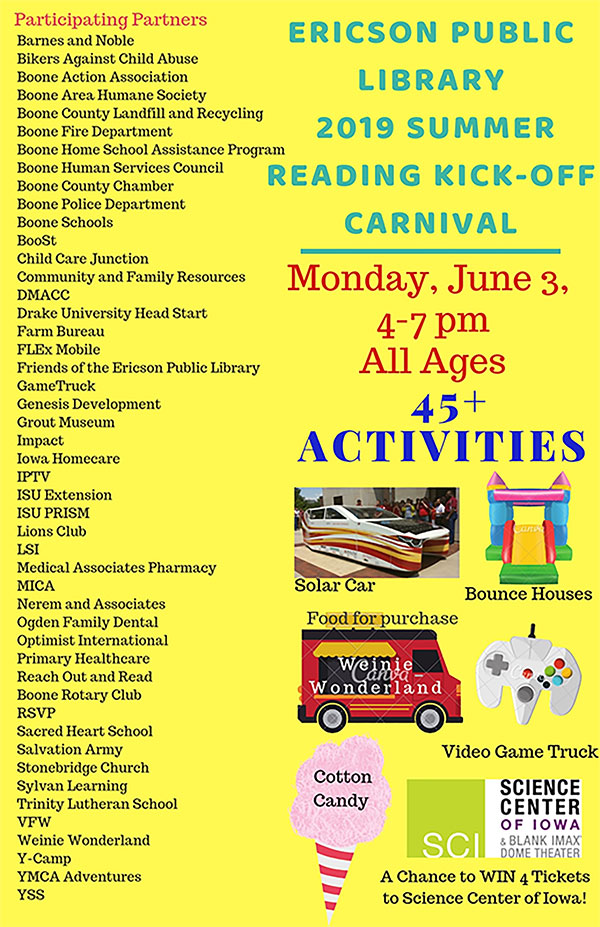 APRIL AND MAY:
Final­ize posters and begin adver­tis­ing on social media;
Con­tin­ue review­ing the space and updat­ing the map as needed.
Recruit vol­un­teers to help. The Friends group, col­lege stu­dents, high school stu­dents, retirees, and the local 4‑H club are great choices;
Through­out these months, I cre­ate Face­book Live videos to announce all of the fun activ­i­ties at the kick-off and invite part­ners to join me.
JUNE 3, 2019: SUMMER READING KICK-OFF CARNIVAL!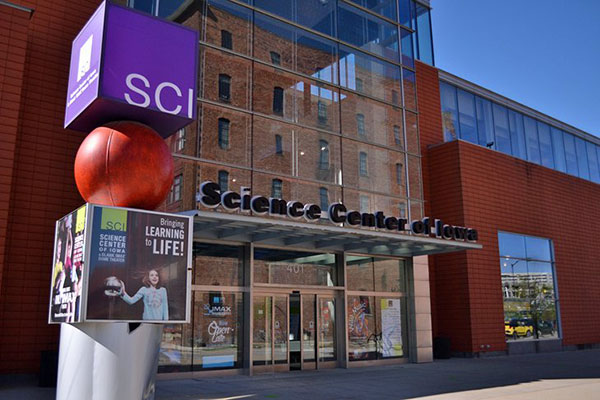 Hope this helps you plan your own sum­mer read­ing kick-off for next year. Please reach out to me if you have any questions.
Have a great summer!
-Mr. Z
MY SUMMER READING PLANS … WHAT ARE YOURS?