Over the last month, the children's depart­ment staff has been busy eval­u­at­ing and weed­ing out the non­fic­tion col­lec­tion. It is in need of updat­ing. Through­out this process, I've been able to reflect on the evo­lu­tion of this col­lec­tion for the last 30 years. More specif­i­cal­ly, the for­mat of cur­rent children's lit­er­a­ture has more empha­sis on larg­er type, acces­si­bil­i­ty, col­or, and more graph­ics and illus­tra­tions. The process in select­ing non­fic­tion has evolved as well. The arti­cle I wrote last month focused on how to use non­fic­tion books to help pre­pare for sto­ry­time pro­grams. For part two, I've focused on non­fic­tion selec­tion and my selec­tion process.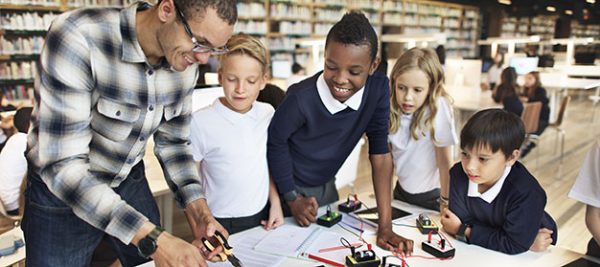 Mr. Z's Nonfiction Selection Process
Step 1: Ele­va­tion: A pri­ma­ry rea­son to include non­fic­tion in sto­ry­time is to ele­vate the lis­ten­ers' read­ing expe­ri­ence. Select titles that cor­re­spond with a spe­cif­ic theme, titles that are new to your col­lec­tion, or select top­ics that you noticed are a big hit with your fam­i­lies. The ele­vat­ed expe­ri­ence is the real­iza­tion that the ani­mals, peo­ple, loca­tions, and/or expe­ri­ences you read about in non­fic­tion sto­ries are real. You pro­vide chil­dren an oppor­tu­ni­ty to expe­ri­ence the con­trast between what is real and what is imag­i­na­tive. Both are impor­tant for a suc­cess­ful read­ing experience.
Step 2: Nar­ra­tive: Nar­ra­tive devel­op­ment is part of the six ear­ly lit­er­a­cy skills. Non­fic­tion books offer chil­dren the oppor­tu­ni­ty to learn how to retell events, describe things, and assist with chrono­log­i­cal order. Fur­ther­more, nar­ra­tive skill devel­op­ment is impor­tant to help chil­dren express what they are learn­ing, and build on their social inter­ac­tion with others.
Step 3: Inter­ac­tive: The addi­tion of non­fic­tion cre­ates a learn­ing expe­ri­ence that encour­ages audi­ence par­tic­i­pa­tion. Select­ing inter­ac­tive non­fic­tion might include titles that fea­ture var­i­ous sounds of nature or ani­mals, pre­tend­ing to ride a horse or fly in an air­plane, or walk­ing with the dinosaurs. The pri­ma­ry objec­tive is includ­ing titles that do not require chil­dren to only sit and learn, but encour­ages them to be part of the story.
Step 4: Infor­ma­tive: It is incred­i­bly impor­tant to be sure your collection's non­fic­tion books are up-to-date with the lat­est infor­ma­tion. Although it is impor­tant to cre­ate an inter­ac­tive expe­ri­ence, the facts you share with chil­dren need to be cur­rent. Select titles pro­vid­ing infor­ma­tion that's under­stand­able by a sto­ry­time audi­ence. Sim­ple facts, call­out bub­bles, large text, and plen­ty of pho­tos are impor­tant fac­tors for you to con­sid­er as you select titles.
Step 5: Diverse: Although top­ics such as ani­mals, dinosaurs, trains, weath­er, and col­ors have a vari­ety of non­fic­tion titles, it is impor­tant to select diverse titles. Some exam­ples include titles that immerse chil­dren in a dif­fer­ent cul­ture, include the lan­guage of a cul­ture, are writ­ten by #Own­Voic­es, rep­re­sent glob­al diver­si­ty (race and eth­nic­i­ty), the diver­si­ty of fam­i­lies, and the phys­i­cal­ly chal­lenged pop­u­la­tion. It is incred­i­bly impor­tant that chil­dren and fam­i­lies see them­selves in the books select­ed for storytime.