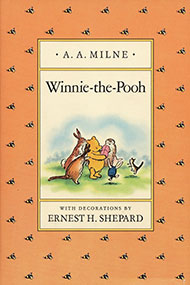 Through­out my child­hood, my father and I trav­eled to the local library with a wag­on. He insist­ed that I fill the wag­on as high as we could with books. We went on hun­dreds of jour­neys with some of the most spe­cial char­ac­ters in children's literature.
The adven­tures of Win­nie-the-Pooh and friends in The Hun­dred Acre Wood was and con­tin­ues to offer excit­ing adventures.
For my arti­cle this month, I share with you a vari­ety of Win­nie-the-Pooh activ­i­ties and resources. Enjoy, friends.
Activity #1: Write a Story About Your Stuffed Animal
For this activ­i­ty, your child(ren) will select one of their favorite stuffed ani­mals. This is a great activ­i­ty to dis­cuss the dif­fer­ent parts of a sto­ry. Let the imag­i­na­tion run free! The addi­tion­al sup­plies you will need for this activ­i­ty include:
Mul­ti­ple sheets of plain paper
A writ­ing uten­sil (crayons, mark­ers, or pencils)
Pho­tos of Win­nie-the-Pooh characters
Pho­tos of the stuffed animal(s).
Talk about the many adven­tures Pooh and his friends go on. Brain­storm ideas on adven­tures the stuffed ani­mal will go on. Think about the following:
Where does the sto­ry take place?
What oth­er friends could the stuffed ani­mal meet?
What adven­ture will they go on? (test)
What oth­er char­ac­ters will they meet?
How will the sto­ry end or will this sto­ry lead to a sequel?
Spend time draw­ing the sto­ry. You can also search and select pho­tos about your sto­ry from a free pic­ture stock website.
Activity #2: The Hundred Acre Wood Picnic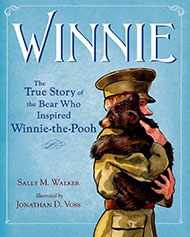 One of my fond­est mem­o­ries of the Win­nie-the-Pooh sto­ry is the pic­nic Pooh and his friends have. For this activ­i­ty, you will need to col­lect the following:
A large blan­ket to sit on
Plates, cups, and eat­ing utensils
A pur­chased copy or library copy of Win­nie the Pooh by A.A. Milne
Vis­it this blog for deli­cious Win­nie-the-Pooh treats. Make sure you review the ingre­di­ents in case you or your child(ren) have food allergies
Spend time read­ing through the book while eat­ing deli­cious snacks.
Vis­it this web­site for fun activ­i­ties to include at your picnic.
Activity #3: Winnie-the-Pooh Balloon Science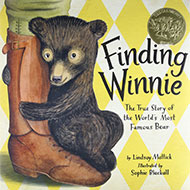 A pop­u­lar draw­ing of Win­nie-the-Pooh is him fly­ing away with a bal­loon. This activ­i­ty adds a lit­tle sci­ence to the clas­sic sto­ry of Pooh and his friends. You will need the fol­low­ing sup­plies for this activity:
Small pop or water bottle
Bal­loon
Bak­ing Soda
Vine­gar
Fun­nels
Tea­spoon
Fol­low these steps to com­plete this activity:
Start off by ask­ing at least two ques­tions such as "is air the only way to blow up a bal­loon?" and "can you inflate a bal­loon with bak­ing ingredients?"
Use the fun­nel and pour 1⁄3 of the bot­tle with vinegar
Insert a sec­ond fun­nel into the bal­loon and pour at least two tea­spoons of bak­ing soda inside the bal­loon. Think about what will hap­pen to the bal­loon once you place it over the bottle.
Hold the bot­tle and attach the neck of the bal­loon to the head of the bot­tle. Slow­ly pour the bak­ing soda into the bot­tle and observe. It should inflate.
Articles about Winnie-the-Pooh and What the Stories Teach Us