Phyl­lis: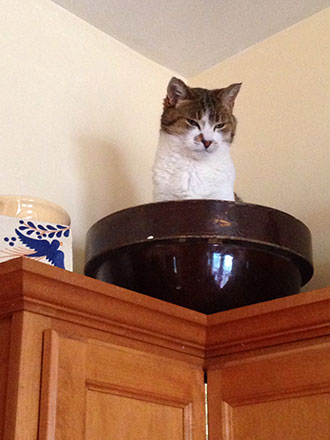 *Even though kin­dle means cats born in the same lit­ter, the allit­er­a­tion was hard to resist.
"All my work is done in the com­pa­ny of cats," writes Nico­la Bay­ley, won­der­ful pic­ture book artist and writer, in her book The Nec­es­sary Cat.
I know what she means. Right now my cat Luna is sit­ting on the open copy of The Kit­tens' ABC, clear­ly a cat of dis­cern­ing lit­er­ary taste.
Cats and writ­ers seem to have a par­tic­u­lar rela­tion­ship. Cats wan­der in and out of our pic­ture books, take naps on our key­boards, and curl up in our hearts. This month we looked at a few of the many pic­ture books where cats play a role.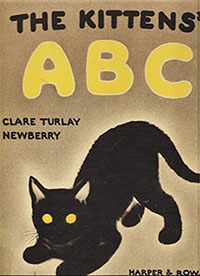 I was intro­duced to Claire Turlay New­ber­ry when I found a used copy of The Kit­tens' ABC and was enchant­ed by her draw­ings of cats in which she cap­tures them with a few lines in char­coal, pen­cil, and pas­tels. (Of her sev­en­teen pic­ture books, all but three are about cats.) The rhymes with each let­ter of this ABC are sim­ple, but I could linger over those wise, play­ful, cozy pic­tures for hours. And if Luna has her way, curled up now on N is for Nap, I will.
Kit­tens like to take their naps
In box­es, bureau draw­ers, and laps;
Or else, along the sofa pillows,
In rows, like lit­tle pussywillows.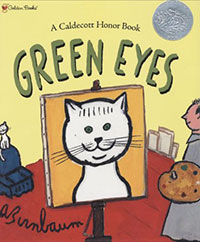 Anoth­er used book find is Green Eyes by A. Birn­baum, win­ner of a 1953 Calde­cott hon­or. The sto­ry fol­lows the first year of a spring­time-born kitten's life, from scram­bling out of a large box to explor­ing the farm life around him — chick­ens, cows, pigs, goats. By the time leaves fall, fol­lowed by snow, the now almost grown cat fits more snug­ly in his box. The art is superb, strong black lines and bright col­ors. This is the only pic­ture book Birn­baum both wrote and also illus­trat­ed, but his work appeared on The New York­er cov­ers over more than forty years. Scrolling through images of those cov­ers, I found myself wish­ing he had illus­trat­ed a whole stack of pic­ture books (two of my favorite images: the wood­peck­er rat­tling away after a bug to feed the nest of lit­tle wood­peck­ers and the exu­ber­ant cro­cus in a pot).
It's hard for YouTube to do jus­tice to the art, but you can see and hear Green Eyes, now reissued.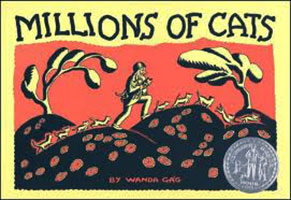 Mil­lions of Cats, writ­ten and illus­trat­ed by Wan­da Gag, with dou­ble page spreads, black and white lith­o­graph prints, and hand let­tered text has been called the first true Amer­i­can pic­ture book. Mil­lions of Cats won a New­bery hon­or in 1929 (the Calde­cott did not yet exist) and has been in print ever since. The text and art roll rhyth­mi­cal­ly through the sto­ry, and the small­est cat, who didn't con­sid­er her­self pret­ty enough to argue with the oth­er cats about who was pret­ti­est, is the only one left after the hun­dreds of cats, thou­sands of cats, mil­lions and bil­lions and tril­lions of cats fight so much they eat each oth­er up. The lit­tlest kit­ten, adopt­ed and loved by the lit­tle old lady and the lit­tle old man (cat own­ers might say the peo­ple were adopt­ed by the kit­ten) becomes the pret­ti­est cat of all.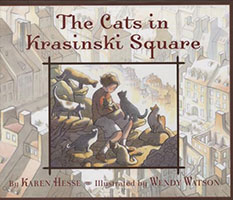 Cats are the heroes in The Cats in Krasns­ki Square by Karen Hesse, a fic­tion­al sto­ry based on a true sto­ry of cats help­ing out­wit the Gestapo and smug­gle food into the War­saw ghet­to dur­ing World War II.
The cats
come
from the cracks in the Wall,
the dark corners,
the open­ings in the rubble

With her old­er sis­ter (all that is left of her fam­i­ly) the nar­ra­tor, who escaped the Pol­ish ghet­to and now lives out­side its walls, is part of the resis­tance smug­gling food to Jews still impris­oned inside the ghet­to, includ­ing her friend Michael. When the resis­tance learns that the Gestapo is com­ing with dogs on leash­es to sniff out the food arriv­ing by train to be smug­gled behind the walls, the nar­ra­tor knows what to do: round up as many cats as pos­si­ble and take them to the sta­tion. As the train arrives, the nar­ra­tor and her friends release the cats, which dri­ves the dogs wild; dur­ing the dis­trac­tion the food van­ish­es from the station
through the Wall, over the Wall, under the Wall,
into the Ghetto.
Wendy Wat­son, one of my favorite artists, illus­trat­ed the books in somber tones reflect­ing the grav­i­ty of the sto­ry, where acts of great courage can resist great darkness.
So many more cat books to love! Here are a few to check out: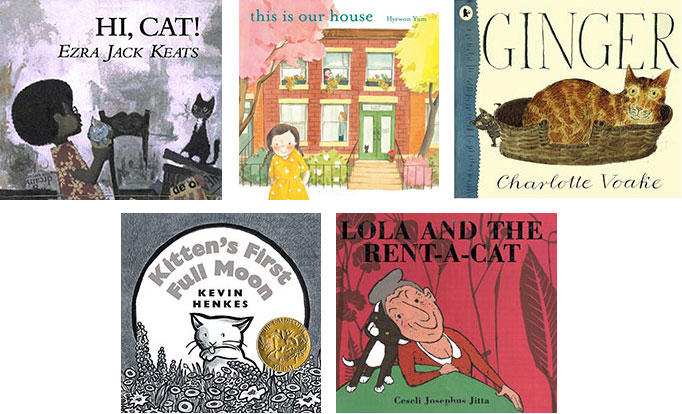 All Archie says to the stray cat on the city side­walk is, "Hi, Cat!" in Hi, Cat! by Ezra Jack Keats, but the cat fol­lows him and man­ages to ruin every act of the show Archie and his friend Peter are putting on. Still, Archie decides that the cat "just kin­da liked me!"
Cats aren't men­tioned in This is Our House by Hye­won Yum, but gen­er­a­tions of cats and kit­tens weave in and out of the art of this decep­tive­ly sim­ple sto­ry of immi­gra­tion, fam­i­ly, and home.
Gin­ger writ­ten and illus­trat­ed by Char­lotte Voake, is a tale of "sib­ling" rival­ry when the cat of the house must deal with a new kitten.
Kitten's First Full Moon by Kevin Henkes tells of a kit­ten who thinks the first full moon of her life is a bowl of milk in the sky, but all her efforts to drink that milk end in dis­as­ter. Luck­i­ly, when she returns home, a bowl of milk is wait­ing just for her.
Lola and the Rent-a-Cat, writ­ten and illus­trat­ed by Ceseli Jose­phus Jit­ta, tells how Lola, whose hus­band of many years has died, finds a cat to belong to (and keep) through the Inter­net. Lola choos­es num­ber 313 Tim:
Home­ly, slight­ly old­er cat
Loves atten­tion and care
Fond of diet food
Lola and Tim are togeth­er all the time, and she is able to recall the good mem­o­ries as she and Tim sit on a bench in the evenings, and Tim purrs as she strokes him.
Octo­ber 29 is Nation­al Cat Day, but any day is a good day to curl up with a cat book (and a cat, if one is handy).