This month we have been think­ing about the mys­ter­ies of the visu­al arts — how some artists must cre­ate, no mat­ter the cir­cum­stances. Some do it with love and encour­age­ment, some do it alone in an aban­doned chick­en coop, or in a slave's work shed. But we are all rich­er for this art and we want to cel­e­brate these creators.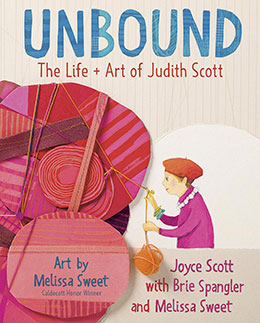 Judith Scott was a twin. Her sis­ter Joyce (along with Brie Span­gler and Melis­sa Sweet) tell the sto­ry of her life in Unbound The Life and Art of Judith Scott (Alfred A. Knopf, 2021). Judith and Joyce were always togeth­er as children…"we are each other's world. We share every­thing — our mom, our dad, our three old­er broth­ers, and our home. Togeth­er, under the sun, the moon, and the stars, it's all we know, and we are happy."
But when it comes time to go to school, Joyce gets on the bus but Judy must stay home. She has Down Syn­drome and in her school days (the 1940s) there was no place for her in the class­room. "The doc­tors say she is slow and will not get bet­ter, but they don't know Judy like I do. She is per­fect just the way she is. She knows things that no one else knows and sees the world in ways that I nev­er will." Judy is sent off to an insti­tu­tion. Joyce is heart­bro­ken. "…my whole world dis­ap­pears and is replaced with the col­ors of gone." Joyce can hard­ly bear to vis­it the drea­ry institution.
And when she becomes an adult she makes arrange­ments for Judy to live with her in Cal­i­for­nia. She enrolls Judy in the Cre­ative Growth Art Cen­ter. "Many months go by, but noth­ing inter­ests her, Judy only wants to look at her mag­a­zines." Then one day the teacher puts out twigs, yarn, wood, and pins. Judy starts to cre­ate, wrap­ping and tying objects into a shape. And the next day she makes anoth­er, and anoth­er. "For years Judy wraps and weaves, cre­at­ing fan­tas­tic, cocoon-like shapes filled with col­or." A time­line tells us that Judy's art was first shown in 1999. She died of heart fail­ure in 2005. Now her art is known world-wide.
Unbound is the sto­ry of art released by love. Judy's sis­ter Joyce loved her so much she asked her to come and live with her, made it pos­si­ble for her to go to an art work­shop pro­gram where she began to make fiber art. As Joyce said, Judy "found a voice and a song all her own."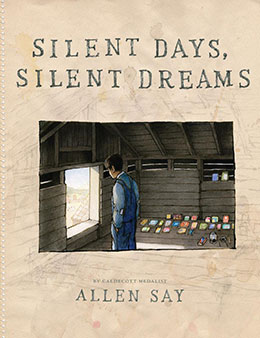 James Castle's sto­ry, as imag­ined and told by Allen Say in Silent Days, Silent Dreams (Arthur A. Levine, 2017) is the sto­ry of art that can­not be held back. In Say's imag­ined life, (Castle's fam­i­ly has dis­put­ed the details of this book) Cas­tle made art with lit­tle encour­age­ment in spite of mul­ti­ple instances of his work being trashed, tossed, and left behind. James Cas­tle made art — even when he only had soot, spit, and sec­ond-hand paper for mate­ri­als. James Cas­tle was born in 1899, mute, deaf, and autis­tic. "Any­thing that moved seemed to scare him…he could not hear him­self shriek­ing." His par­ents' liv­ing room was the local post office. James played with mag­a­zines, fold­ers, and extra paper. As a child he dis­cov­ered pen­cils and began to draw. When he shrieked his father locked him in the attic. Left alone, he drew and hid his draw­ings in cracks in the walls.
At school kids point­ed and laughed. James had no friends. He made paper dolls and ani­mals out of junk paper and scraps and filled his room with his creations.
At age 10 James was sent to a school for the blind and deaf 160 miles from his home. He was fas­ci­nat­ed by the school library and loved look­ing at the books, though he could not read. He loved watch­ing teach­ers sew the books. Art was only taught to girls. When the teach­ers saw James draw­ing they took away all his art mate­ri­als. He ran away. As pun­ish­ment they made him copy the alpha­bet end­less times. But he seemed to love the pun­ish­ment! And made his own books using some real and some invent­ed let­ters. At 15 he was sent home, called "inca­pable of learn­ing." And the prin­ci­pal warned his father not to let him draw.
The obsta­cles that James encoun­tered in his world, per­haps lack­ing in love or atten­tive­ness, even min­i­mal friend­ship, are heart-break­ing. Each time his fam­i­ly moved James's art was left behind. When he moved into his next to last space — an old chick­en coop in a sister's yard — neigh­bor kids broke in and trashed his art. He once threw some of his work into a stream. Per­haps he want­ed to be the one to let it go.
But he con­tin­ued to make art and ani­mals for 30 years in his chick­en coop home and stu­dio. A nephew was the only per­son he invit­ed in. And when his nephew went to art school he showed one of his pro­fes­sors some of Uncle Jimmy's draw­ings. That was the end of obscu­ri­ty for James Cas­tle. A show of his work was even­tu­al­ly orga­nized in Boise. James attend­ed in a silk suit. A sis­ter, not want­i­ng oth­ers to see the chick­en coop, even­tu­al­ly bought him a trail­er to live in. For 15 years he had his own house, where he con­tin­ued to make art.
Allen Say has illus­trat­ed this remark­able book using the mate­ri­als that James Cas­tle might have used — a lot of soot and spit, shoe pol­ish, laun­dry blu­ing. Say and his wife recre­at­ed Castle's art metic­u­lous­ly, respect­ful­ly, artis­ti­cal­ly. The most­ly mono­chro­mat­ic draw­ings are punc­tu­at­ed by a rain­bow paint­ed onto the roof of the gallery where James's show was hung. In a YouTube video Say admits that James Cas­tle wouldn't have drawn the rain­bow but the fel­low artist, Say, gave it to him — a gift from an admir­er. James Cas­tle had to draw and con­struct his own world of friends. He nev­er knew Allen Say or any of the rest of us who are so moved by his pas­sion and his work.
Dave the Pot­ter: Artist, Poet, Slave (Lit­tle Brown, 2010) by Laban Car­rick Hill and illus­trat­ed by Bryan Col­lier is the sto­ry of a slave in South Car­oli­na who learned to make pots — huge pots, pots that held 25 – 40 gal­lons. And what's more, in a time when it was ille­gal for slaves to read and write, Dave wrote on some of his pots: "I won­der where is all my rela­tions / Friend­ship to all and every nation. Dave August 16, 1857."
The book begins with Dave's vision, "To us it's just dirt… / But for Dave/it was clay, / the plain and basic stuff/upon which he learned to / form a life / as a slave near­ly / two hun­dred years ago."
Hill repeats this pat­tern lat­er in the sto­ry: "To us it is just a pot, / round and tall / good for keep­ing / mar­bles / or fresh cut flow­ers. / But to Dave/it was a pot / large enough to store / a season's grain har­vest / to put up salt­ed meat / to hold memories."
Hill and Col­lier bring Dave to life for read­ers with details like his thumbs, chapped from work­ing with clay, with quotes from Dave's pots. In a YouTube video, Col­lier tells stu­dents, "he [Dave] was talk­ing to the future." Col­lier tells the stu­dents Dave made over 40,000 pots in his life­time. Now his pots sell for hun­dreds of thou­sands of dol­lars each.
But it's not the mon­ey that impress­es, it's the vision of this man, a slave, who nev­er left South Car­oli­na, who made pots so big they seem to defy grav­i­ty and wrote his name on them so all would know — for all time — who made them. Art will out.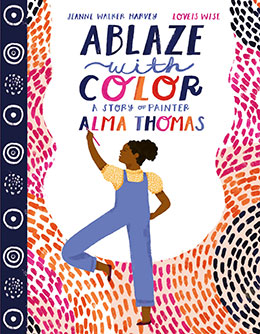 Alma Thomas is not an out­sider artist in the same way as Judith Scott or James Cas­tle, but she is an artist who broke bar­ri­ers, and we want to cel­e­brate her sto­ry, both for her own bril­liant paint­ings and for what she gave to chil­dren. Ablaze With Col­or, A Sto­ry of Painter Alma Thomas, (Harp­er 2022) by Jeanne Walk­er Har­vey and illus­trat­ed by Loveis Wise, whose vivid col­ors car­ry us from spread to spread, wel­comes us into Alma Thomas's life and art. As a child Alma loved being out­side among "pas­tel pur­ple vio­lets and crim­son ros­es crowned by bright green banana leaves." From lit­tle on, she made things, not by sewing or cook­ing as her sis­ters did, but by shap­ing stream clay into bowls and cups and dry­ing them in the sun.
As Black peo­ple liv­ing in Geor­gia in the late 1800s and ear­ly 1900s, Alma and her sis­ters couldn't vis­it muse­ums or libraries or attend the next-door school, so their par­ents filled their lives with books and teach­ers who were invit­ed into their home to talk about peo­ple and places beyond Geor­gia. When the fam­i­ly moved to Wash­ing­ton, D. C., Alma was able to attend col­lege and study art. After grad­u­a­tion she taught in the local seg­re­gat­ed school. Even though she still paint­ed, Alma devot­ed her­self to intro­duc­ing count­less stu­dents to art in any way she could, includ­ing hav­ing them make mar­i­onettes and put on pup­pet shows in Alma's home. She led field trips, orga­nized art clubs, and set up an art gallery in a school.
When at age sev­en­ty Alma stopped teach­ing and turned again to her own art, she still paint­ed col­ors but in a new way: "Cir­cles and stripes. Dash­es and dabs. Ablaze with col­or. Soft col­ors bright colors…She paint­ed how she felt on the inside when she expe­ri­enced nature out­side…. How nature made her heart sing and dance, even when life could be hard and unjust." Space trav­el inspired more paintings.
Then, Har­vey tells us, "the unex­pect­ed happened."
The Whit­ney, a famous New York art muse­um, fea­tured Alma's '12 Paint­ings of Earth and Space in the first solo show by a Black woman. The Cor­co­ran Gallery of Art in D.C. also showed Alma's paint­ings, and the may­or of Wash­ing­ton, D.C., hon­ored Alma's work with chil­dren by nam­ing Sep­tem­ber 9 Alma Thomas Day. Yet anoth­er hon­or came years after Alma had died when Barack and Michelle Oba­ma chose Alma's paint­ing Res­ur­rec­tion to hang in the White House, the first art­work by a Black woman to be dis­played there, "a paint­ing of hope and joy. Ablaze with glo­ri­ous col­or. Alma's colors."
"Through col­or, I have sought to con­cen­trate on beau­ty and hap­pi­ness, rather than on man's inhu­man­i­ty to man," Alma Thomas said. Her col­or­ful paint­ings expressed her belief that "col­ors are the chil­dren of light… that reveals the spir­it and liv­ing soul of the world." Alma's spir­it, like her art, bright­ens our world's liv­ing soul.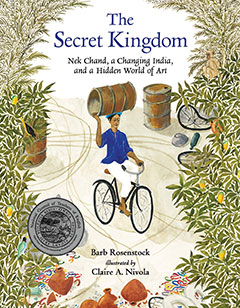 Like James Cas­tle, Nek Chand made art with what he found — and he made his "out­sider" art out­side. In The Secret King­dom: Nek Chand, a Chang­ing India, and a Hid­den World of Art (Can­dlewick Press, 2018) by Bar­bara Rosen­stock with illus­tra­tions by Claire A. Nivola, we learn about Nek's child­hood in the Pun­jab region of colo­nial India. "In the tiny vil­lage, Nek played and plant­ed, laughed and lis­tened, as the sto­ries cir­cled with the sea­sons, begin­ning to end and back again." While they farmed, Nek's father told sto­ries of wise kings. His moth­er told of grace­ful god­dess­es. Dur­ing the mon­soon sea­son his sis­ters told of mag­i­cal geese, and while the fam­i­ly har­vest­ed kanak Nek's broth­ers told sto­ries of fierce jack­als and chat­ter­ing mon­keys. His head over­flow­ing with sto­ries, Nek made his own world on the banks of the vil­lage stream out of silt and clay and sticks and rocks.
When Nek was grown, "the men with the guns came," and colo­nial India was par­ti­tioned into two coun­tries, Pak­istan and India, based on reli­gion. Because Nek's fam­i­ly was Hin­du liv­ing in now-Mus­lim Pak­istan, they had to leave their home­land. "Nek car­ried only vil­lage sto­ries in his bro­ken heart."
In Chandi­garh, a "sharp-edged city of col­or­less con­crete" built on land where twen­ty-six vil­lages had been bull­dozed to make way for the new city, Nek found work as a gov­ern­ment road inspec­tor. But he won­dered, "Where were the curv­ing paths and flow­ing streams? Where were the singing men, the sway­ing women? Where were the sto­ries?" When he dis­cov­ered acres of unoc­cu­pied scrub­land on the city's edge, Nek began trans­form­ing the hid­den wilder­ness. He cleared land, built a mud hut, and began to gath­er up bits and bro­ken pieces of dis­card­ed trash along the roads. He car­ried them to his hid­den wilder­ness and in time he began to build his secret king­dom with con­crete and shards of cracked sinks and pots and bro­ken glass ban­gles. He replant­ed and tend­ed half-dead plants from the city dump. He cov­ered frames of twist­ed bikes and rusty pipes with con­crete, "sculpt­ed packs of jack­als, troops of mon­keys, and flocks of geese. Begin­ning to end and back again, Nek found each group a place to belong, until he belonged too — king of a hid­den land of stories."
For fif­teen years his king­dom stayed secret, but when a gov­ern­ment crew clear­ing land dis­cov­ered his ille­gal build­ing and report­ed him, offi­cials decid­ed to clear his land.
"Until the peo­ple of Chandi­garh came."
They came to see this mag­i­cal world, gave mon­ey and tools to help save it, col­lect­ed scraps to recy­cle, and con­vinced gov­ern­ment offi­cials to let Nek Chand stay "in the place he belonged." Now peo­ple from all over the world vis­it Nek Chand's no-longer-secret king­dom to mar­vel at the cre­ation he nev­er stopped build­ing, a place that "tells the sto­ries peo­ple need to hear…stories of com­ing home. "
A dou­ble gate fold spread reveals pho­tos of Nek Chand's secret king­dom, and back mat­ter tells us more about how, with noth­ing more than cast-off mate­ri­als, his mem­o­ries and sto­ries, and a long­ing for home Nek Chand cre­at­ed a gift of art and yearn­ing for us all.
In an inter­view Rosen­stock told how she was seized by the idea of writ­ing about Nek Chand while work­ing on anoth­er pic­ture book biog­ra­phy that at the time "was going nowhere. I was bored. I was frus­trat­ed… I sat in my office search­ing ran­dom things on my lap­top, and acci­den­tal­ly googled some­thing like, 'artists work­ing out­side'. Boom! There was a pic­ture of a water­fall with odd­ly cool stat­ues in front of it…." Cap­ti­vat­ed by Nek Chand's art, Rosen­stock tem­porar­i­ly set aside the book she was work­ing on to write Chand's sto­ry. Books, Rosen­stock tells us, are born of passion.
And so is art, no mat­ter where we find it. We expect to find art in some loca­tions: muse­ums, art schools, pub­lic squares, sides of build­ings. But some art takes us by sur­prise, unex­pect­ed art, often by unex­pect­ed artists.
Why they should be unex­pect­ed we don't know — shouldn't we expect to find beau­ty any­where and every­where? One more gift of out­sider artists is how they reveal the cre­ative spir­it that lives in us all.
Art will out.
The Secret King­dom: Nek Chand, a Chang­ing India, and a Hid­den World of Art was reviewed in Bookol­o­gy, Feb­ru­ary 1, 2018.
Read more of Barb Rosenstock's inter­view about The Secret King­dom at Unleash­ing Read­ers.