Jack­ie: We decid­ed to hon­or the nation's new­found love of bak­ing with a col­umn on pic­ture books focused on bak­ing. We still don't have libraries (a great ben­e­fit of this con­fine­ment is the reminder of how spe­cial and nec­es­sary are libraries in our lives) so we are lim­it­ed to books we can find read aloud on Youtube. Let's start with an old favorite.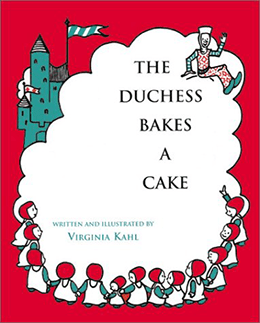 The Duchess Bakes a Cake by Vir­ginia Kahl has been around since 1955. The Duke and Duchess live with their thir­teen daugh­ters: Made­lyn, Gwen­dolyn, Jane, Catil­da, Car­olyn, Gwenevieve, Maud, Mathil­da, Willibald, Genevieve, Joan, Brun­hilde, and Gun­hilde. One day the Duchess decides to bake a cake — a love­ly, light lus­cious, delec­table cake. She gives the cook the day off and begins to assem­ble. "What­ev­er she found she put into the bat­ter." And six times as much yeast for good mea­sure. When the cake begins to rise the Duchess sits on top of it to tamp it down. But the love­ly, light lus­cious delec­table cake will not be stopped. Soon the Duchess is high in the sky, hop­ing for good weather.
The long­bow­men are ordered to shoot down the cake but hit only spar­rows. The cat­a­pul­tiers, ordered to bring the cake down with boul­ders, "kept missing."
Final­ly, lit­tle Gun­hilde says, "I'm hun­gry." And the solu­tion is appar­ent. They will eat the Duchess down from the sky. She starts at the top. The oth­ers eat up from the bot­tom. And even­tu­al­ly all is right­ed again.
The sto­ry shows its age a time or two, espe­cial­ly when the Queen and the Duchess are for­bid­den to do any more bak­ing. In our time we want the Queen and Duchess to decide that ques­tion. But it will always be fun to say, "A love­ly light lus­cious delec­table cake." Even now it makes me hun­gry for the adven­ture of cake.
Phyl­lis: Kahl's lan­guage and rhythm are so much fun. I have been walk­ing around all day say­ing, "A love­ly, light, lus­cious, delec­table cake." The words them­selves are almost good enough to eat. I love, too, the long list of what goes into the cake: "In went the sug­ar and flour and but­ter. In went the almonds the raisins, the suet. She added some vine­gar and dropped in the cruet…. She added some eggs, sev­er­al dozen, well beat­en, and some left­over pud­ding that they hadn't eat­en. Bil­ber­ries, goose­ber­ries, cran­ber­ries, bog berries, black­ber­ries mul­ber­ries, burber­ries, dog­ber­ries"… on and on. When it looks as though the chil­dren will have to say good-bye to their sky-bound moth­er, the hun­gry youngest of the thir­teen daugh­ters helps hits upon the solution.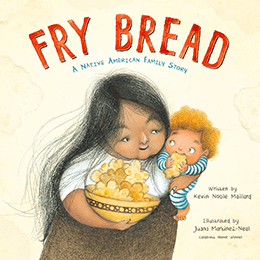 Jack­ie: Now for the brand new Fry Bread by Kevin Noble Mail­lard and illus­trat­ed by Calde­cott Hon­or illus­tra­tor Jua­na Mar­tinez-Neal. This love­ly book, with its seem­ing­ly sim­ple struc­ture, car­ries a lot of mean­ing, and is a delight to read. Win­ner of the 2020 Siebert Award, it begins: Fry­bread is food. /Flour, salt, water, /Corn meal, bak­ing pow­der, /Perhaps milk, maybe sug­ar. /All mixed togeth­er in a big bowl."
A new state­ment about fry bread begins each sec­tion in the book. Fry bread is sound. Fry bread is col­or. Fry bread is fla­vor, time, art. "Fry bread is his­to­ry. /The long walk. The stolen land. /Strangers in our own world/With unknown food/We made new recipes/From what we had." The illus­tra­tions are as arrest­ing as the text. When "Fry bread is place," we see kids romp­ing on a gauzy but rec­og­niz­able map show­ing the places named in the text.
Each of the sec­tions gets its own expla­na­tion in the exten­sive back mat­ter. Clear­ly fry bread stands for a lot for Kevin Noble Mail­lard and he brings read­ers to agree with him. I want to pore over the back mat­ter in a way that YouTube real­ly doesn't allow. And for those who want to make fry bread after read­ing the book, there's a recipe.
Phyl­lis:; When I first heard about this book, I thought about how fry bread was made foods the con­querors gave to the con­quered, hav­ing tak­en away their own sources of food. So I was espe­cial­ly moved with how fry bread became a cel­e­bra­tion of resilience, per­sis­tence, and inclu­sion. The book ends, "Fry bread is us."
Just like fry bread is all sorts of col­ors — "gold­en brown, tan, or yel­low, deep like cof­fee, sien­na, or earth, light like snow and cream, warm like rays of sun"– so are the chil­dren pic­tured joy­ful­ly help­ing to make and eat fry bread. What bet­ter time than now to remem­ber that "We strength­en each other/ to learn, change, and survive"?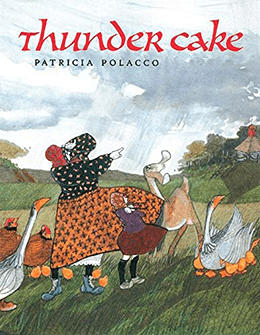 Jack­ie: We can't do a col­umn on cakes and bak­ing with­out includ­ing Thun­der Cake by Patri­cia Polac­co. This book is all about love: the love and trust that the nar­ra­tor has with her Babush­ka. And the love that the grand­moth­er has for the child. Polac­co shows it in the text and in the illus­tra­tions. The prob­lem, as we all remem­ber and the title reminds us, is thun­der, "thun­der that makes the win­dows shud­der." When the storm clouds appear the child heads for under the bed. But Babush­ka says, "This is thun­der cake bak­ing weath­er, all right. Looks like a storm com­ing to me."
While they gath­er the sup­plies for the cake from Nel­lie Peck Hen and Kick Cow, the girl keeps track of the approach­ing storm by count­ing the sec­onds between the light­ning and the thun­der. This "tick­ing clock" keeps us turn­ing the pages. Will they have time to bake the cake? What if they get caught out­side when the storm hits?
Mile by mile the storm approach­es, but they get the cake into the oven just in time. While it bakes Babush­ka reminds the nar­ra­tor of all she has done and tells her how brave she is. When the cake comes out of the oven, they each have a slice and a cup of hot tea. Per­fect reward for brav­ery. Per­fect cause for joy. And for us, there is a thun­der cake recipe at the end of the book.
Phyl­lis: This book is so rich in detail: the thun­der that makes "the win­dows shud­der in their panes," Babush­ka lov­ing­ly fin­ger­ing "the grease-stained pages to a creased spot," three over-ripe toma­toes to put in the cake — some­thing I plan to try with my next batch of over-ripe toma­toes in a few months. Grand­ma counts the dis­tance of light­ning dif­fer­ent­ly than I learned as a child, but the count­down does make for a won­der­ful ten­sion. And not only is the baked cake sat­is­fy­ing so is the lit­tle girl real­iz­ing she is brave after all.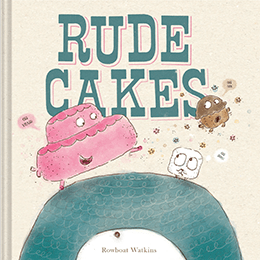 Jack­ie: One of the most sur­pris­ing cake books is about an anthro­po­mor­phized cake who is rude. Rude Cakes (2015) is writ­ten by Row­boat Watkins, who says on his web­page that Row­boat is not his real name, but a nick­name bestowed by his wife. But back to the sto­ry, "Rude cakes nev­er say please. /And they nev­er say thank you." And we see a pink lay­er cake with legs say­ing "Gimme." Rude cakes take things and they push oth­ers (whom they call "you clum­sy crumb") out of the way to get to the slide first. Rude cakes are obnoxious.
Still we are not quite pre­pared when a Giant Cyclops with a huge mouth reach­es in Rude Cakes' bed­room win­dow and grabs the cake. "Giant Cyclops love…" we are told as its mouth opens wide. Page turn. "To wear cute hats." It puts the cake on its head. Mean­while the cake is say­ing, "I'm not a hat." The Cyclops doesn't hear. None of its cyclops friends hear these dis­claimers, until Rude Cake says, "Please, I am not a hat." Man­ners do make a difference.
Phyl­lis: This book made me laugh out loud. The art fore­shad­owed the giant Cyclops with a draw­ing hang­ing over the bed where the rude cake is jump­ing rather than set­tling down to sleep, but who would have sus­pect­ed that giant Cyclops liked to wear jaun­ty lit­tle hats? And hats that dance, no less? This book gives me hope for all those who don't lis­ten, behave rude­ly, and think only of themselves.
Jack­ie: This is a delight­ful book. I would love to share it with kids. And I can imag­ine that nei­ther of us would look at cake in the same way again.
Bak­ing and read­ing, laugh­ing and think­ing, we will get through this time. And we hope we come out on the oth­er side delight­ed by what we had tak­en for grant­ed, grate­ful for so many kinds of gifts, and ready to share the good for­tune we didn't know we had. And ready for cake.
Phyl­lis: Yum!