Watch­ing birds is one of the joys of the out­door year (or the indoor year, giv­en the right win­dow place­ment). Emi­ly Dick­in­son notes the "inde­pen­dent ecsta­sy" of their songs. And we can dis­cern per­son­al­i­ties in cer­tain birds. Jays will peremp­to­ri­ly take over a feed­ing sta­tion. Chick­adees perk­i­ly fly in for a seed or two or a sip of water. Spar­rows seem to eat any­thing and make up in num­bers for their drab gar­ments. With the com­ing of fall we have migra­tion. Many birds are on the move.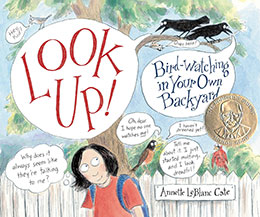 So it seems a good time to look at books about birds. For those who are think­ing about notic­ing more in the bird world, Look Up! Bird Watch­ing In Your Own Back­yard by Annette LeBlanc Cate (Can­dlewick, 2013) is a good place to start. Cate tells us she is not an expert — even her binoc­u­lars don't work quite right — she just loves watch­ing birds. This cap­ti­vat­ing book is a com­bi­na­tion of car­toon and prose. Begin­ning with "Bird-Watch­ing Do's and Don'ts" a graph­ic sec­tion starts us out with an instruc­tion to "Do only go to places you know are safe. Do be respect­ful of birds, nature, and oth­er bird­watch­ers." And con­tin­ues to "Don't sit on poi­son ivy. Don't tread on del­i­cate plants."
Slight­ly snarky black­birds reg­u­lar­ly com­ment on the prose, adding a touch of humor and expand­ing on the infor­ma­tion in the text. Cate is clear on the rea­son for watch­ing birds. First, it can be fun. And it reminds is that "No mat­ter where you live, you are a part of the nat­ur­al world, just as the birds and oth­er crea­tures are."
Cate opens the door to bird-watch­ing for read­ers of all ages. "You may not have a yard, but you do have a sky." And the book takes us through the col­ors of birds, the shapes of birds, the sounds of birds, offers a close look at spar­rows and a dis­cus­sion of bird habitat.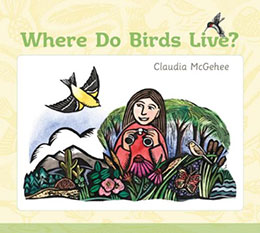 An inter­est in birds in our own neigh­bor­hoods may also spark an inter­est in birds who do not live where we live. Clau­dia McGehee's Where Do Birds Live (Uni­ver­si­ty of Iowa Press, 2010) takes read­ers on a tour of "four­teen habi­tats where birds live in the sum­mer months." Each spread offers a page of infor­ma­tion on a spe­cif­ic bird in a habi­tat (for exam­ple the bobolink in the Tall­grass Prairie) and an illus­tra­tion that includes oth­er res­i­dents of that habi­tat. Read­ers trav­el from the Tall­grass Prairie to the West­ern Moun­tain Mead­ow (Moun­tain Blue­bird) to the Pacif­ic Rain­for­est (Com­mon Raven) through habi­tats all over the Unit­ed States to end in a Mid­west­ern Back­yard, which fea­tures the Ruby-Throat­ed Hum­ming­bird and the back­yard in the book adjoins a house that looks very much like McGehee's house, includ­ing her cat. Read­ers will want to find their own region of the coun­try but will also enjoy "trav­el­ing" to find the birds in oth­er regions.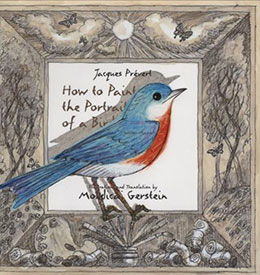 Phyl­lis: I've been watch­ing the hum­ming­bird come to the feed­er in my urban back­yard this sum­mer, and a neigh­bor saw a goshawk one night. What do birds need? Food, water, shel­ter. Even in a small back­yard it's pos­si­ble to offer those things, then sit back and enjoy vis­i­tors. And if you want to paint a bird, Jacques Prévert has some advice in a fic­tion­al book apt­ly titled, How to Paint the Por­trait of A Bird, trans­lat­ed from the French and illus­trat­ed by Morde­cai Ger­stein. In spare and lyri­cal text Prévert tells us that we must first paint a cage with an open door and paint some­thing inside for the bird, "some­thing use­ful and beau­ti­ful, but sim­ple." Then take the pic­ture out­side, put it under a tree, hide, and wait "years, if nec­es­sary." If a bird does come, wait some more while it enters the cage, then close the cage door with your brush, care­ful­ly erase the case and paint the por­trait of the tree "with the pret­ti­est branch for the bird." Paint "the green leaves and the sum­mer breeze…the smell of the sun­shine and the flow­ers and the songs of the bees and the but­ter­flies." (It's hard not to quote the whole, brief, love­ly book.) If the bird doesn't sing, you tried your best, but if the bird sings, sign the por­trait, take it home, and hang it in your room. The last spread shows a sleep­ing boy and the bird fly­ing out the win­dow while the text tells us, "(Tomor­row you can paint anoth­er one.)" I first came across this book in the Amer­i­can Folk Art Muse­um in New York City and have since giv­en it away mul­ti­ple times to fel­low writ­ers. I can't think of a bet­ter descrip­tion, not just of paint­ing a bird's por­trait, but also of the whole cre­ative endeav­or. Tomor­row we can always write anoth­er one.
Ostrich and Lark, by the poet Mar­i­lyn Nel­son, is beau­ti­ful­ly illus­trat­ed by the San artists of the Kuru Art Project of Botswana, peo­ple who live in the Kalarhari desert and whose hunter-gath­er­er way of life has been slow­ly dis­placed by devel­op­ment, as we learn in a note at the begin­ning of the book. Nelson's pro­ceeds from the book are donat­ed to the Kuru Art Project. The bril­liant­ly col­ored art is one rea­son alone to buy this book, but Nelson's orig­i­nal tale is another.
Ostrich and Lark begin each day togeth­er "at first light, day in and day out." They nib­ble an ongo­ing meal "every day, all day, over the cicada's drone, a driz­zle of buzzings…and a down­pour of bird­song." Every day Lark, too, sings, but Ostrich is silent. Some­times at night Ostrich dreams of "singing the sky full of stars," but every­day he is silent until, one evening, Ostrich booms TWOO-WOO-WOOOT, "like thun­der­storms on the horizon…like the rain­storm that ends the dusty months of thirst, like the promise of jubi­lant green…Ostrich boomed Lark right off his perch." Ostrich had found his voice, "his own beau­ty, his big, ter­rif­ic self." The com­bi­na­tion of vivid words and vivid art bring me back to this book again and again.
Fic­tion­al and non-fic­tion­al, our feath­ered friends delight us. Put out a feed­er, a bowl of water. Sit back. Wait. Who knows who might come? If a bird comes, watch it. Paint it. Write a poem about it. Boom about it in your own big, ter­rif­ic voice.
And if no bird comes today, maybe tomorrow.