We feel called this month to cel­e­brate the many accom­plish­ments of Black women in this coun­try — some of whom are his­tor­i­cal icons, too many of whom we have we have nev­er heard of. Courage, per­sis­tence, resource­ful­ness describe all of these women: sur­vival qual­i­ties we all need to call on in these times.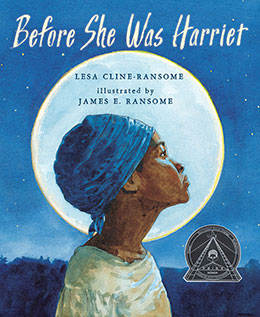 Har­ri­et Tub­man is one of the black his­tor­i­cal fig­ures that many school­child­ren and adults know about for her work in lead­ing slaves to free­dom. In Before She Was Har­ri­et by Lesa Cline-Ran­some, illus­trat­ed by James Ransome's beau­ti­ful full-bleed paint­ings in rich, deep col­ors, we learn so much more about the life of this brave and deter­mined woman.
In spare and lyri­cal prose, Ran­some tells Har­ri­et Tubman's life back­ward, begin­ning from when she was an old woman, "tired and worn, her legs stiff, her back achy."
But before she was an old woman, Har­ri­et was a suf­fragette, fight­ing for women's right to vote, "her voice ris­ing against injus­tice." Before she was a suf­fragette, she was Gen­er­al Tub­man, help­ing enslaved peo­ple to escape dur­ing the Civ­il War and spy­ing for the union. Before that Har­ri­et was a nurse, "car­ing for those hit by bul­lets and hatred and fear … in the blood­ied dirt of south­ern soil."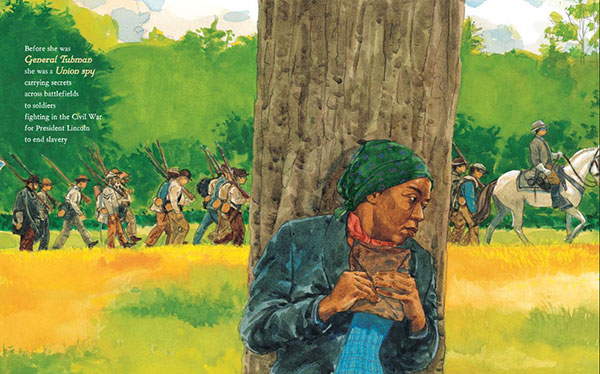 Before that, she was Aunt Har­ri­et, who helped her par­ents flee slav­ery, and she was Moses, a con­duc­tor on the under­ground rail­road, "with no trains, no tracks, just pas­sen­gers trav­el­ing to free­dom." Ran­some takes us back to when Har­ri­et was a child named Aram­inta, called Minty, taught by her father to read the woods and the stars, yet enslaved by peo­ple who broke her back but not her spir­it. When she mar­ried a free black man in 1844, she renamed her­self Harriet.
This "wisp of a woman with the courage of a lion" lived a full and deter­mined life. Through it all she "dreamed of liv­ing long enough to one day be old and stiff and wrin­kled, tired and worn and free."
While Before She Was Har­ri­et begins with Har­ri­et as an old woman, Pies from Nowhere: How Geor­gia Gilmore Sus­tained the Mont­gomery Bus Boy­cott by Dee Romi­to, illus­trat­ed in strong col­ors by Lau­ra Free­man, begins with Geor­gia Gilmore as a young girl and moves quick­ly for­ward from her child­hood on a farm in Alaba­ma. When Geor­gia grew up she worked as a cook at the Nation­al Lunch Com­pa­ny in seg­re­gat­ed Mont­gomery, the city where, on Decem­ber 1, 1955, Rosa Parks was arrest­ed for refus­ing to give up her bus seat for a white pas­sen­ger, begin­ning the Mont­gomery bus boy­cott. Black peo­ple, about 75% of the rid­er­ship, orga­nized to not ride the bus­es at all. Geor­gia had already quit rid­ing the bus­es because of how bad­ly dri­vers had treat­ed her, once demand­ing she get off the front of the bus after pay­ing her fare and re-enter through the rear door, then dri­ving away before she could re-board the bus.
Geor­gia want­ed to help sup­port the boy­cott, and what she knew best was cook­ing, so she and a group of oth­er women bought gro­ceries and cooked meals for meet­ings and boy­cotters. They sold sand­wich­es, din­ners, and desserts — sweet pota­to pie, peach pie, red vel­vet cake, 7‑up cake — in their neigh­bor­hoods. They gave the mon­ey from these pies and cakes to the boy­cott to buy gas and even sta­tions wag­ons to trans­port the boy­cotters. But the women had to work in secret for fear of los­ing their jobs, so when­ev­er Geor­gia was asked where the mon­ey they donat­ed came from, she would answer, "Nowhere."
After Geor­gia was called to tes­ti­fy in court about how she had been mis­treat­ed by a bus dri­ver, the Nation­al Lunch com­pa­ny fired her. With the help and encour­age­ment of Dr. Mar­tin Luther King, Jr., Geor­gia began feed­ing folks out of her home and deliv­er­ing meals of fried chick­en, black eyed peas with okra, fresh corn muffins, apple pie, even home­made mac­a­roni and cheese to earn mon­ey to sup­port her family.
On Novem­ber 13, 1956, the Supreme Court declared that Montgomery's seg­re­gat­ed bus­es were uncon­sti­tu­tion­al. Peo­ple could sit any­where they want­ed on bus­es. Geor­gia cel­e­brat­ed with folks, but she knew, too, that there were still plen­ty of fights ahead.
And so she kept right on cooking.
This book will make read­ers hun­gry for sweet pota­to pie and mac and cheese, but even more, it will make read­ers hun­gry for jus­tice. It includes a list of sources and an author's note which ends with a quote from Georgia:
"You can­not be afraid if you want to accom­plish any­thing. You got to have the will­ing, the spir­it, and above all, you got to have the get-up."
Fight­ing injus­tice takes many forms, from cook­ing "pies from nowhere" to lead­ing slaves to free­dom to vot­ing, protest­ing, and nev­er giv­ing up the fight. Har­ri­et Tub­man and Geor­gia Gilmore had the get-up to fight for jus­tice. We can, too.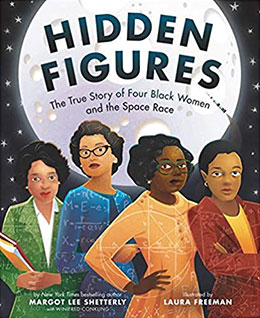 And we can be inspired by women who would not be trapped by the way things were. They pushed to expand the pos­si­ble. Hid­den Fig­ures writ­ten by Mar­got Lee Shet­ter­ly and illus­trat­ed by Lau­ra Free­man is the true sto­ry of four amaz­ing African Amer­i­can math­e­mati­cians who made many of the ear­ly NASA mis­sions pos­si­ble — Dorothy Vaughn, Mary Jack­son, Kather­ine John­son, Chris­tine Dar­d­en. Why didn't we hear of them for so many decades?
The book gives brief biogra­phies of the four women and reminds read­ers that when they began their careers "com­put­ers were actu­al peo­ple" who were very good at math.
Each of the four always knew she was good at math but faced many hur­dles to get to do this job they loved: they were women (most engi­neers were men); they were not white (most peo­ple work­ing on the ear­ly space projects were white).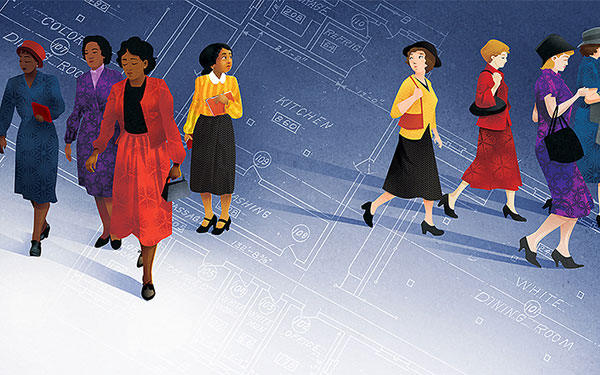 When they start­ed their careers, these women could not work in the same rooms as the white math­e­mati­cians, use the same bath­rooms, eat at the same tables. But they could do math. They sure could do math.
Dorothy Vaughn want­ed to serve her coun­try dur­ing WWII and applied for a posi­tion at Nation­al Advi­so­ry Com­mis­sion for Aero­nau­tics and was hired as a com­put­er. She stayed on with the Com­mis­sion after the war to con­tin­ue the effort to design safer, faster planes.
In 1952 Mary Jack­son got a job as a com­put­er at Lan­g­ley Air Force Base. Mary's real goal was to become an engi­neer. No one encour­aged her. "She wasn't allowed to go inside the white school where the [engi­neer­ing] classers were taught…. She refused to give up. She got per­mis­sion to enter the school build­ing and take the math class­es and she earned good grades. Because she didn't give up Mary Jack­son became the first African Amer­i­can female engi­neer at the laboratory."
"Kather­ine John­son was good at math and always asked lots of ques­tions. In 1953 she applied to the lab­o­ra­to­ry for a com­put­er job… and was placed on a team that test­ed actu­al planes while they were fly­ing in the air." She want­ed to help write research reports but "women weren't allowed" to attend the meet­ings where the reports were pre­pared. She asked her boss if she could attend these meet­ings. He said women weren't allowed. She asked again, and again, and again, until final­ly the rules were changed. She was the first woman to sign her name to a lab report. Kather­ine John­son was so good at math John Glenn want­ed her to review the com­put­ers' pro­jec­tions of his land­ing to be sure it would go as expected.
In the 1960s Jim Crow laws began to change. Black and white math­e­mati­cians could eat togeth­er, work togeth­er, share the same bath­rooms. Chris­tine Dar­d­en start­ed work­ing at Lan­g­ley in 1967. She first worked on the project to put astro­nauts on the moon. The four women and the oth­er NASA engi­neers achieved suc­cess on July 20, 1969, when the Apol­lo space­craft touched down on the moon.
A time­line at the end of the book places these remark­able women's lives in the con­text of oth­er impor­tant dates in space exploration.
This is a won­der­ful intro­duc­tion to a piece of his­to­ry that we all should know. Our favorite illus­tra­tion in the book is a spread toward the end which recounts civ­il rights progress. We see peo­ple of all races sit­ting togeth­er on a sub­way. Out­side the win­dows of the sub­way we see the faces of Rosa Parks, Mar­tin Luther King Jr., and oth­er civ­il rights heroes. We need the pow­er of their spir­its, who have guid­ed us over the decades, and the per­se­ver­ance of these women as much as ever. Let us be inspired by them and moved to action to make a world where all can use their gifts.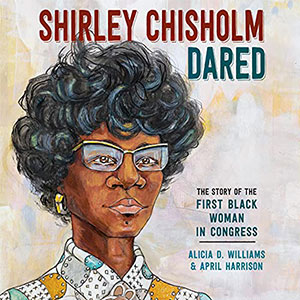 One Black leader who was not hid­den in her time was Shirley Chisolm. We learn her sto­ry in Ali­cia D. Williams' live­ly pic­ture book biog­ra­phy Shirley Chisolm Dared The Sto­ry of the First Black Woman in Con­gress, illus­trat­ed by April Har­ri­son (Ran­dom House, 2021). This sto­ry begins when pre­co­cious three-year-old Shirley St. Hill goes, with her two sis­ters, from Brook­lyn to live with her grand­moth­er in Bar­ba­dos. After six years she returns to Brook­lyn, still precocious.
After grad­u­at­ing from Brook­lyn Col­lege, she gets a job as a teacher's aide in a nurs­ery school and takes cours­es after work at Colum­bia Teach­ers Col­lege. Soon she is hold­ing down admin­is­tra­tive positions.
All her life her father has told her, "Make some­thing of your­self." And she sees work to be done. In her neigh­bor­hood of Bed­ford Stuyvesant there is a hous­ing short­age, garbage pick-up is spot­ty, kids need day care and preschool. She asks ques­tions — why can't we have more? She joins a club of Democ­rats — and is assigned to dec­o­rate cig­ar box­es! She asks why women only get to write cards and dec­o­rate box­es. Even­tu­al­ly she is asked to leave.
Unboth­ered, she con­tin­ues to ask why her neigh­bor­hood is so ignored. Then, "Shirley steps her white oxford heels back into pol­i­tics" and runs for a seat in the New York State Assem­bly, a seat that had always been held by a white man. She wins!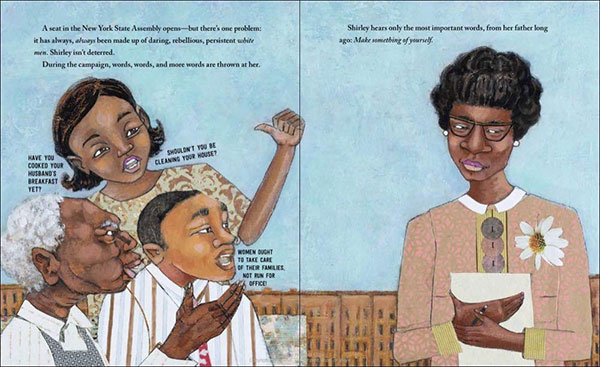 After three years in the New York State Assem­bly Shirley Chisolm decides to run for Con­gress. "Her fel­low assem­bly­men refuse to sup­port her. Even reporters ignore her, only inter­view­ing her oppo­nent." But she cam­paigns tire­less­ly – talk­ing to peo­ple in their liv­ing rooms, at meet­ings, on the street. Fifty-two thou­sand four hun­dred and thir­ty three votes were cast in that elec­tion. Shirley Chisolm won by twen­ty one thou­sand votes.
Williams's biog­ra­phy ends with this vic­to­ry, but a page of back mat­ter gives read­ers the whole out­line of Shirley Chisholm's remark­able life.
Williams's lan­guage per­fect­ly match­es Chisholm's live­ly, spunky spir­it. And the illus­tra­tions, too, are live­ly and engag­ing. This is a book read­ers will go back to again and again — for inspi­ra­tion and for joy.
Cline-Ran­some, Lesa. Before She Was Har­ri­et. (illus. by James E. Ran­some). Hol­i­day House, 2017.
Romi­to, Dee. Pies from Nowhere: How Geor­gia Gilmore Sus­tained the Mont­gomery Bus Boy­cott. (illus. by Lau­ra Free­man). lit­tle bee books, 2018.
Shet­ter­ly, Mar­got Lee. Hid­den Fig­ures: The True Sto­ry of Four Black Women and the Space Race. (illus. by Lau­ra Free­man.) Harper­Collins, 2018.
Williams, Ali­cia D. Shirley Chisholm Dared: The Sto­ry of the First Black Woman in Con­gress. (illus. by April Har­ri­son). Anne Schwartz Books, 2021.
Helaine Beek­er. Count­ing on Kather­ine. (illus. by Dow Phu­miruk). Hen­ry Holt, 2018.
Slade, Suzanne. A Com­put­er Called Kather­ine: How Kather­ine John­son Helped Put a Man on the Moon. (illus. by Veron­i­ca Miller Jami­son ) Lit­tle Brown, 2019.
Thor­pe, Andrea. The Sto­ry of Kather­ine John­son. Rock­ridge Press, 2021.
Brown, Kath­eryn Rus­sell. She Was the First. (illus by Eri Velasquez). Lee & Low, 2020.
Cham­bers, Veron­i­ca. Shirley Chisholm is a Verb (illus. by Rachelle Bak­er) Dial, 2020.