Jack­ie:
Phyl­lis is on the road with her beau­ti­ful and infor­ma­tive new book Search­ing for Minnesota's Native Wild­flow­ers. [While Phyl­lis is out of the room, I will say that I love this book. It makes me want to get out and find flow­ers. Iowa has many plants in com­mon with Min­neso­ta and I look for­ward to tromp­ing with Phyl­lis and Kelly.)
Search­ing for Minnesota's Native Wild­flow­ers puts me in mind of April Pul­ley Sayre's won­der­ful nature books. She's writ­ten many, but today I want to focus on a few of her bird books, plus one.
My first encounter with Sayre's writ­ing was Vul­ture View (illus­trat­ed by Steve Jenk­ins, 2007). Sayre cap­tures the lives of vul­tures in few words.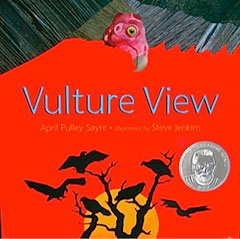 Wings stretch wide
To catch a ride
On warm­ing air.
Going where?
Up, up!
Turkey vul­tures tilt, soar, scan
To find the food that vul­tures can…
…eat.
…
Vul­tures like a mess.
They land and dine.
Rot­ten is fine.

We see them eat­ing, clean­ing, preen­ing, and sleep­ing. Then the sto­ry cir­cles back to the begin­ning as the sun comes up and "Wings stretch wide/to catch a ride."
We learn all we need to know to appre­ci­ate vul­tures in these terse rhymes. And if we want to know more, the book has two dense pages of back mat­ter. Turkey vul­tures are easy to spot, range — in the sum­mer — all over the east­ern U.S. They would be a great bird for begin­ning bird­ers to study.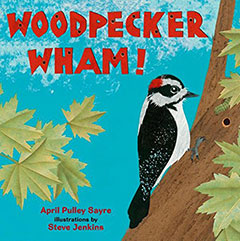 In 2015 Sayre took a look at wood­peck­ers—Wood­peck­er Wham! (illus­trat­ed by Steve Jenk­ins). Once again, the birds' sto­ry is told with quick, live­ly rhymes:
Swoop and land.
Hitch and hop.
Shred a tree stump.
CHOP, CHIP, CHOP!

In the case of this book, dessert comes first. Steve Jenkins's gor­geous cut and torn paper col­lages com­bine with April Pul­ley Sayre's rhyth­mic telling of wood­peck­ers' lives to keep us turn­ing pages until we get to the back mat­ter — six pages packed with addi­tion­al infor­ma­tion about wood­peck­ers. "How do wood­peck­ers know where to dig? First the wood­peck­er taps the tree. This caus­es insects inside to move. The wood­peck­er hears the move­ment or feels the vibra­tions through its bill." Sayre also tells read­ers how they can help wood­peck­ers. "Plant bush­es, trees, and cac­ti that sup­ply fruits and nuts.
And she pro­vides tips on how to find woodpeckers.
This books is a sim­ple and thor­ough intro­duc­tion to wood­peck­ers. Per­fect pre­lude to a walk in the woods.
And just this year Beach Lane books has pub­lished War­bler Wave, an amaz­ing book about war­blers with pho­tographs tak­en by Sayre and her hus­band. I have trou­ble iden­ti­fy­ing war­blers with binoc­u­lars. I am amazed that April and Jeff Sayre were not only able to spot these busy birds but spot them long enough to pho­to­graph them.
I want to quote the entire book but will leave you to find that plea­sure. We learn that they fly at night, cross oceans, "Then bedrag­gled, they drop. /A refu­el­ing stop. /They must find food/ or die." Then fol­lows a few pages of stun­ning pho­tographs. "They flit, like fly­ing flow­ers." They snag insects and are on their way north again.
For those who want to learn more about war­blers, there are again six fact-packed pages con­cern­ing war­bler life his­to­ry, how to help war­blers, and the impor­tance of war­blers. "War­blers and oth­er migrat­ing birds cross moun­tains, oceans, and human polit­i­cal bound­aries. …Their beau­ti­ful songs, col­or­ful pat­terns, and sea­son­al arrival bring joy to peo­ple from Alas­ka to Peru. Whether you live in North Amer­i­ca, South Amer­i­ca, or the Caribbean, you can help wel­come the war­blers and share in this nat­ur­al con­nec­tion between diverse habi­tats, wild birds, and people."
The book was a labor of love. April Sayre writes in the Acknowl­edg­ments sec­tion "For twen­ty-eight years, my hus­band, Jeff, and I have set aside the first cou­ple weeks of May to cel­e­brate war­bler migra­tion. So, it's extra spe­cial to me that he's joined me by tak­ing some of the pho­tos and review­ing text for this book about our shared love: warblers."
Final­ly, anoth­er book with April Sayre's stun­ning pho­tographs Rain­drops Roll (2015). The book opens with a tree frog look­ing quite philo­soph­i­cal about rain. (A pho­to­graph Sayre notes that was tak­en by her hus­band). We see a drenched blue jay, rain drops on leaves, petals, pump­kins, even a moth.
These books make me want to get out­side, to look, to see again what I have been missing.
I hope — and I know Phyl­lis joins me in this — that you have that kind of sum­mer, that you are stunned by the beau­ty in your neigh­bor­hood, see again and see anew.
We'll be back with more books in the fall.