Phyl­lis: This sum­mer I had the oppor­tu­ni­ty to sail for a week in Lake Supe­ri­or, so we are turn­ing our thoughts to books about the sea (includ­ing the great inland sea that bor­ders Min­neso­ta, so vast it makes its own weath­er). If we can't go sail­ing right now, we can at least read about it in a fleet of good pic­ture books.
Jack­ie: And I am a self-con­fessed water gaz­er. I'm not a boater of any kind but I can't get enough of being next to water, watch­ing and listening.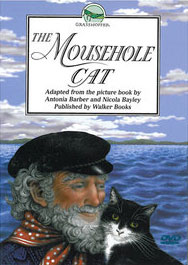 Phyl­lis: I can­not tell you how much I love The Mouse­hole Cat by Anto­nia Bar­ber with lumi­nous art by Nico­la Bay­ley. As many times as I've read it, the sto­ry still gives me shiv­ers and makes me want to cry. Mouse­hole (pro­nounced Mowzel by the Cor­nish peo­ple who live there) is a small town where the peo­ple go out every day through the nar­row break­wa­ter open­ing into the ocean to fish for their liv­ing. Old Tom and his cat Mowz­er fish as well, for Mowz­er in par­tic­u­lar is par­tial to a plate of fresh fish.
One day a ter­ri­ble win­ter storm blows in. "'The Great Storm-Cat is stir­ring,' thinks Mowz­er," and although the Great Storm – Cat flings the sea against the break­wa­ter and claws at the har­bor gap, the boats are safe "as mice in their own mouse­hole," but the peo­ple are hun­gry because no one can go out into the ocean to fish.
Final­ly, on Christ­mas Eve, Old Tom decides he should go out to try to fish, for he can­not stand to see the chil­dren starv­ing at Christ­mas. Mowz­er goes with him, "for he was only a man, she thought, and men were like mice in the paws of the Great Storm-Cat."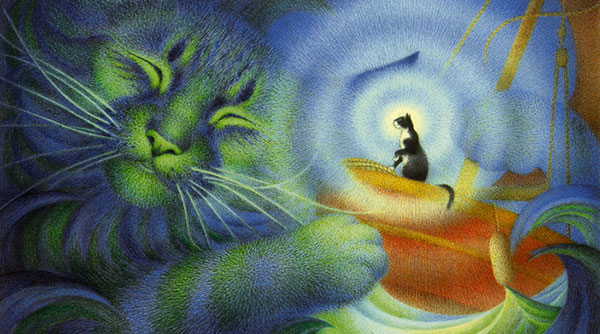 And it is Mowzer's singing that dis­tracts the Great Storm-Cat long enough for the boat to escape the har­bor and play out the nets in the ocean. All day Mowz­er sings to the Great Storm-Cat, but she knows he will strike when they run for the har­bor and safe­ty. As she thinks of the food they might make with the catch they have hauled in, Mowz­er begins to purr, a sound the Great Storm-Cat has not heard since he was a Storm-Kit­ten. They purr togeth­er, the seas calm, and Old Tom and Mowz­er come into the har­bor on the "small­est, tamest Storm-Kit­ten of a wind" where the whole town is wait­ing with lit can­dles to guide them home. (Even writ­ing this gives me shiv­ers of delight.)
Every year since then the vil­lage of Mouse­hole is lit with a thou­sand lights at Christ­mas time, "a mes­sage of hope and a safe haven to all those who pass in per­il of the sea."
Jack­ie: The lit can­dles that guide them home after the adven­ture is such a won­der­ful touch. Don't we all want to be guid­ed home after a great strug­gle? The plot is so sat­is­fy­ing as well. It's the small cat that saves them because she begins to purr. As I was think­ing about Mowzer's purr I real­ized how calm­ing a cat's purr is. I think we all become more relaxed if we have a purring cat on our lap. Same for the Great Storm Cat.
This is a love­ly illus­trat­ed short sto­ry that I think would charm mid­dle graders, as well as pri­ma­ry graders.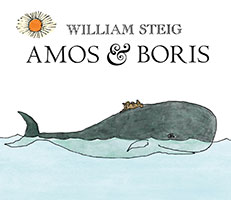 Phyl­lis: Anoth­er favorite is William Steig's Amos and Boris, the sto­ry of a mouse who builds a boat, chris­tens it the Rodent, pro­vi­sions it with a delight­ful list of items, and sets sail on the ocean. Amos is less lucky than Old Tom and Mowz­er; one night, gaz­ing at the vast and star­ry sky while lying on his boat, he rolls over­board, and the Rodent in full sail bowls along with­out him. Amos man­ages to stay afloat through the night, lead­ing to one of my favorite com­fort­ing lines in all of pic­ture books: "Morn­ing came, as it always does." And with morn­ing comes Boris the whale, just as Amos's strength is fail­ing. Boris gives Amos a ride home by whale­back, and on the week­long jour­ney they become "the clos­est pos­si­ble friends."
Jack­ie: I just love that!
Phyl­lis: When they near shore, Amos thanks Boris and offers his help if Boris ever needs it, which amus­es Boris. He can't imag­ine how a lit­tle mouse could ever help him.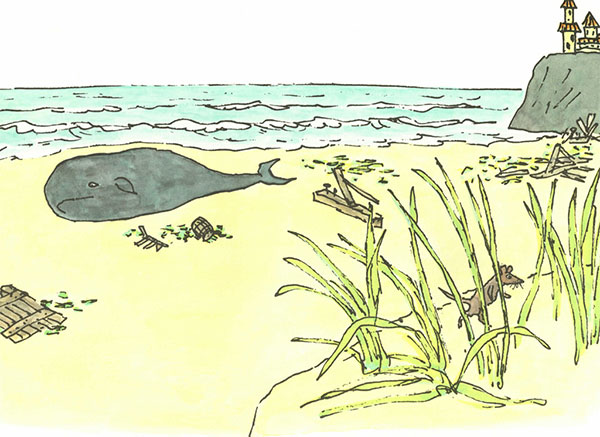 Years pass. Hur­ri­cane Yet­ta flings Boris ashore right by Amos's house. Boris will die unless he gets back in the water, and Amos runs off to get help: two ele­phants who roll the whale back into the ocean while Amos stands on one of their heads, yelling instruc­tions that no one can hear. Soon Boris is afloat again, whale tears rolling down his cheeks. Know­ing they might nev­er meet again, the friends say a tear­ful good-bye, know­ing, too, that they will always remem­ber each other.
In anoth­er writer's hands, I might make some com­ment about the con­ve­nient "ele­phants ex machi­na" that Amos finds, but I accept it com­plete­ly here, because Steig makes me believe. And cry, again.
Jack­ie: There is so much to love in this sto­ry. First, the list of items: cheese, bis­cuits, acorns, hon­ey, wheat germ [Steig must have includ­ed wheat germ because he liked the sound. Wheat germ?] fresh water, a com­pass, a sex­tant, a tele­scope, a saw, a ham­mer and nails and some wood, … a nee­dle and thread for the mend­ing of torn sails and var­i­ous oth­er neces­si­ties such as ban­dages and iodine, a yo-yo and play­ing cards." I just love the notion of a mouse on a boat prac­tic­ing his yo-yo tricks. And I think read­ers will be called to ask them­selves what they might find essen­tial for a sea journey.
And I'm admir­ing of the nuanced way Steig moves the plot along. Amos doesn't roll off the boat because he falls asleep, or because a high wind blows him off. He falls off because he is "over­whelmed by the beau­ty and mys­tery of every­thing." His own capac­i­ty for awe is what caus­es the problem.
You have talked about the won­der­ful back and forth of help­ing between Amos and Boris. I want to men­tion, too, Boris's won­der­ful voice. When the mouse meets the whale, he says. "'I'm a mouse, which is a mam­mal, the high­est form of life. I live on land.'
'Holy clam and cut­tle­fish!' said the whale. I'm a mam­mal myself, though I live in the sea. Call me Boris,' he added." [A lit­tle nod to "Call me Ishmael?"]
Some­times good luck hap­pens. When the worst looks inevitable, fate inter­venes. And some­times fate gives us life-sav­ing ele­phants. They are such a relief. And so out­landish. It's as if Steig is say­ing, "I'm the author. I can do this."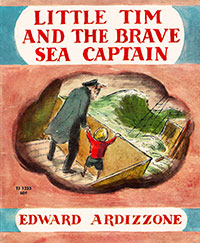 Phyl­lis: Edward Ardiz­zone wrote and illus­trat­ed a series of eleven books about Lit­tle Tim, who goes to sea, begin­ning with Lit­tle Tim and The Brave Sea Cap­tain and end­ing with Tim's Last Voy­age. We loved these books when my chil­dren were grow­ing up, and we still do. Vis­it this site so you can hear a sam­ple of Lit­tle Tim and The Brave Sea Cap­tain read aloud and see Ardizzone's won­der­ful art.
Jack­ie: I love the lan­guage of this book: "'Some­times Tim would aston­ish his par­ents by say­ing, 'That's a Cunarder' or 'Look at that bar­quen­tine on the port bow.'" [I want to say that again and again.] When his par­ents say he is much too young to go to sea, Tim is "so sad that he resolved, at the first oppor­tu­ni­ty, to run away to sea."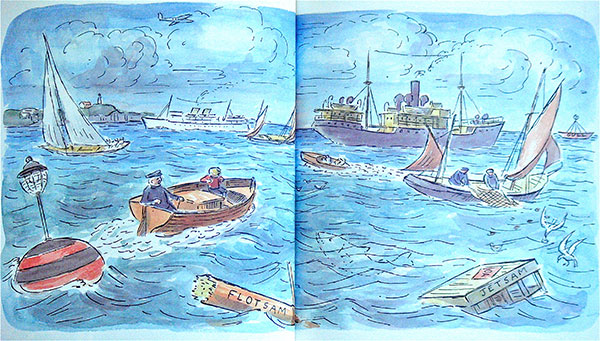 But best of all, I had the sense through­out this sto­ry that the sto­ry­teller was going to give me a won­der­ful yarn and that, with or with­out ele­phants, Lit­tle Tim was going to get through this adven­ture safely.
Phyl­lis: Keep the Lights Burn­ing, Abbie by Peter and Con­nie Roop is a book for those who pass in per­il of the sea. Based on the true sto­ry of 16-year old Abbie Burgess, whose father was the light­house keep­er on Matini­cus Rock off the coast of Maine, the book tells how Abbie's father heads out one morn­ing to get much need­ed sup­plies from Matini­cus Island and is storm-bound there for weeks before he can return. Abbie takes care of her three younger sis­ters and her ail­ing moth­er and "keeps the lights burn­ing" so that ships can pass safe­ly by. She lights the lamps, scrapes ice off the win­dows so the lights can be seen, trims wicks, cleans lamps, fills them with oil, and saves her chick­ens when waves threat­en to wash them away, all until her father can safe­ly sail back to the light­house. A won­der­ful strong char­ac­ter for girls and boys to know about.
Jack­ie: There is some­thing so allur­ing about light­hous­es and islands. I won­der how many kids have fan­tasies of liv­ing in a light­house on an island. I sure did. I real­ly enjoyed the mat­ter-of-fact tone of this sto­ry. As Abbie is first light­ing the lamps a match blows out, but the next one doesn't, nor the next and she goes on to light them all, night after night for a month. No dra­ma, just a telling of what she did. No dra­ma but touch­ing emo­tion at the end when we learn that her father was watch­ing for those lights every night as evi­dence that his fam­i­ly was still there. That detail almost made me tear up.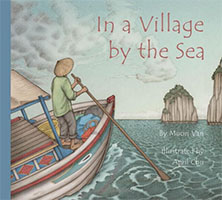 Phyl­lis: We could sail on through sea sto­ry after sea sto­ry. A more recent book, In a Vil­lage by the Sea by Muon Van is a ele­gant­ly sim­ple and love­ly sto­ry that begins, "In a fish­ing vil­lage by the sea there is a small house." Each page moves clos­er in, from the house to the kitchen to the fire to a pot of soup to a woman watch­ing the soup to a sleepy child to a dusty hole in the floor where a crick­et is hum­ming and paint­ing a pic­ture of a fish­er­man in his storm-tossed boat hop­ing for the storm to end so that he can return to his vil­lage by the sea where in a small house, his fam­i­ly waits for him to come home. April Chu's beau­ti­ful art con­cludes the book with the crick­et paint­ing a pic­ture of that fish­er­man and his boat sail­ing home into a calm harbor.
Jack­ie: This book is so art­ful and so sat­is­fy­ing in the way we cir­cle in on the sto­ry and then cir­cle back out. And I agree about April Chu's illus­tra­tions. They are won­der­ful­ly expres­sive. I almost expect the dog to talk.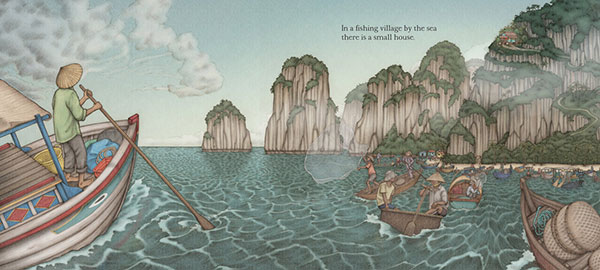 Thanks for choos­ing these books, Phyl­lis. I'm sit­ting at my desk on a qui­et, cloudy day but feel as if I have been on adven­tures. My head is stretched, and I look at my house and yard with new appre­ci­a­tion. The sea, or sto­ries about the sea, take us out of our lives, our kitchens, toss us around a bit, and with hope and help — and occa­sion­al ele­phants — bring us back home, where, as Lit­tle Tim might say, we are ever so glad for warmth and chocolate.