Jack­ie: Novem­ber is a month to cel­e­brate food and fam­i­ly, to cel­e­brate mak­ing meals and eat­ing togeth­er. Phyl­lis and I both love pie. And we often review pie books in Novem­ber but we are run­ning out of pie sto­ries. (Writ­ers out there: more pie sto­ries, please.) So, this year we decid­ed to look for cook­ie sto­ries. Who doesn't love a cook­ie? What reminds us of love and car­ing more than a plate of warm cookies?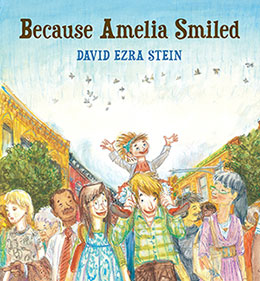 Because Amelia Smiled writ­ten and illus­trat­ed by David Ezra Stein (Can­dlewick, 2012), is about con­nec­tion, the con­nec­tions we know of and the con­nec­tions that we make with­out know­ing. "Because Amelia smiled com­ing down the street, Mrs. Hig­gins smiled, too. She thought of her grand­son, Lionel in Mex­i­co and baked some cook­ies to send to him. Because Mrs. Hig­gins baked cook­ies Lionel ate one of the cook­ies. He decid­ed to share the rest with his class…" The chain of actions start­ed by Amelia's smile rip­ples out around the world as each recip­i­ent is moved to teach a song, or record a video, or add steps to a dance recital, or dance a broth­er to sleep, or give a free music con­cert. That con­cert inspires Gre­gor the ex-clown to write to his old friend Phyl­lis and pro­pose mar­riage. Phyl­lis is so hap­py she throws ros­es from a high wire. And this leads to a video that is seen by a piz­za mak­er who knits a rose scarf. And that leads to Pigeon Man Jones let­ting out his pigeons. And Amelia sees them and smiles again. This fun­ny and sweet sto­ry reminds us that our acts can have a con­se­quence, and that con­se­quence can lead to some­thing we will nev­er be aware of. It reminds us that, as David Ezra Stein says, "…we are con­nect­ed. To peo­ple we love. To peo­ple we don't even know."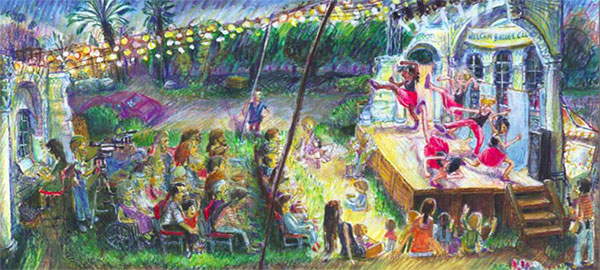 Phyl­lis: I love the cir­cu­lar­i­ty of this sto­ry, of how it begins with Amelia smil­ing and ends with Amelia smil­ing as the chain of action and con­se­quence moves from New York to Mex­i­co to Eng­land to Israel to Paris to Italy back to New York again. Our world is both big and small. Why not smile? Who knows how far a smile will trav­el and who it will con­nect us to?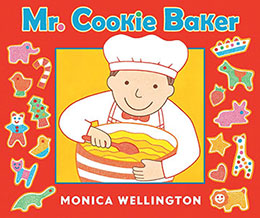 Mr. Cook­ie Bak­er, writ­ten and illus­trat­ed by Mon­i­ca Welling­ton (Dut­ton, 1992), tells us of a day in the life of Mr. Bak­er, cook­ie-mak­er. He ris­es ear­ly, bakes and dec­o­rates his cook­ies. Chil­dren come to buy the beau­ti­ful cook­ies until he is sold out. He gives him­self the last cook­ies. "Good Night!" If this sim­ple and sat­is­fy­ing sto­ry makes you hun­gry for cook­ies, you are in luck because Mon­i­ca Welling­ton has pro­vid­ed recipes for four kinds of cook­ies. One of the gifts of this sto­ry might be the fun of bak­ing cook­ies with a friend. This book, like the good acts in the above sto­ry, rip­ples out into our real worlds.
Jack­ie: This is such a sim­ple book, gai­ly illus­trat­ed with bright col­ors, and yet it's an act of grace, the bak­ing of cook­ies for chil­dren to eat — and one for Mr. Bak­er, too. My grown chil­dren, their aunt, and I spent an after­noon last win­ter bak­ing sug­ar cook­ies, frost­ing, and dec­o­rat­ing them with col­ors sel­dom seen on cook­ies, then shar­ing them with fam­i­ly and eat­ing them in our own cel­e­bra­tion of cook­ies and cook­ie art.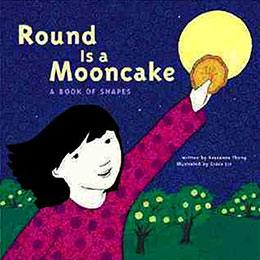 Round Is a Moon­cake, writ­ten by Roseanne Thong and illus­trat­ed by Grace Lin (Chron­i­cle, 2000), cel­e­brates the shapes in our world and starts with a moon­cake a tra­di­tion­al Chi­nese dessert, eat­en dur­ing the Mid Autumn Fes­ti­val. Moon­cakes are always round. The "cake," made with flour and a sug­ary syrup, is wrapped around a sweet fill­ing, which is some­times wrapped around an egg yolk. This book starts with round moon­cakes and goes through the tra­di­tion­al shapes, mak­ing ref­er­ence to many aspects of Chi­nese cul­ture — includ­ing rice bowls, jas­mine tea, tofu, radish cakes, dim sum, and ink­ing stones. Grace Lin's col­or­ful illus­tra­tions call us into the sto­ry to watch as the nar­ra­tor prac­tices let­ters, pur­chas­es rice, or watch­es a pup­pet show. This is a love­ly book that will have read­ers look­ing for shapes in their own lives and kitchens.
Phyl­lis: Along with tra­di­tion­al objects such as a name chop, Thong includes a vari­ety of objects that any child might see around her, includ­ing a mobile phone, a piz­za box, and the moon, along with encour­age­ment to seek out oth­er shapes in our sur­round­ings. Bright­ly col­ored art is its own invi­ta­tion into this book.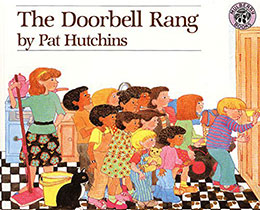 Kitchen is the set­ting for The Door­bell Rang, writ­ten and illus­trat­ed by Pat Hutchins (Green­wil­low, 1986). Vic­to­ria and Sam are "starv­ing" when Mom gives them a plate of twelve cook­ies — six each. The kids say these cook­ies look and smell as good as Grandma's cook­ies. But Mom says, "Nobody makes cook­ies like Grand­ma." Before they can take a bite the door­bell rings — Tom and Han­nah from next door. Now it's three cook­ies each. They all agree the cook­ies look and smell as good as Grandma's. But Mom says, "Nobody makes cook­ies like Grandma."
The door­bell con­tin­ues to ring until the kids are twelve around the kitchen table — one cook­ie each. But the door­bell rings again. For­tu­nate­ly, it's Grand­ma! With a tray of cook­ies. And nobody makes cook­ies like Grandma!
Jack­ie: Of course, I love the rep­e­ti­tion of this sto­ry and the poor mom con­tin­u­al­ly mop­ping the floor that is con­tin­u­al­ly being tracked on. But, the best part of this sto­ry for me is at that door­bell ring­ing when Ma sug­gests the twelve kids quick­ly eat the twelve cook­ies before they open the door. "We'll wait," said Sam. He's will­ing to share with who­ev­er is at the door, even though it could mean he gets only a part of a cook­ie. That action is so sub­tle but so impor­tant. And who can­not be hap­py to see Grand­ma with a tray of her unpar­al­leled cook­ies. This sto­ry is a sure-fire favorite.
Phyl­lis: I came across this book in a Lit­tle Free Library and fell in love. I love Ma's mod­est asser­tion that no one makes cook­ies like Grand­ma, the wel­com­ing in of all who ring the door­bell, and I, too, love that Sam is will­ing to wait to share cook­ies with who­ev­er else is com­ing. Along with the sub­tle inser­tion of math (2 chil­dren = 6 cook­ies each, 4 chil­dren = 3 cook­ies each, and so on), I love the way the art adds its own lit­tle sto­ries such as the pots on the stove emit­ting more and more steam from spread to spread and the cat, unruf­fled by the hub­bub as she moves from lap to lap, end­ing up con­tent­ed­ly on the emp­ty cook­ie platter.
The last book by one of our favorite writ­ers, Amy Krouse Rosen­thal, is Cook­ies: Bite-Size Life Lessons (illus­trat­ed by Jane Dyer, Harper­Collins, 2006). This is not a sto­ry but a dic­tio­nary of actions and emo­tions, defined in terms of cook­ies. For example:
"Co-oper­ate means you add the chips while I stir." Or "Mod­est means you don't run around telling every­one you make the best cook­ies even if you know it to be true." "Fair means you get a bite. I get a bite… Unfair means you get a bite and now I get the rest." Diverse chil­dren and clothed cats, dogs, and rab­bits — all kinds of rab­bits — illus­trate terms such as greedy, gen­er­ous, pes­simistic, opti­mistic, polite, hon­est, even open-mind­ed. "I've nev­er seen cook­ies like that before but, sure, I'll try one." There's some­thing won­der­ful­ly cre­ative about illus­trat­ing traits and emo­tions with cook­ies. We can't always under­stand our feel­ings, but we can all under­stand cook­ies. And cook­ies are non-threat­en­ing. I know some might say this is a didac­tic book, or too adult-ori­ent­ed to be fun for kids. That could be true. I can see worth in those argu­ments. And I've nev­er read it with a child. I'd like to. Maybe even act it out with a plate of cook­ies between us and see what happens.
Phyl­lis: I love the idea of using a plate of cook­ies to act out the lessons: life imi­tat­ing art. It may be that this book was aimed more at grown-ups, but what's against a pic­ture book for grown-ups as well as chil­dren, espe­cial­ly one so deli­cious with such enchant­i­ng art? And what's against cook­ies? Nothing!
Read­ing these var­i­ous cook­ie sto­ries may spark cook­ie mem­o­ries, may spark cook­ie bak­ing. Either shar­ing the mem­o­ries or shar­ing the bak­ing will keep us warm on chill Novem­ber days.