Phyl­lis: Spring is final­ly here, and the pol­li­na­tors are buzzing in the blos­soms, so we thought we'd write about bugs this month. Plus, we've just fin­ished a book with our good friend and fel­low writer Liza Ketchum about the rusty-patched bum­ble­bee, the first bum­ble­bee to be list­ed as endan­gered. Once we start­ed look­ing for bug­gy books, we found so many by Eric Car­le, from very hun­gry cater­pil­lars to very grouchy lady­bugs to very lone­ly fire­flies that we decid­ed to look at his body of work.
Since A Very Hun­gry Cater­pil­lar was pub­lished in 1969 (his orig­i­nal idea was A Week With Willi Worm, but his edi­tor sug­gest­ed a cater­pil­lar as a more sym­pa­thet­ic char­ac­ter), Car­le has pub­lished more than 70 pic­ture books that have sold more than 150 mil­lion copies around the world. In addi­tion, he and his late wife Bob­bie estab­lished the Eric Car­le Muse­um of Pic­ture Book Art in 2002.
Here are a few of our favorites: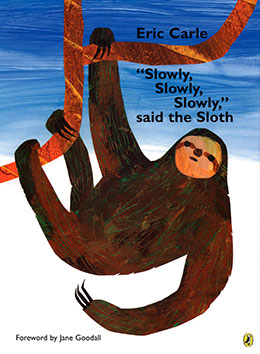 In "Slow­ly, Slowy Slow­ly," said the Sloth the sloth slow­ly, slow­ly, slow­ly crawls along a tree branch, eats a leaf, falls asleep, wakes up. All day, all night, even in the rain the sloth hangs upside down in a tree. The oth­er ani­mals ask the sloth, Why are you so slow? So qui­et? So bor­ing? The sloth doesn't answer until the jaguar asks (rather rude­ly), "Why are you so lazy?" Then the sloth thinks for a long, long, long time and says, "It is true that I am slow, qui­et, and bor­ing. I am lack­adaisi­cal, I daw­dle, and I dil­ly-dal­ly. I am also unflap­pable, lan­guid, sto­ic, impas­sive, slug­gish, lethar­gic, pas­sive, calm, mel­low, laid-back, and, well, sloth­ful. I am relaxed and tran­quil, and I like to live in peace. But I am not lazy … That's just how I am. I like to do things slow­ly, slow­ly, slowly."
What a won­der­ful panoply of words to fall back on when I am feel­ing slow, which seems more and more often in this time of Covid-19. The sloth moves at sloth speed, and I, too, I can be unflap­pable, lan­guid, calm, mel­low — but nev­er lazy.
Carle's web­site states, "Besides being beau­ti­ful and enter­tain­ing, his books always offer the child the oppor­tu­ni­ty to learn some­thing about the world around them." Although the text doesn't men­tion it, the sloth is the world's slow­est mam­mal, so slow that algae grows on its fur, and Carle's sloth's fur has a def­i­nite and accu­rate green tinge to it. (I once did a ninth grade report on the growth of algae on the three-toed sloth, so Carle's algaed sloth makes me espe­cial­ly happy.)
Jack­ie: I agree those words should be added to all of our lex­i­cons. I'm imag­in­ing wak­ing up and say­ing, "Today I feel unflap­pable, lan­guid, and mel­low." And it seems that might make for a good day. It's so sat­is­fy­ing that the sloth is hap­py with just who he is. He doesn't wor­ry about those who are faster or more goal dri­ven. He's good with his essen­tial sloth-ness.
I have an Eric Car­le bak­ing book to share. Wal­ter the Bak­er was pub­lished in 1972 and was off my radar, but it's a charm­ing sto­ry about a skilled and clever bak­er, Wal­ter, who was "the best bak­er in the whole duchy." The Duke and Duchess loved his sweet rolls and ate them every morn­ing. And then, oh my gosh, Walter's cat spilled the milk Wal­ter was plan­ning to use in the sweet rolls, so he had to make his rolls with water. The Duke and Duchess could tell some­thing was wrong and decid­ed to expel Wal­ter from the Duchy. Wal­ter asks for one last chance and the Duke agrees, but only if Wal­ter can invent a roll "through which the ris­ing sun can shine three times." The roll must be made of one piece of dough and must taste good. AND it must be done by tomor­row morning.
Wal­ter goes home and makes dough after dough. He's ready to give up and throws a long piece of dough up to the ceil­ing. It twists its way down and twists itself into a pret­zel shape with three open­ing for the ris­ing sun to shine through. Wal­ter has done it! The Duke and Duchess are pleased. And Wal­ter makes pret­zels for the whole town. This sto­ry makes me want to make pret­zels. If it does the same you, there are many recipes online. Here's just one.
Phyl­lis: I'm so hap­py Wal­ter invent­ed pret­zels, which I love. I love, too, the recog­ni­tion that some­times it's just when we are ready to give up that we stum­ble upon a solu­tion, an acknowl­edge­ment both of the pow­er of per­sis­tence and also of serendipity.
While we're on the top­ic of food, in Pan­cakes, Pan­cakes! Jack wakes up want­i­ng a big pan­cake for break­fast. His busy moth­er says he will have to help. She sends him with a sick­le to cut as much wheat as a don­key can car­ry to take to the miller to grind into flour. At the mill Jack first needs to help thresh the wheat with a flail, and the miller grinds the result­ing grain into flour. "Here's the flour," Jack tells his moth­er. "Let's make a pancake."
"Now we need an egg," his moth­er tells him and sends him to get an egg from the black hen.
"Here's an egg," Jack says. "Let's make a pancake."
"Now we need some milk," she replies.
After each com­plet­ed task, Jack says, "Let's make a pan­cake," but the next task awaits.
The milk must be churned into but­ter, he must gath­er fire­wood for the fire and bring up some straw­ber­ry jam from the cel­lar. At last they are ready to mix the bat­ter: flour, egg, milk in a bowl, stirred smooth. The bat­ter cooks on one side, then Jack's moth­er deft­ly flips it, cooks the oth­er side, and spreads straw­ber­ry jam on the pancake.
"Now, Jack," she begins.
"Oh, moth­er, " says Jack, "I know what to do now." And he does, as he hap­pi­ly forks a bite of pan­cake into his mouth.
Talk about delayed grat­i­fi­ca­tion and all the often-unseen steps involved in mak­ing the food we eat! A sim­ple pan­cake recipe — flour and egg and milk — is includ­ed. I plan to try it imme­di­ate­ly — the more I read this book, the more rav­en­ous I became.
Jack­ie: The roost­er that begins this book is just arrest­ing­ly beau­ti­ful. It promis­es a good time, a read­ing adventure.
And, I real­ly enjoyed Carle's intro­duc­tion of new process­es and new words. The wheat grains must be sep­a­rat­ed from the chaff. The miller and Jack use flails. What a great word for kids to know about. As you said, Phyl­lis, his books always offer kids an oppor­tu­ni­ty to learn something.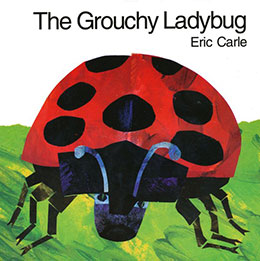 The Grouchy Lady­bug doesn't flail about, but does have a rough day, as any­one who's ever been grouchy will rec­og­nize. And these days my mood often swings between grouchy and grate­ful, so I was pleased to spend time with this lady­bug, who is just grouchy, no rea­son, maybe just woke up grouchy.
In any case her response to the friend­ly lady­bug she meets on a leaf is "Do you want to fight?" Then the grouchy lady­bug decides "You're not big enough," and she goes off search­ing for just the right spar­ring part­ner. Yel­low-jack­et, Stag Bee­tle, Pray­ing Man­tis, Spar­row, Lob­ster (Eric Carle's lob­ster is too beau­ti­ful to eat), Skunk, and larg­er ani­mals up to a whale are among Ladybug's encoun­ters. All have threat­en­ing fea­tures so all are deemed not big enough to fight. Lady­bug gets no reply from Whale so threat­ens its flip­per, fin, and tail. The tail responds with a smack and the Lady­bug is shot "across the sea and across the land." At six in the evening it arrives where it had start­ed, "wet, and tired, and hun­gry," and grate­ful for a share of the aphids. The two lady­bugs eat all the aphids and fall asleep togeth­er as the sun goes down and beau­ti­ful Eric Car­le fire­flies come out under the smil­ing moon.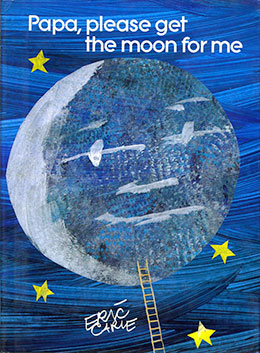 Phyl­lis: Yes, the moon. In Papa, please get the moon for me, when Mon­i­ca wants to play with the round, full moon, who looks just the right size for a play­mate high in the sky, she can­not reach it no mat­ter how much she stretch­es. So she asks her papa, who gets a very long lad­der, so long that both pages of the dou­ble page spread must open up to the sides to show a lad­der four pages wide. On the next spread, the page unfolds from the top to make a very tall lad­der on the very high moun­tain where Papa places it. Papa climbs up, up, up to the moon, which unfolds pop-up-like beyond the edges of the page to immense size, so heavy Papa can­not budge it. The moon tells Monica's papa that he gets a lit­tle small­er each night, until he will be the right size to take to play with Mon­i­ca. And the moon does shrink each night until, when it is just the right size, Papa takes it and climbs down, down, down the lad­der that now unfolds from the bot­tom of the page. Mon­i­ca jumps and dances and plays with the moon, which gets small­er and small­er until it dis­ap­pears. A few nights lat­er, Mon­i­ca sees a thin sliv­er of moon in the sky, which grows and grows and grows back into its full round self shin­ing in through Monica's win­dow. All is well in the world of lov­ing papa, lucky child, and accom­mo­dat­ing moon.
Jack­ie: No mat­ter what the sto­ry, all is well at the end. The grouchy are grate­ful, the hun­gry have pan­cakes, the moon smiles down from the sky, the sloth has made his state­ment, the bak­er is rein­stat­ed. These are reward­ing books for hard times. They remind us to find lit­tle pock­ets where all is right — our gar­dens, our mix­ing bowls, the warm yel­low sun, the moon, won­der­ful sto­ries with beau­ti­ful illustrations.
Phyl­lis: And good friends to write blogs with.