Jack­ie: We two friends have been doing this blog since 2015. Yet, we've nev­er done a col­umn on books about friends. We know there are many, and many clas­sics, such as the always-sat­is­fy­ing Frog and Toad books by Arnold Lobel, or William Steig's Amos and Boris, or James Marshall's George and Martha. But today we want to look at three, one by one of our favorite writ­ers Lucille Clifton. (We are still hop­ing — cam­paign­ing — for a re-issue of her out-of-print Everett Ander­son books.) And two new­er "friend" books.
My copy of Lucille Clifton's My Friend Jacob is a library copy that became avail­able because a library "with­drew" it from its own col­lec­tion. I don't know why any­one would not want this book in their col­lec­tion. A child nar­ra­tor tells us: "My best friend lives next door…We do things togeth­er, Jacob and me. We love to play bas­ket­ball togeth­er. Jacob always makes a bas­ket on the first try." (We see that Jacob is taller, old­er, than the nar­ra­tor.) …" My moth­er used to say, 'Be care­ful with Jacob and that ball, he might hurt you.' But now she doesn't. He knows that Jacob wouldn't hurt any­body, espe­cial­ly his very very best friend." And Jacob's moth­er once said, "'You don't have to have Jacob tag­ging along with you [to the gro­cery store] like that, Sam­my.' But now she doesn't. She knows we like to go to the store togeth­er. Jacob helps me to car­ry, and I help Jacob to remem­ber.'" These two friends accept each oth­er for just who they are. Sam­my learns the makes and names of cars from Jacob, who knows them all. Jacob needs help remem­ber­ing what the street lights mean. He needs help remem­ber­ing to knock before enter­ing Sammy's house. And the tri­umphal moment comes when he does remem­ber. "Next day at din­ner­time, we were sit­ting in our din­ing room when me and my moth­er and my father heard this real loud knock­ing at the door. Then the door popped open and Jacob stuck he's head in./'I'm knock­ing, Sam!' he yelled."
Clifton does here what she often does so well — makes a sat­is­fy­ing sto­ry out of hum­ble accom­plish­ments. Her moments involve the stuff of all our lives, count­ing cars, shoot­ing bas­ket­balls, remem­ber­ing to knock. And we cheer for her char­ac­ters' achieve­ments. And admire her abil­i­ty to present, with­out apol­o­gy or awk­ward­ness, a kid for whom it is sev­er­al afternoon's work to make a birth­day card, or prac­tice to remem­ber to knock. Clifton cares about Jacob. And she helps us to share Sammy's affec­tion for him. I want to live in Lucille Clifton's world.
Phyl­lis: Could I live there, too, please? My copy of My Friend Jacob, too, had been removed from a library (I've since passed it on to oth­er read­ers). Clifton's books hon­or the lives, strug­gles, and hearts of the peo­ple who were not often found in pic­ture books at the time she wrote. It's easy to dis­tance our­selves from peo­ple who seem dif­fer­ent; it takes a friend to see how we are not so dif­fer­ent and how we help hold each oth­er up. Sam­my is that friend to Jacob, and Jacob is that friend to him.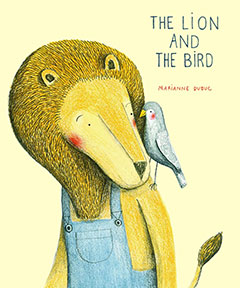 Jack­ie: The Lion and The Bird by Mar­i­anne Dubul (trans­lat­ed by Clau­dia Zoe Bedrick, pub­lished by Enchant­ed Lion Books, 2014) fea­tures a lion who has a mod­est cot­tage, a gar­den, and a con­tent­ed life. One fall day, while work­ing in his gar­den he spots an injured bird. He ban­dages the bird's wing and they both watch as the oth­er birds fly away. Lion invites the bird to spend the win­ter. "There's more than enough room for both of us." The bird eats at Lion's table, lis­tens by the fire while Lion reads, and sleeps cozi­ly in one of Lion's slip­pers. "They spend the win­ter togeth­er, enjoy­ing each day." And we see them sled­ding, ice-fish­ing, Bird tucked snug­ly in his own place in Lion's hat. Come spring, Bird flies away with his peers. We see Lion feel­ing small­er and lone­li­er. "And so it goes./Life is some­times like that." Word­less pic­tures show Lion resum­ing his soli­tary life — emp­ty slip­pers, eat­ing alone. He grows his gar­den, fish­es, pass­es the sum­mer. And in the fall, Bird returns! 'Togeth­er we'll stay warm again this winter."
This is a qui­et, love­ly sto­ry of kind­ness, friend­ship, shar­ing, and kind­ness returned. The illus­tra­tions so clear­ly reflect Lion's emo­tions. I would love to read this with a child and talk about feelings.
Phyl­lis: I love how Lion puts Bird ten­der­ly up on top of his mane to keep him warm, cov­er­ing him with his hat (with appro­pri­ate cut-out win­dow) in win­ter. "Win­ter doesn't feel all that cold with a friend," Dubul writes, and those of us in win­try cli­mates (as I write this there's an April bliz­zard blow­ing out­side) espe­cial­ly rec­og­nize that warmth. Spring returns, and as the migrat­ing flock of birds fly over, Lion tells Bird he knows Bird must go. And even though "life is some­times like that," some­times life also brings our friends back to us, just as Bird returns and choos­es to spend the win­ter again with Lion. The soft spare art per­fect­ly match­es the spare text. Spring's return is a sin­gle flower open­ing on a dou­ble page spread, and a sin­gle note on a dou­ble page spread her­alds Bird's return. Dubul does not gloss over the sense of loss Lion feels; like Lion, we yearn for Bird's return, and that absence and yearn­ing makes the return even more sat­is­fy­ing. I love that friend­ships can sur­vive dis­tance and time.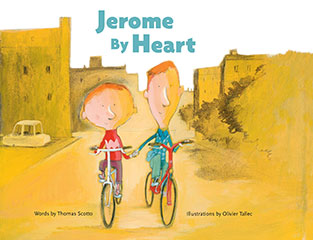 Jack­ie: Jerome By Heart by Thomas Scot­to with illus­tra­tions by Olivi­er Tal­lec (trans­lat­ed from the French by Clau­dia Zoe Bedrick and Karin Snel­son; Enchant­ed Lion Books, 2018) gives us a sto­ry told with humor and poignan­cy, of two friends who know they are friends. "He always holds my hand./It's true./Really tight." And we see two boys, bicy­cling, hold­ing hands as traf­fic backs up behind them. And the one dri­ver whose face we can see looks rather grumpy. They are friends every­where, "On field trips to the art museum,/it's me he choos­es as his bud­dy." Rafael loves Jerome. Rafael's mom likes Jerome, but doesn't real­ize that Rafael feels pro­tect­ed by Jerome's friend­ship. Rafael's Dad wish­es Jerome would play soccer.
Jerome is kind — sees Rafael and speaks to him when he's with oth­er friends, defends Rafael when oth­er kids make fun of him (we don't know why), and tells "sto­ries that are so good/they seem real…"
When Rafael tells his par­ents, "I had the best dream last night!/It was good in a Jerome kind of way," his Dad stares at his shoelaces. His Mom says, "'Eat your cere­al, Rafael.'" Rafael replies, "Maybe I'll just eat my dream on toast! … That way all you'll hear is crunching/and it won't both­er your ears so much." And Dad responds, "Now that's enough!"
Rafael goes to his room, look­ing for a present for Jerome. He imag­ines them on vaca­tion togeth­er, rid­ing in a race car. "I cir­cle around and around my bed./Around and around my table./Around and around my ques­tions." At the end he affirms his true friend­ship, in spite of his par­ents. "And I say — yes./Rafael loves Jerome./I can say it./It's easy." And we cheer for him.
Phyl­lis: I love this book so much — it's one of those books that cap­ti­vat­ed me and insist­ed I buy it. The title page of Jerome By Heart quotes French poet Jacques Prévert, who wrote the enchant­i­ng How to Paint the Por­trait of a Bird (illus­trat­ed by Morde­cai Ger­stein, Roar­ing Brook Press, 2007). Prévert wrote, "And the passers-by point­ed fin­gers at them. But the chil­dren who love each oth­er aren't there for any­one else."
Jerome and Rafael are "there" for each oth­er. Raphael's mom says Jerome is polite and charm­ing. "But she nev­er says any­thing about how warm his smile is. She doesn't seem to notice that I have a secret hide­out there, where I feel pro­tect­ed by Jerome's two eyes." Jerome always sees Raphael, even when Jerome is with his friends. What do we real­ly want but to be seen and loved for who we real­ly are? And to love that per­son back. Raphael says it for us: "'I for­get my mom and dad./ I think only about Jerome/ who I know by heart."
In The Lit­tle Prince by Antoine de Saint-Exupéry the prince says, "And now here is my secret, a very sim­ple secret: It is only with the heart that one can see right­ly; what is essen­tial is invis­i­ble to the eye." Friends like Sam­my and Jacob, Lion and Bird, Jerome and Rafael see what is essen­tial but invis­i­ble to the eye. May we all have such friends. May we all be such friends, see­ing and know­ing each oth­er heart to heart.
P.S. Two of these three books are pub­lished by Enchant­ed Lion, a press that's bring­ing out books that quick­ly become some of our favorite book friends.