Jack­ie: It seems per­fect­ly appro­pri­ate that the Man­ag­er of Hol­i­day Place­ment has placed Valentine's Day, a day to cel­e­brate love and affec­tion, right in the mid­dle of cold, dark Feb­ru­ary. I want that cel­e­bra­tion to spread out for the whole month (why not the whole year?) the way the smell of bak­ing bread fills an entire house, not just the kitchen. Why can't all of Feb­ru­ary be Heart Month? We are choos­ing books this month with that goal in mind. We want to cel­e­brate heart, love, ties of affec­tion. And we have cho­sen a new book, a cou­ple of medi­um new books and an old book to help us.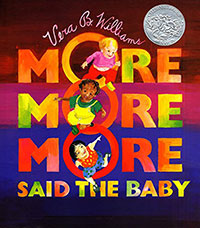 A while back we did an entire col­umn on Vera B. Williams. But I am still miss­ing her. I need her polit­i­cal activism and her huge heart in my neigh­bor­hood. I turned to More, More, More Said the Baby. (Green­wil­low, 1990).
This book is a huge cel­e­bra­tion of the love between dad­dies and kids:
Just look at you
With your per­fect bel­ly button
Right in the middle
Right in the middle
Right in the middle
Of your fat lit­tle belly.
Then Lit­tle Guy's daddy
Brings that baby
Right up close
And gives that lit­tle guy's belly
A kiss right I the middle
Of the bel­ly button.
Between grand­mas and kids:
Then Lit­tle Pumpkin's grandma
Brings that baby right up close
And tastes each
Of Lit­tle Pumpkin's toes.
And mamas and kids:
Just look at you
With your two closed eyes
Then Lit­tle Bird's Mama…
Gives that lit­tle bird a kiss
Right on each of her lit­tle eyes.
I nev­er tire of read­ing about these chil­dren, diverse chil­dren, who are so loved and so val­ued. This book will be fresh as long as we laugh and kiss babies with bel­ly but­tons and ten lit­tle toes.
Phyl­lis:; I miss Vera B. Williams, too, and I love see­ing her spir­it still alive in her books and also in the hearts of peo­ple every­where who care about peo­ple every­where. Her lan­guage in More More More is so deli­cious – along with the rep­e­ti­tion we have live­ly verbs of inter­ac­tion between grown-ups and beloved chil­dren (swing, scoot, catch that baby up). Lit­tle Guy, Lit­tle Pump­kin, and Lit­tle Bird have names that could be any child's. I love, too, the exu­ber­ant art and hand let­tered mul­ti-col­ored text. Every­thing about this book cel­e­brates tak­ing joy in our children.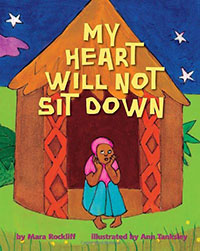 Jack­ie: In My Heart Will Not Sit Down, (Alfred Knopf, 2012) empa­thy and car­ing for oth­ers trav­el around the world. Rock­liff cre­ates a school child Kedi, who hears from her teacher about the hun­gry chil­dren in New York City and can­not stop think­ing about them. She asks her moth­er for a coin to send them. Her moth­er says they have no coins to spare. "Kedi knew Mama was right. Still, her heart would not sit down." She asks an uncle, a sweep­ing moth­er with a baby on her back, a grand­moth­er pound­ing cas­sa­va, laugh­ing girls who car­ried pots of riv­er water, old men play­ing a game of stones, even the head­man. No one has coins… Until the next morn­ing when her mama gives her one coin. She takes the coin to school, think­ing that one coin can do lit­tle good for the hun­gry chil­dren. Then the vil­lagers show up — each bear­ing a coin. "We have heard about the hunger in our teacher's vil­lage," said the head­man. "Our hearts would not sit down until we helped."
Phyl­lis: This is one of those books that called to me from the shelf in a book­store and cap­ti­vat­ed my heart once I opened it. Kedi's heart stands up for the hun­gry chil­dren in New York, Amer­i­ca, as she calls it. When the vil­lagers bring their coins, which the author notes would be a small for­tune to the vil­lage even though $3.77 would not go far in Amer­i­ca even in the Depres­sion, her mama asks, "Now will your heart sit down in peace?" Kedi answers, "Yes, Mama, Yes!" The author notes, too, that in Cameroon, where the event occurred on which the sto­ry is based, peo­ple shared with any­one in need, even strangers, because, as they said, "You may meet him [a stranger] again, and in his own place." This sto­ry reminds me that the actions of one small per­son can touch many hearts and feed hun­gry children.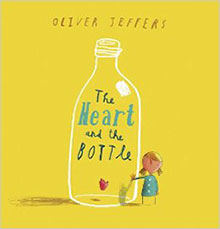 Jack­ie: Hearts can spur us to action. Hearts can break. And the last two books are gen­tle sto­ries of the heartache of loss. Oliv­er Jef­fers writes of a "lit­tle girl…whose head was filled with all the curiosi­ties of the world." Jef­fers shows us this lit­tle girl talk­ing with her grand­pa who sits in a chair, lying under the stars with her grand­pa. He accom­pa­nies her on all her explores. And then one day the chair is emp­ty. She decides to put her heart in a bot­tle to keep it safe. After that she wasn't curi­ous. She grows up and the bot­tled heart is heavy around her neck. When she wish­es to retrieve her heart she can't — until she meets anoth­er lit­tle girl.
This is a sto­ry about deal­ing with sad­ness — we want to pro­tect our hearts but we lose so much when we wall them up.
Phyl­lis: Oliv­er Jef­fers both wrote and illus­trat­ed The Heart and the Bot­tle, and the illus­tra­tions help car­ry the events and the emo­tions of the sto­ry. When the girl who has bot­tled her heart decides as a grown-up to take her heart out again, the art shows her try­ing to shake the heart out, grip it with pli­ers, break the bot­tle with a ham­mer, and final­ly, aban­don­ing her work bench cov­ered with a drill, a cross cut saw, a wood­en mal­let, screw­driv­er, and oth­er assort­ed tools includ­ing a vac­u­um clean­er lean­ing again the bench, she climbs a lad­der to the top of an enor­mous­ly tall brick wall and drops the bot­tle which still doesn't break but just "bounced and rolled…right down to the sea" where a lit­tle girl eas­i­ly frees the heart from the bot­tle and returns it. The book ends, "The heart was put back where it came from. And the chair wasn't emp­ty any­more. But the bot­tle was." Here, too, the art reflects that the woman's world is once again filled with won­der. We need our hearts with­in us.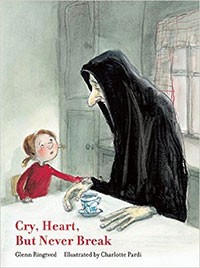 Jack­ie: Cry, Heart, But Nev­er Break comes to us from Den­mark. It was writ­ten by Glenn Ringtved, illus­trat­ed by Char­lotte Par­di and trans­lat­ed by Robert Moulthrop (Enchant­ed Lion Books, 2016). This book also deals with loss. Four chil­dren live with their grand­moth­er — "A kind­ly woman, she had cared for them for many years." Then Death knocks at the door. The chil­dren decide to fore­stall Death's mis­sion with cof­fee. They will keep him drink­ing cof­fee all night so he can­not take their grand­moth­er, thus giv­ing her anoth­er day of life. Even­tu­al­ly he has had enough. And one of the chil­dren asks why grand­moth­er has to die. And then comes: "Some peo­ple say Death's heart is as dead and black as a piece of coal, but that is not true. Beneath his inky cloak, Death's heart is as red as the most beau­ti­ful sun­set and beats with a great love of life." He tells them a sto­ry of Sor­row and Grief meet­ing and falling in love with Delight and Joy. "What would life be worth if there were no death? Who would enjoy the sun if it nev­er rained? Who would yearn for day if there were no night?"
When Death goes to the Grandmother's room, he says to the chil­dren, "Cry, Heart, but nev­er break. Let your tears of grief and sad­ness begin a new life." Char­lotte Pardi's illus­tra­tions are per­fect for this book, sim­ple and ten­der. We see what appears to be quick­ly-sketched fur­ni­ture in the night kitchen — we know this is a sto­ry. And yet we con­nect with the emo­tions on the children's faces.
Phyl­lis: I love that the chil­dren ply Death with cof­fee, which Death loves, strong and black, and that it's the youngest child who looks right at Death and even­tu­al­ly puts her hand over his. But even cof­fee can't stop Death; when he goes upstairs the chil­dren hear the win­dow open and Death say, "Fly, soul, fly away." Their hearts grieve and cry but do not break. Some (but not all) of the best books about Death come, inter­est­ing­ly, from oth­er coun­tries. But this book is not only about Death it is about the neces­si­ty of a life with both sor­row and grief and also joy and delight. This is a book that makes me cry and hope for all our hearts that they nev­er com­plete­ly break.
Jack­ie: We start­ed with con­nec­tion — the con­nec­tions of babies and fam­i­lies, and we have come round to loss of con­nec­tion, when what remains is love. Our hearts will hold us up.