This sum­mer, deeply trou­bling sto­ries about migrants and refugees at the US-Mex­i­can bor­der have come to us in news­pa­per sto­ries, record­ings, pho­tographs, and videos. In choos­ing to sep­a­rate chil­dren from their par­ents, our gov­ern­ment has shown a dis­turb­ing lack of empa­thy for peo­ple flee­ing vio­lence and tur­moil in their home coun­tries. It is our hope that these pic­ture books will help fos­ter empa­thy and shed light on the com­plex issues of migra­tion for young read­ers, while giv­ing a sense of the courage, resilience, and human­i­ty behind each journey.
Kari: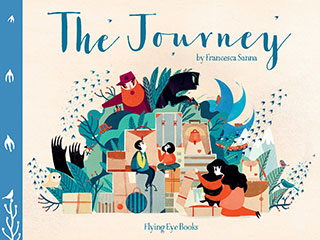 The Jour­ney
writ­ten and illus­trat­ed by Francesca Sanna
Fly­ing Eye Books, 2016
This remark­able book had its begin­nings when author/illustrator Francesca San­na met two girls in a refugee camp in Italy and lis­tened to their sto­ry. Soon, she began col­lect­ing many more sto­ries of peo­ple forced to flee their home­lands and decid­ed to cre­ate a col­lage of these expe­ri­ences in this stun­ning pic­ture book. The Jour­ney feels at once uni­ver­sal and spe­cif­ic as it fol­lows one fam­i­ly on their long, dan­ger­ous voy­age from their beloved home­town, which has become a war­zone, toward an uncer­tain future in "a coun­try far away with high moun­tains", where they can be safe. We don't know the details, but evoca­tive illus­tra­tions use dark, abstract­ed shapes to great psy­cho­log­i­cal effect through­out the book to depict the fear the chil­dren feel as they flee the war that "took" their father.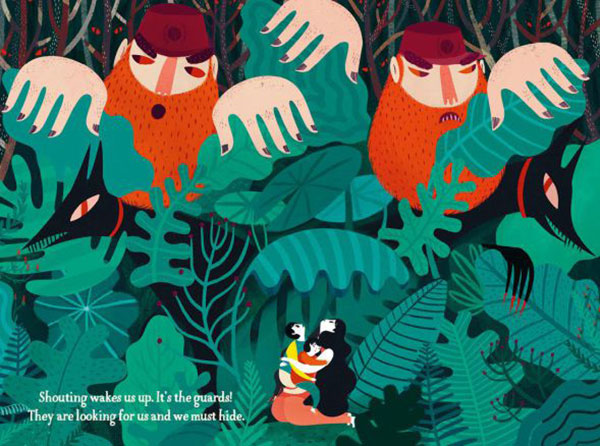 The jour­ney is a pre­car­i­ous one as the fam­i­ly trav­els first by car, then hides in trucks, trav­els at night by bicy­cle and then on foot, only to arrive at a bor­der, where they must hide and lat­er be smug­gled across. An illus­tra­tion depict­ing the crowd­ed boat pas­sage feels aching­ly famil­iar from images in the news. After cross­ing many bor­ders, the sight of migrat­ing birds fly­ing sug­gest the hope of a secure future for this brave and resource­ful family.
Susan Marie: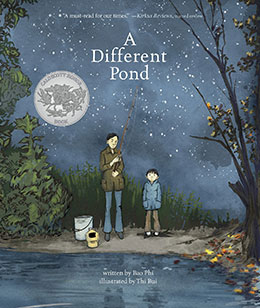 A Dif­fer­ent Pond
writ­ten by Bao Phi
illus­trat­ed by Thi Bui
Cap­stone Press, 2017
A Dif­fer­ent Pond is a sto­ry from a Viet­namese refugee fam­i­ly liv­ing in Min­neapo­lis, Min­neso­ta. A boy and his father go fish­ing at a city lake in the chilly, ear­ly morn­ing dark: "We stop at the bait store on Lake Street. It always seems to be open." When the two return home with their catch at sun­rise, the boy's par­ents will head off to their Sat­ur­day jobs. Author Bao Phi and illus­tra­tor Thi Bui have received major awards for this pic­ture book, a Char­lotte Zolo­tow Award and a Calde­cott Hon­or, respectively.
Both the text and the art weave togeth­er three strands: the grit­ti­ness of life in the city, the trau­ma of refugee strug­gle, and the sim­ple beau­ty of human expe­ri­ence. Take, for exam­ple, the moment when the boy and his father sit and eat togeth­er. Their break­fast is two sand­wich­es, plain cold bologna on white bread. The two talk for a moment about how the father used to fish by a pond with his broth­er who died in the war. And yet the moment is also beau­ti­ful. Bui's illus­tra­tion recre­ates the glow of a small fire and the play of light on their faces, while Phi's text cap­tures a bit of mag­ic: "There's half a pep­per­corn, like a moon split in two, stud­ded into the meat."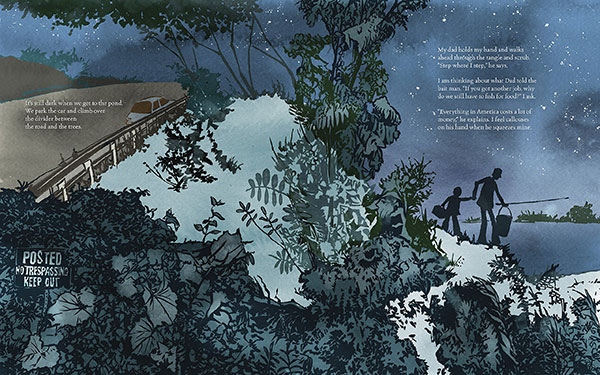 A reward­ing read­ing project for adults inter­est­ed in this book is to read it along­side adult titles also pub­lished in 2017. Bao Phi's most recent book of poems, Thou­sand Star Hotel, pub­lished by Cof­fee House Press, and Thi Bui's graph­ic nov­el mem­oir, The Best We Could Do, pub­lished by Abrams, are pierc­ing and beau­ti­ful accounts of the expe­ri­ence of their refugee families.
Kari: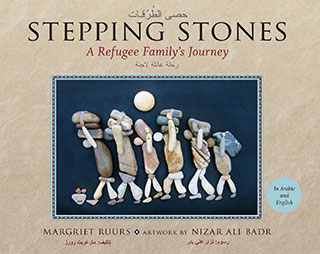 Step­ping Stones: A Refugee Fam­i­ly's Journey
writ­ten by Mar­gri­et Ruurs
art­work by Nizar Ali Badr
Orca Book Pub­lish­ers, 2016

This sto­ry of a fam­i­ly leav­ing war-torn Syr­ia is anchored by unusu­al and evoca­tive stone col­lages cre­at­ed by Syr­i­an artist Nizar Ali Badr. A young girl, Rama, nar­rates the chang­ing land­scape of her dai­ly life with her fam­i­ly, where she goes from the peace of lis­ten­ing to Mama prepar­ing break­fast ("bread, yogurt, juicy red toma­toes from our gar­den") to the vio­lence of flee­ing Syr­ia "when bombs fell too close to our home." As the fam­i­ly under­takes this per­ilous jour­ney, the weight of stone in the illus­tra­tions con­veys a sense of grav­i­ty and resilience as the fam­i­ly forges ahead and makes new mem­o­ries "not of war, but of peace." The text is bilin­gual in Eng­lish and Ara­bic and a por­tion of the pro­ceeds of this book goes to sup­port Syr­i­an refugees.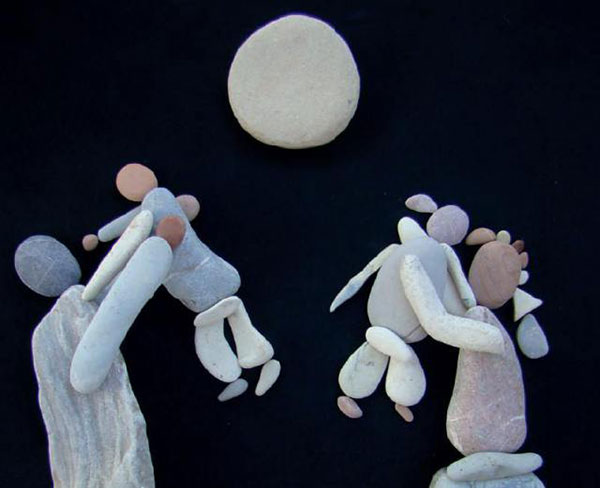 Susan Marie: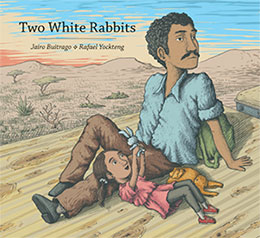 Two White Rabbits
writ­ten by Jairo Buitrago
illus­trat­ed by Rafael Yockteng
trans­lat­ed by Elisa Amado
Ground­wood Books, 2015

This pic­ture book, Two White Rab­bits, is a work of art for all ages, told from the point of view of a young girl who is mak­ing her way north through Mex­i­co with her father. The dif­fi­cult world of the sto­ry is depict­ed with remark­able ten­der­ness. Del­i­cate shad­ing in the draw­ings details every­thing from the feath­ers on hens, to the rolled sleeves of men rid­ing atop freight cars, to the bushy tail of the chu­cho (mutt) that trav­els along on the har­row­ing jour­ney. At the open­ing of the sto­ry, the lit­tle girl explains, "When we trav­el I count what I see," and she counts cows, birds, clouds, peo­ple by the rail­road tracks, while her ever-atten­tive father nav­i­gates their com­pli­cat­ed route. She rides with her father through the night in the back of a pick­up truck: "Some­times, when I'm not sleep­ing, I count the stars. There are thou­sands, like peo­ple. And I count the moon. It is alone. Some­times I see sol­diers, but I don't count them anymore."
Author Jairo Buitra­go, who lives in Mex­i­co, and artist Rafael Yock­teng, who lives in Colom­bia, have worked togeth­er on a num­ber of acclaimed books trans­lat­ed from the Span­ish, includ­ing Jim­my the Great­est! (2010), Walk with Me (2017), and On the Oth­er Side of the Gar­den (2018), all pub­lished by Ground­wood Books.
Kari:
The Arrival
writ­ten and illus­trat­ed by Shaun Tan
Loth­i­an Books, 2006
I think of The Arrival as an unusu­al and fas­ci­nat­ing pic­ture book/graphic nov­el hybrid. It is 128 pages, word­less, and makes use of both pan­els and full page spreads to tell the sto­ry of a man jour­ney­ing ahead of his fam­i­ly to forge a life for them in a new coun­try. This sur­re­al tale begins in the man's home­land, which has been over­run by the loom­ing shapes of omi­nous mon­sters. The sto­ry unfolds after he arrives in an over­whelm­ing­ly for­eign city full of strange ani­mals, cus­toms, and an unfa­mil­iar lan­guage (cre­ator Shaun Tan made up a visu­al lan­guage to sim­u­late the expe­ri­ence of dis­ori­en­ta­tion for the read­er). The com­mon strug­gles many refugees face of find­ing work, hous­ing, and com­mu­ni­cat­ing are all present in the rich­ly detailed pen­cil illustrations.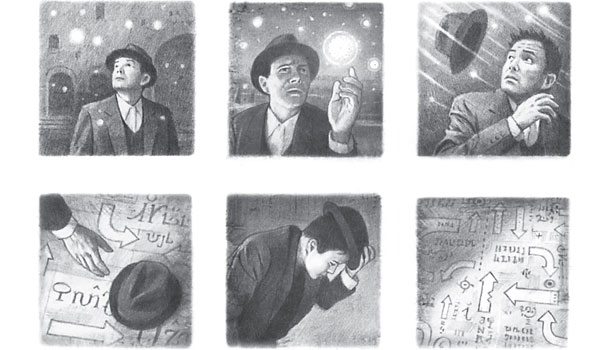 Through inno­v­a­tive use of fan­ta­sy ele­ments and emo­tion­al speci­fici­ty, Shaun Tan has cre­at­ed a sophis­ti­cat­ed nar­ra­tive that feels whol­ly orig­i­nal and is itself a visu­al journey.