Jack­ie: This is grat­i­tude sea­son and that is a good reminder. Many of us have plen­ty to be grate­ful for and we often for­get that while wait­ing for the next good things. It's also Pie Sea­son. It is the one time of the year at my house when we have no holds barred on pie. Every­one gets to have a favorite at Thanks­giv­ing. Pie for din­ner, pie for break­fast (the best!). So Phyl­lis and I decid­ed to find some pie books.
One book that I wish I had writ­ten is Mar­jorie Priceman's How To Make Apple Pie and See the World (Pen­guin, Ran­dom House, 1994; paper­back, 2008). This is a delight­ful sto­ry of gath­er­ing the ingre­di­ents for apple pie and then mak­ing the pie and shar­ing with friends. This book can be used to teach math (frac­tions in the recipe), geog­ra­phy (of course), and pie-mak­ing. And, more impor­tant­ly, it's fun. The lan­guage is live­ly and orig­i­nal. After prepar­ing for the trip by find­ing a "shop­ping list and walk­ing shoes," get on a boat. Go to Italy for semoli­na wheat, then to France. In France, "locate a chick­en. French chick­ens lay ele­gant eggs." "Make the acquain­tance of a cow" in Eng­land. The cow and the chick­en accom­pa­ny our intre­pid pie-mak­er for the rest of the book as she gets bark for cin­na­mon from Sri Lan­ka, sug­ar cane from Jamaica, salt from the ocean, and "eight rosy apples" from Vermont.
Phyl­lis: There's so much to love in this book (which I, too, wish I had writ­ten): the sources of our food which we often take for grant­ed, the friends the lit­tle girl makes as she trav­els the world, the resilience of find­ing what you need (and, in a twist at the end, mak­ing do with­out the ice cream), the treat­ment of ani­mals who give us milk and eggs, the humor of the art, which shows the pilot drop­ping the lit­tle girl off in Ver­mont by means of a para­chute, the inter­con­nect­ed­ness of what we eat. It makes me want to bake a pie her way, and it also makes me grate­ful for the gro­cery store and farmer's market.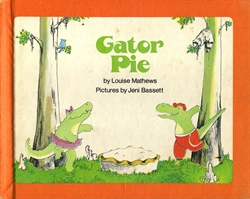 Jack­ie: Anoth­er long-time favorite of mine is Gator Pie by Louise Math­ews with illus­tra­tions by Jeni Bas­sett (Dodd, Mead, 1979). Alvin and Alice are gator friends who live in a swamp. One day they find a love­ly pie. They decide to share, but before Alice can cut two halves anoth­er alli­ga­tor comes up and demands a share. Now Alice must cut the pie in thirds. And Alvin is not too hap­py about shar­ing. It gets worse — Alvin thinks he'll get a quar­ter of the pie, then an eighth and final­ly one one-hun­dredth. Then he gets a bril­liant idea. And he and Alice get to share the pie them­selves. The illus­tra­tions make this book delight­ful. The sub­ject mat­ter makes it per­fect for talk­ing about how frac­tions work.
Phyl­lis: Because we are often look­ing at old­er books (I remem­ber read­ing this one to my now-grown kids when they were lit­tle), we some­times have prob­lems putting our hands on those books. Some reside on our book­shelves, some are avail­able through inter­li­brary loan, some we find online, and on occa­sion, if one of us has a copy but the oth­er can't find it, we read the sto­ry to each oth­er on Skype. This time, because Gator Pie hadn't yet arrived at my local library from anoth­er library, I watched a YouTube video of a young boy read­ing with his father, who helped his son when he wasn't sure of a word. At one point, the boy grins at his father and says, "Excuse me, I drooled." I love think­ing that a book about a pie was so deli­cious that it made the boy's mouth water, but I love more see­ing the ten­der inter­ac­tion between child and par­ent and book. This is why we write, for those connections.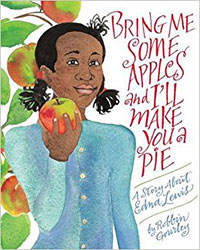 Jack­ie: Bring Me Some Apples and I'll Make You a Pie by Rob­bin Gour­ley (Clar­i­on, 2009) fea­tures Edna Lewis, African Amer­i­can chef who wrote sev­er­al cook­books "teach­ing peo­ple how to pre­pare food in the south­ern region­al style." This book focus­es on Edna's child­hood and imag­ines Edna and her fam­i­ly gath­er­ing the foods of the sea­son: wild straw­ber­ries and fresh greens in the spring­time; hon­ey, cher­ries, and black­ber­ries in the sum­mer. The round fruits — peach­es and toma­toes — fill sum­mer bas­kets and box­es. Corn for corn­bread, water­mel­ons, but­ter beans ("'We're rich as kings as long as we have beans,' says Mama.") and mus­ca­dine grapes fin­ish out the sum­mer. Back to school sea­son means apples for pie and apple crisp. This is a book to remind us to savor the foods of our area. Read­ing it will make you hun­gry — and make you want to get out bowl and spoon, flour and fruit, and cook something.
Phyl­lis: Which you can do with this book, because it ends with an author's note and some mouth-water­ing recipes. It's a book, too, rich in fam­i­ly and lan­guage. Mama says, 'Bet­ter hur­ry! You'll need to out­run the rab­bits to get the berries." Dad­dy says to fill as many bas­kets as they can because the larder's emp­ty. When Aun­tie helps Edna and her lit­tle sis­ter gath­er wild greens, she says, "A fresh crisp sal­ad to nour­ish the heart and soul as well as the body." Broth­er helps gath­er cher­ries and black­ber­ries. When the fam­i­ly gath­ers round to find the per­fect mel­on, Granny says, "Mel­ons are just like friends. Got­ta try ten before you get a good one." Sas­safras roots tossed up by the plow will fla­vor root beer. Water­mel­on rind will become pick­les. As Edna sur­veys the cel­lar packed with good things, she says, "You can nev­er have too much sum­mer." When I look at the wealth of squash and onions and gar­lic and pota­toes piled high on my counter from my CSA farm share, I agree with Edna. And you can nev­er have too many books as deli­cious as this one.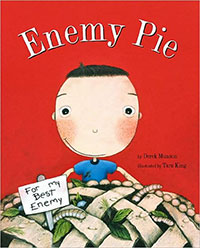 Jack­ie: Final­ly, we want to look at a charm­ing book that uses pie to solve a prob­lem–Ene­my Pie by Derek Mun­son and illus­trat­ed by Tara Cala­han King (Chron­i­cle, 2000). When Jere­my Ross moves into the narrator's neigh­bor­hood, things start to go bad. Jere­my laughs at the nar­ra­tor when Jere­my strikes him out in a base­ball game, Jere­my didn't invite him to a par­ty at his house. Jere­my Ross became the top — and only name — on the new "ene­my list." But Dad has the answer, Ene­my Pie. What goes into Ene­my Pie? Dad won't tell. The boy brings his dad weeds, no need. He brings earth­worms and rocks, used gum. Not in the recipe. Dad says the oth­er impor­tant part of Ene­my Pie is that the boy has to spend a day with the ene­my. Dad says, "Even worse you have to be nice to him. It's not easy. But that's the only way Ene­my Pie can work. Are you sure you want to go through with this?"
So the boy spends one day with Jere­my Ross to get him "out of my hair for the rest of my life." By the end of the day, when it's time for Ene­my Pie, the boy tries to pre­vent Jere­my from eat­ing it. By then he doesn't want him to eat the awful pie. But Dad was eat­ing. Then Jere­my took a bite. Would their hair fall out? It turned out that Ene­my Pie was delicious!
This is such a sweet book, with a won­der­ful pie-mak­ing Dad, and a boy who learns that ene­mies don't always stay enemies.
Hap­py pie-bak­ing to all. I'm eager for fruit pie. What's your favorite Phyllis?
Phyl­lis: Pump­kin is lus­cious, but one of the best pies I ever tast­ed was on a road trip in Cana­da — bum­ble­ber­ry pie, which I think might be made of all the fruit pie fruits in one.
How­ev­er you slice it, we love pie and pie books. We hope your hous­es are rich as kings in books and pies this season.