Jack­ie: We are in cold, cold win­ter. Too cold to read seed cat­a­logs – spring just seems too far away to imag­ine frag­ile green. We are con­fined to cab­in. What to do but think of repur­pos­ing, mak­ing some­thing out of noth­ing, or next to nothing?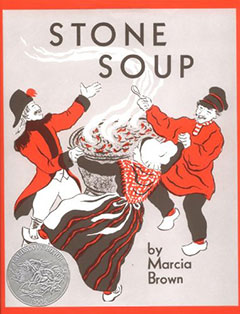 Stone Soup by Mar­cia Brown has always been one of my favorite some­thing-out-of-noth­ing (or at least some­thing out of stones) sto­ries. The three hun­gry sol­diers promise to teach the towns­folk, who claim to have no food to share, how to make soup from stones. The towns­folk quick­ly find a pot, wood for a fire, and three good stones. "'Any soup needs salt and pep­per,' said the sol­diers, as they began to stir." No prob­lem. And then it begins, "Stones like these gen­er­al­ly make good soup. But oh, if there were car­rots, it would be much bet­ter." Françoise brings car­rots. Soon oth­ers bring cab­bage, beef and pota­toes, bar­ley and milk. Tables are set. And the peas­ants decide this won­der­ful soup requires "bread — and a roast — and cider." They feast and dance into the night and offer the sol­diers warm beds in their homes. I love the idea of mak­ing soup from stones, the notion that the vil­lagers are will­ing to share to make a bet­ter stone soup, per­haps because it's coöper­a­tive. They are mak­ing soup together.
In recent days, I have want­ed to see the vil­lagers become aware of the stone soup trick, but that is not part of this French folk tale. And I can still imag­ine to myself a vil­lage child wak­ing up with a smile on her face as she under­stands the real charm of stone soup.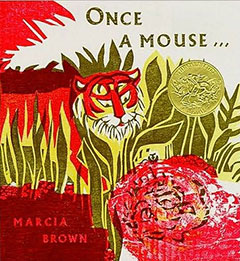 Phyl­lis: I can under­stand the vil­lagers' hes­i­tan­cy to share — they've been in the midst of war, feed­ing many sol­diers whether they chose to or not, and now that the war has end­ed, shouldn't they be left in peace? But peace means more than just the ces­sa­tion of fight­ing. It means, too, learn­ing how to open hearts as well as cup­boards, a les­son the vil­lagers don't even real­ize they have been sly­ly giv­en and have tak­en to heart.
I have been mak­ing lots of soup as the tem­per­a­ture dips to minus 28 with a wind chill of minus 47 or there­abouts. Like the say­ing about wood warm­ing a per­son twice, (once when you split it, once when you burn it) soup warms us in many ways. The cook­ing warms our kitchens, the eat­ing warms our bod­ies, and the shar­ing warms our hearts. When the ground thaws, I'm going to hunt for a smooth, round stone and try adding it to my soup pot. Who knows? It might be as secret ingre­di­ent, as it was for the vil­lagers in Stone Soup. And I love the flow­ing line of Brown's art — I knew I want­ed to be a part of pic­ture books when, in col­lege, I dis­cov­ered a tucked-away shelf of children's books that includ­ed her won­der­ful wood­cuts for Once A Mouse.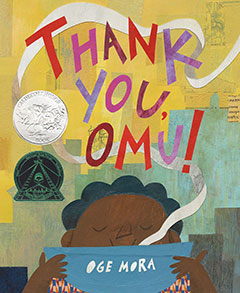 Jack­ie: An inside-out- ver­sion of this soup sto­ry is Thank You, Omu! by Oge Mora, recent­ly named a Calde­cott Hon­or Win­ner by the ALA. Omu lives on the top floor of an apart­ment build­ing. One day she makes her­self a large pot of thick red stew. Its "scrump­tious scent waft­ed out the win­dow and out the door, down the hall towards the street and around the block" until Knock, Knock, Knock. A lit­tle boy stops in to ask for a bowl of the thick red stew. "It would not hurt to share," decides Omu. After all she has a very large pot of stew. Then stops a police offi­cer, a hot dog ven­dor, the may­or, and oth­ers — all look­ing for stew. When it comes time for her deli­cious din­ner of stew, Omu's pot is emp­ty. She hears Knock, Knock, Knock. But she has no more stew. "'We are not here to ask," says the boy. 'We are here to give.'" And all the neigh­bors who ate Omu's stew have returned with meat and sweets, and plates of food. Omu's small apart­ment is filled with peo­ple who "ate, danced, and cel­e­brat­ed." Omu's stew makes a com­mu­ni­ty cel­e­bra­tion out of an emp­ty pot. And who can resist sto­ries that end with eat­ing and danc­ing? (Here's a link to an inter­view with Oge Mora.)
Phyl­lis: I love this book! Oge Mora also just won the 2019 Coret­ta Scott King Book Awards John Step­toe Award for New Tal­ent Illus­tra­tor for Thank You, Omu!, and it's easy to see why — the col­or­ful col­lage art, her col­or palette, the way words and images leap off the page, the irre­sistible knocks on the door that pro­pel page turns, and, of course, the sto­ry of freely giv­ing and receiv­ing in return.
In an inter­view Oge Mora talks about how the heart of the book cen­ters on giv­ing and grat­i­tude. She didn't include a recipe for Omu's scrump­tious stew in part, she says, because she wants read­ers to think about food that they have their own rela­tion­ships with — food that com­forts, food that calls up mem­o­ries of cooks who came before us. In an author's note Mora tells how her grand­moth­er danced and swayed as she stirred a pot of soup, and her table was open to any­one who stopped by. "Every­one in the com­mu­ni­ty had a seat at my grandmother's table," she writes. And we are lucky enough to have a seat at Omu's table as we share this book.
Jack­ie: No soup involved in Simms Tabak's Joseph Had a Lit­tle Over­coat, but there is much mak­ing some­thing out of some­thing less. We can enjoy time and again Joseph's inge­nu­ity in mak­ing from his worn coat a jack­et, then a vest. When the vest is "old and worn," he makes a scarf and "sang in a men's cho­rus." Then a neck­tie, a hand­ker­chief, and a but­ton. When the but­ton is lost, he makes a book about it. "Which shows you can always make some­thing out of nothing."
Phyl­lis: Vivid art and clever cutouts show the overcoat/jacket/vest/scarf/necktie/handkerchief/button get­ting small­er and small­er. Joseph, who makes a sto­ry out of "noth­ing," cheer­i­ly doesn't seem to care at all that one sus­pender is miss­ing now a but­ton, and we have no doubt that he'll find some oth­er noth­ing to make a new but­ton out of.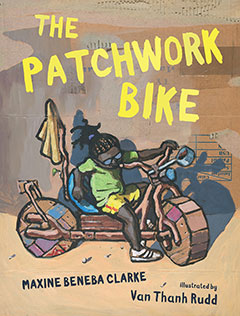 The Patch­work Bike by Max­ine Bene­ba Clarke, illus­trat­ed by Van Thanh Rudd, begins, "This is the vil­lage where we live inside our mud-for-wall home. These are my crazy broth­ers, and this is our fed-up mum." The nar­ra­tor and her broth­ers build a sand hill to slide down, jump and climb in the big Fiori tree "out in the no-go desert, under the stretch­ing-out sky." But the best thing in the vil­lage, she tells us, is the bike she and her broth­ers make out of scraps, with a "bent buck­et seat and han­dle­bar branch­es that shick­et­ty shake when we ride over sand hills." Tin cans become han­dles, wheels cut from wood go win­ket­ty wonk, a flour sack becomes a flag, Mum's milk pot becomes a bell (and is she fed-up about that, we won­der), lights are paint­ed on, and the license plate, made of bark, keeps falling off. "The best thing of all to play with under the stretch­ing-out sky at the edge of the no-go desert," she tells us, "is me and my broth­ers' bike." As some­one who's mend­ed cars with twisty ties and tem­porar­i­ly patched leaky gas tank leaks with bars of soap, I admire their inge­nu­ity. The art races across the page as a few exact­ly right words cre­ate set­ting and fam­i­ly and take us along with the nar­ra­tor and her broth­ers on their best-thing-of-all patch­work bike.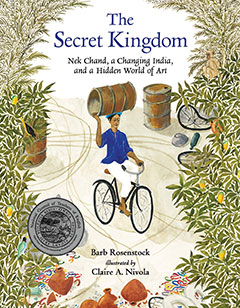 Jack­ie: And final­ly, back to stones. In The Secret King­dom by Barb Rosen­stock and illus­trat­ed by Claire A. Nivola, we learn of Nek Chand, forced out of his home vil­lage with the par­ti­tion­ing of India to a new­ly-con­struct­ed city. He longed for the sights and sounds of his home, now part of Pak­istan. He could not go back nor could he find the old sights and sounds in the gray city. He found a place on the edge of town, an unin­hab­it­ed jun­gle. He made him­self a home and over the next fif­teen years he scav­enged "bro­ken pieces of vil­lage life under the mod­ern city…chipped sinks, cracked water pots, and bro­ken glass ban­gles in red, blue, and green." For sev­en years he "car­ried these trea­sures into the wilder­ness. He made cement and pressed porce­lain shards into it." He "saved half-dead plants from the city dump," watered them, and filled his king­dom with bougainvil­lea, ole­an­der, man­go and pipal trees. He con­struct­ed god­dess­es and queens, singing men, women, and laugh­ing chil­dren. "Nek built his king­dom over twelve acres and kept it secret for fif­teen years." When gov­ern­ment offi­cers found his king­dom, they planned to destroy it.
Until the peo­ple of Chandi­garh came." They loved this place! "By the hun­dreds, city peo­ple roamed sculp­tured walk­ways, ducked through arch­es, laughed and told vil­lage sto­ries, begin­ning to end and back again." The peo­ple con­vinced the gov­ern­ment offi­cials to pre­serve the village.
With his col­lec­tion of scraps and shards, with his yearn­ing and his art, Nek Chand made a place that called forth sto­ries, laugh­ter, memory.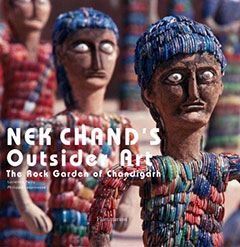 Phyl­lis: This book is breath­tak­ing, both in the sto­ry it tells and also in the world of remem­bered home that Nek Chand cre­at­ed. The author came across this sto­ry by acci­dent while research­ing anoth­er book and was so gripped by Chand's art and sto­ry that she put aside that project while she wrote The Secret King­dom. A short video offers a glimpse of Chand's king­dom, and a book for grown-ups, Nek Chand's Out­sider Art: the Rock Gar­den of Chandi­garh, is filled with pho­tos of his cre­ations made from the cast-off trash of the city. In the end, Chand's art, built in secret soli­tude, cre­at­ed com­mu­ni­ty as peo­ple fought to save his kingdom.
Jack­ie: When we make some­thing out of noth­ing, we end up with more than the thing we have made, we end up with com­mu­ni­ty, love, healed hearts, home.