This month the two of us are actu­al­ly in the same place at the same time, and we're hav­ing a con­ver­sa­tion about square pegs.
We are all not just square pegs and round pegs. We are tri­an­gles, pen­tagons, hexa­gon, oval, rhom­boids, stars. There are shapes for every­one and places, too, where each of us fits best. But we all know what being a square peg means.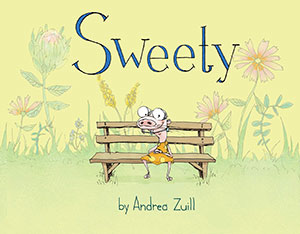 Sweety in the book Sweety by Andrea Zuill didn't know, though, exact­ly what it meant when her grand­moth­er said, "Well, aren't you Grandma's lit­tle square peg?" Young read­ers might not know either, but we do learn that Sweety is awk­ward and doesn't always fit in, can be intense, and has bizarre hob­bies like study­ing mushrooms.
Jack­ie: Zuill tack­les the sub­ject with humor and com­pas­sion. She begins with humor in a par­en­thet­i­cal note. "(Please note that naked mole rats are born with­out fur but not with­out the love of clothes. The illus­tra­tor is grate­ful for this since she didn't have to draw a bunch of high­ly embar­rass­ing pic­tures.)" I couldn't help but laugh when I saw Sweety describe her doll: "Friend of the friend­less, destroy­er of evil, lover of choco­late beet cake with cream cheese frosting!"

Phyl­lis: And she does it in an extreme­ly loud voice, aston­ish­ing her class­mates. Com­pas­sion comes to Sweety in the form of her Aunt Ruth, who talks about how she was called a square peg when she was young. She tells Sweety "that being dif­fer­ent was one of the best things about her life, and that if you stayed true to your­self, you'd find your people."
Jack­ie: And by the end of the book Sweety does. This is so much more than a "mes­sage" book. It's so much fun, and we are as hap­py as Sweety when her "peo­ple" appear in the form of a mush­room-lov­ing, cater­pil­lar-lov­ing naked mole rat named Sandy.
Phyl­lis: There's even a secret handshake.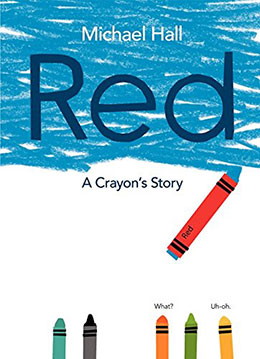 Jack­ie: Red A Crayon's Sto­ry by Michael Hall is not just a crayon's sto­ry. It is a sto­ry of wear­ing a label that doesn't match who you are; Red's wrap­per says he's red, but every­thing he col­ors comes out blue, and read­ers can see that he's real­ly a blue cray­on. The crayons around him can only see his wrapper.
Phyl­lis: The oth­er crayons try to fix him. "He's got to press hard­er." "He's got to apply him­self." But every­thing he col­ors keeps com­ing out blue — blue straw­ber­ries, blue bugs, blue hearts, blue fox­es, blue street­lights. Even­tu­al­ly with the help of a new berry-col­ored cray­on friend, Red comes out, too. He dis­cov­ers that he's not lazy, not real­ly "not bright" as the oth­er crayons spec­u­lat­ed. He is just real­ly blue.
Jack­ie: And once he finds his true col­or, the oth­er crayons are glad for him, and one even says, "I always said he was blue." They want to do projects with him and cel­e­brate, as we do, when he reach­es for the sky. This is an under­stat­ed sto­ry, and the illus­tra­tions, which appear under­stat­ed, too, are so effective.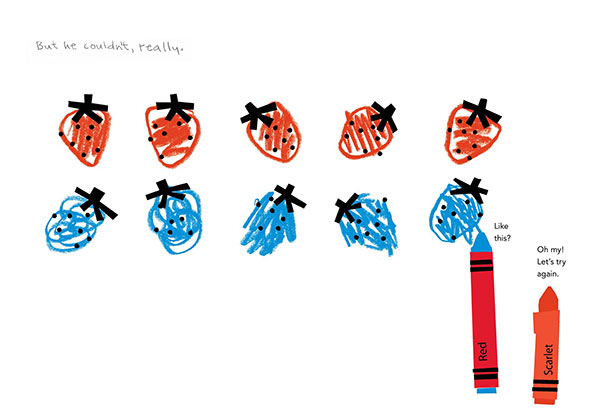 Phyl­lis: This book makes us both so hap­py and even makes us want to reach for a box of crayons.
Phyl­lis: The Fan­tas­tic Jun­gles of Hen­ri Rousseau by Michelle Markel, illus­trat­ed by Aman­da Hall, begins with a man who doesn't fit. He is a forty-year-old toll col­lec­tor who wants to be an artist. "Not a sin­gle per­son has ever told him he is tal­ent­ed," but he paints any­way because he loves nature and teach­es him­self tech­nique by going to the Lou­vre and exam­in­ing "the satiny paint­ings of his favorite artists."
Jack­ie: One day he puts his can­vas­es in a hand­cart and wheels them to an exhi­bi­tion. It does not go well. Experts say mean things. He keeps paint­ing — pic­tures of plants and ani­mals from far away places. "Some­times Hen­ri is so star­tled by what he paints that he has to open the win­dow to let in some air." And even though every year he takes his paint­ings to the exhib­it, the experts con­tin­ue to make fun of him. "They say it looks like he closed his eyes and paint­ed with his feet."
Phyl­lis: He keeps paint­ing. "He spends all he earns on art sup­plies and pays for his bread and coal with land­scapes and por­traits." No mat­ter what the experts say, "every morn­ing he wakes up and smiles at his pic­tures." Final­ly, when he is six­ty-one, oth­er artists dis­agree with the experts, befriend­ing Hen­ri and com­ing to con­certs in his stu­dio. Picas­so throws a ban­quet for him. And when Hen­ri exhibits his paint­ing "The Dream," few peo­ple make fun of him.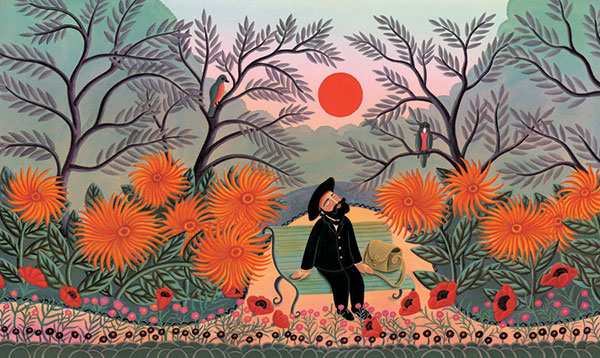 Jack­ie: The illus­tra­tor made a spe­cial trip to Paris before illus­trat­ing this book, and it shows. Her paint­ings cap­ture the wild spir­it of Rousseau's work while still being unique­ly her own. In this book, Rousseau start­ed out as a square peg, and his tal­ent reshaped the world.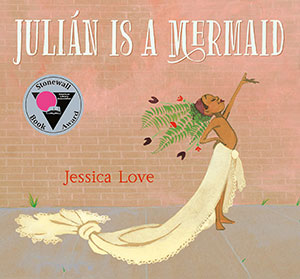 Phyl­lis: Julián is a Mer­maid by Jes­si­ca Love is a book about a boy named Julián who loves mer­maids and about his abuela. Julián sees peo­ple dressed as mer­maids on a train, and he dreams (in gor­geous art) that he is a mer­maid, too, com­plete with tail. In his dream a benev­o­lent fish gives him beads. On the way home Julián tells his abuela he is a mer­maid, too. While she takes a bath he has an idea.
Jack­ie: With a fern and flow­ers for hair and a cur­tain for a tail, Julián trans­forms him­self. The book's cri­sis occurs when his abuela comes out of the bath, sees him, frowns, and walks away. Uh-oh, says Julián. A wor­ried Julián looks again at his long beau­ti­ful tail. He looks in a mir­ror at his fer­ny and flow­ery hair. Has he done some­thing wrong? Then his grand­moth­er returns. "Come here, mijo," she says right before a page turn — which we turn quick­ly. She gives him beads.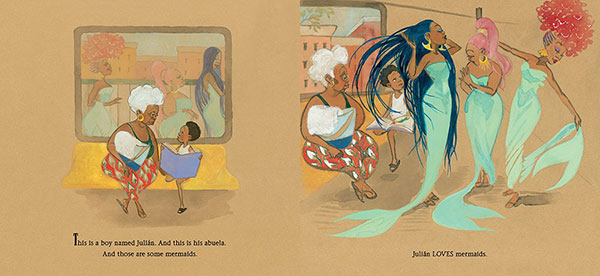 Phyl­lis: A smil­ing mer­maid Julián and his abuela head out for a walk. "Where are we going?" asks Julián. "You'll see," says Abuela. One more page turn shows us Julián and Abuela at the mer­maid parade on Coney Island. And like Sweety, Julián has found his people.
Jack­ie and Phyl­lis: Round pegs, square pegs, pegs of every shape — may we all, like Sweety and Hen­ri and Red and Julián, find our people.